Women's Give-N-Go® 2.0 Sport Mesh Hipster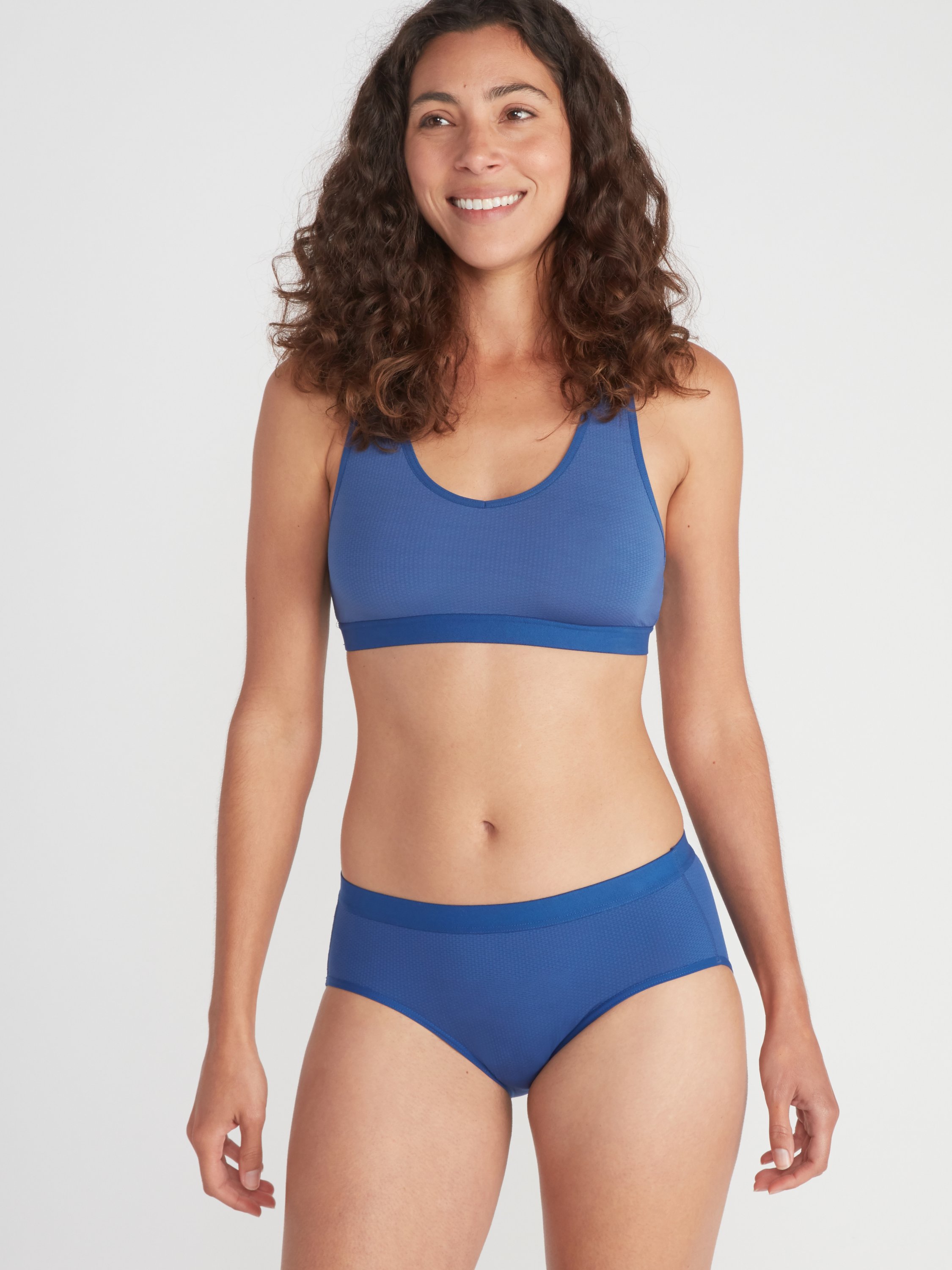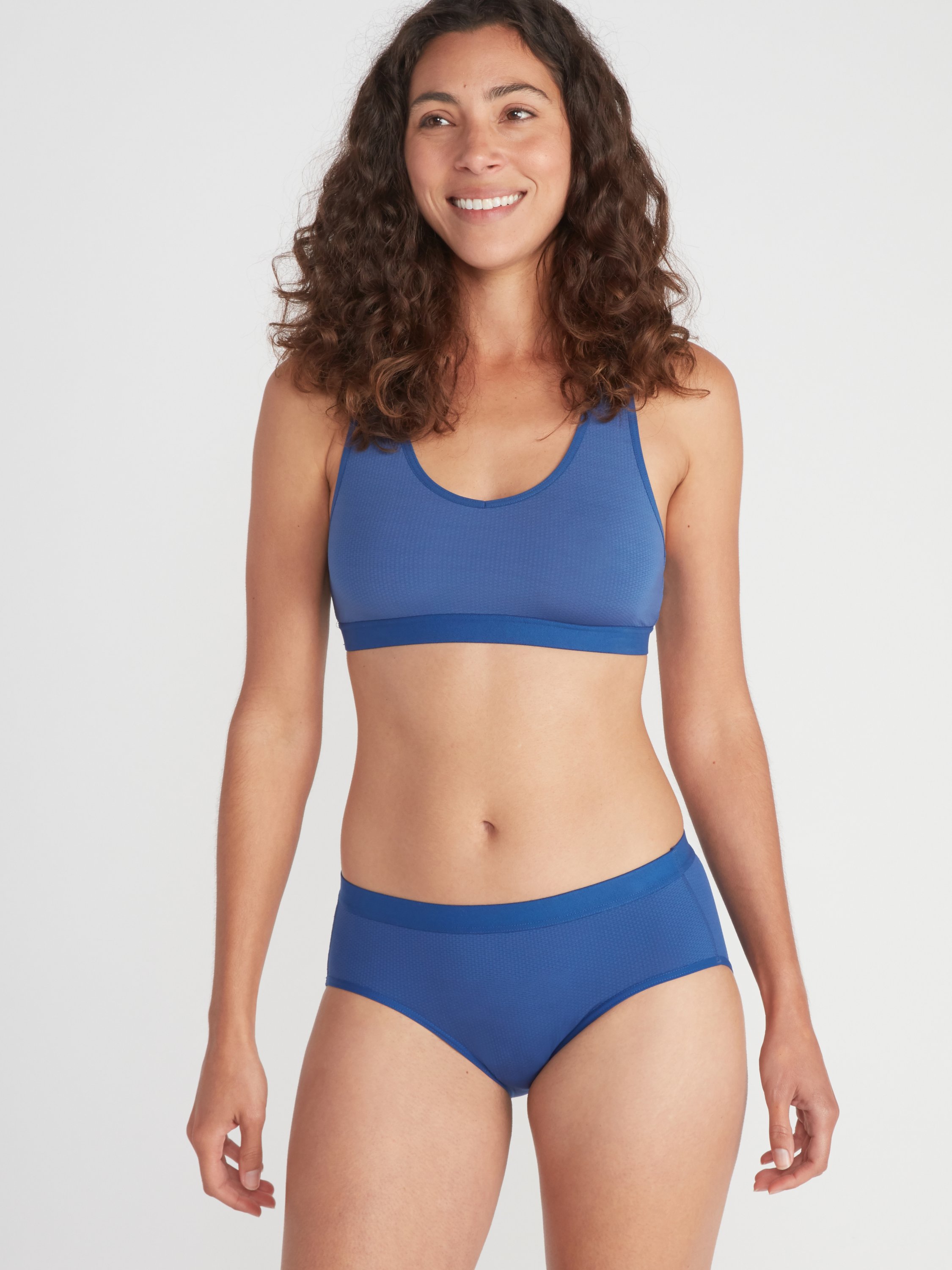 Women's Give-N-Go® 2.0 Sport Mesh Hipster
Final Sale: may not be returned or exchanged
Final Sale
This item cannot be exchanged or returned. Valid while supplies last. All sales final.
Selection will refresh the page with new results.
Selection will refresh the page with new results.
Final Sale: may not be returned or exchanged
Final Sale
This item cannot be exchanged or returned. Valid while supplies last. All sales final.
---

Free shipping on all orders $50+ and free returns* Details

Backed by ExOfficio's Lifetime Warranty
---
Product Details
Features
Ultralight breathable mesh fabric supplies airflow keeps you cool; Durable synthetic fabric
Improved anti-odor treatment stays fresher, longer
Flatlock seams reduce chafing; Wide, comfortable waistband retains its shape
Easy-care so you only need two for any trip
Snug active fit and lower rise are ideal for high-energy activities
Description
From trekking across Thailand to traversing the toughest stretches of Baja, we've spent over 20 years perfecting the art of adventure—and underwear. That's where the Women's Give-N-Go® 2.0 Sport Mesh Hipster comes in. Now up to 3 times more breathable, 50% more moisture-wicking, and more quick-drying compared to our original Give-N-Go® collections, our latest iteration of the perfect pair is designed to keep you moving—comfortably. Explore more with durable fabric for long-lasting use, 4-way stretch for total range of motion, and chafe-reducing flatlock seams. The wide waistband retains its shape and improved anti-odor treatment keeps this underwear fresher, longer. With a snug fit and low rise, the Give-N-Go® Sport Mesh 2.0 Collection is ideal for high-energy activities from intense gym sessions to bike trips in far-off places.
Specifications
Product Weight:

0lbs 1.59oz (45.1g)

Main Fabric:

90% Nylon(66)/10% Elastane
Rated

5

out of

5
by
Aanne136
from
Cannot beat this comfort!
I have several pairs of these and wear them mostly while traveling and backpacking. They are light, easy to clean (in a sink or stream, even, while adventuring), dry quickly, and are super comfy. These are my go-to for travel and sport undies.
Date published: 2020-04-30
Rated

5

out of

5
by
MAB 57
from
Long time traveling friend
I have bought women's Ex-Officio underwear for almost 30 years. I actually, still have a pair of that age, beautiful, practical. Never a worry in travel, always a sense of comfort and source of pride. Quite remarkable at any age.
Date published: 2020-05-06
Rated

4

out of

5
by
MonaBlu
from
Breathable
I was surprised by how fresh these made me feel. Very lightweight almost feels like I'm not wearing anything. Perfect for whemnI go on my hikes with the family. The texture feels good ans doesn't irritate my skin.
Date published: 2020-03-27
Rated

5

out of

5
by
Rosemarie1
from
Light and breathable
I bought a pair of these Hipsters and couldn't be happier. I am very active and they are so light and breathable -- feels like they're hardly there. Plus they are quick drying if you wash them for the next day
Date published: 2020-05-06
Rated

4

out of

5
by
Awoo
from
Excellent Idea, But Find It Rides Up a Bit
I never considered searching for something like this, but as a landscaper, I sweat a lot working outdoors in Charleston, SC. Sometimes I get home and take a shower only to notice heat bumps on my butt that apparently appear after sweating a lot. I recently bought some appropriate socks for this issue, and was so glad to find these to take care of the other areas. When I've worn these on a sweaty day, I don't see the bumps appear, so it really does help with that. However, the one thing I dislike is how they ride up my butt crack a lot. I don't have much of a butt, so that probably doesn't help, but as a sport underwear, I would expect them to stay put better since sports require a good deal of movement. So, overall, I like these in that they address the heat bumps, but the fit isn't quite right.
Date published: 2020-04-21
Rated

5

out of

5
by
Jessie
from
Comfy!
Breathable, stay in place, and easily washed on the trail! They don't retain moisture like cotton so the quick dry time reduces ... The issues that come with active wear ;)
Date published: 2020-04-22
Rated

5

out of

5
by
Melmac
from
Best Underware ever
I started buying Exofficio underwear a couple years ago. Hands down they are the best I've found. I do hot yoga and these are perfect!
Date published: 2020-04-30
Rated

5

out of

5
by
Hanbruba
from
No wedgies
Great hiking underwear. Such a comfortable fit. Breathable, quick drying, and doesn't get stinky as fast as any others.
Date published: 2020-09-11
Rated

1

out of

5
by
No name pls
from
No title
I need to return not a good fit I was affected by the storm Ida we are still under duress Please help me return
Date published: 2021-09-30
Rated

5

out of

5
by
Chantell
from
Love, love, love
These were absolutely perfect for working out. I need to find more of these stat!!! I can't believe I haven't come across these before. I work out 4 days a week at the gym. And I hate how my underwear feels after working out. I love the fact that these felt great. They are lightweight, they don't creep up. I didn't feel soaked in these. I highly recommend these for anyone who runs or works out. I am definitely gonna find more. I have zero cons with these.
Date published: 2020-03-10
Rated

5

out of

5
by
Ahonda
from
Breathable and silky
I'm so glad that underwear has made some leaps and bounds in the industry over the last 30 years. No longer are we forced to wear ugly unflattering shapes that bulge and bump. These black mesh underwear are sharp and can be worn during sports activity or everyday. It's a nice silky fabric with a fine mesh that will breathe nicely. I got the 4-6 small and it fits with a little extra on my 5ft 103 lb frame. High quality construction and fabrication.
Date published: 2020-03-10
Rated

5

out of

5
by
SageyGirl
from
Incredibly Comfortable!
I really love this underwear. I did 45 mins on my elliptical and was very impressed with their performance- they are breathable, never shifted or rolled, and I really love the stretch of the fabric around my legs and the extra room in the back ! It moves with you to help you get a great work out in. I have never found a hipster panty that fit me well or that would stay on my hips without rolling down- until now. I want a pair in every color!
Date published: 2020-03-22
Rated

5

out of

5
by
Ccbell94
from
Comfortable Postpartum
I recieved this product a few weeks ago and I have been happy with them. They are highwaisted which help to cover the postpartum mom belly and do not slide down. I like the mesh because it feels very airy and smooth on my skin. They are very comfortable and I had no issues with them all day. They seem to be of good quality and the mesh will not easily tear like other mesh underwear I have had before. I would definitely purchase more pairs.
Date published: 2020-03-17
Rated

5

out of

5
by
Cmartino19
from
You will love em
I was surprised I liked the mesh fabric as much as I did. It's soft and silky, so breathable and comfortable. They don't stick to you whether your just wearing them for light movement or exercising. They are wedgie free. The one improvement I would like to see is to have them be taggless (I cut my tags out) other than that I love them. The cut is very flattering and the elastic top stays put without cutting in. They are so comfortable!!
Date published: 2020-03-10
Rated

5

out of

5
by
Awosting
from
Comfort, good looks, easy care
Bought a pair on a whim 6 months ago and quickly converted all my undies to this style. They're comfortable, breathable, great for casual or athletic wear. I love the feel and look and they're a cute compromise between practical 'granny panties' and lingerie for everyday active wear. They're also easy to wash and dry on the go in between laundry in a pinch. They dry in a few hours hanging up. Overall, big love on the buns!
Date published: 2020-04-21
Rated

5

out of

5
by
Shan2007
from
So comfy!
I absolutely love the comfort and fit of these! I wore them on a humid day that I spent hours at the baseball field. They kept it cool and dry all through all the day out there and through the heat. They are some of the most comfortable underwear that I've worn honestly, and would definitely get a few more pairs to have. I definitely recommend these, even if you aren't athletic. So comfy for everyday wear as well!
Date published: 2020-03-28
Rated

5

out of

5
by
Miatapat
from
Best Comfort and Drying Speed!
I'm the proud owner of 4 of these briefs. That's all you need! My other 4 are Women's Collection Briefs. On my Ireland trip, I took only 3 of these briefs as they literally dry in only HOURS! They are so light and airy with no panty lines, and they wear like iron. I do NOT put mine in the dryer-just air dry. I have some for 3 years now, and they still look brand new. Definitely worth the price!
Date published: 2020-11-10
Rated

5

out of

5
by
cab123
from
phenomenal undies
These are the most breathable and versatile underwear. I own the hipsters, briefs, and thongs, and all are very easy to wash while camping, in a sink in a hotel, or in the front country. They're the only underwear I wear -- hiking, running, camping, traveling, canoeing, swimming, every day wear. They rock! They do stretch out a bit...but I have also worn each of mine a couple hundred times.
Date published: 2020-04-21
Rated

5

out of

5
by
KAJ628
from
Very comfortable
Women's Give-N-Go 2.0 Sport Mesh Hipster was extremely comfortable. It stayed in place even after chasing kids (After school program free play) and doing a karate lesson. My only issue was the waist was too big and kinda sagged. The bottom fit was good and the stretch could have allowed me to go down a size and still fit my bottom without compromising the stretch of the underwear.
Date published: 2020-03-14
Rated

5

out of

5
by
Lana488
from
Comfortable!
I love Give-N-Go 2.0 Sport Mesh Hipster. It feels like I'm wearing nothing and they are incredibly breathable on top of being super comfortable. I didn't have the problem of sweaty underwear sticking to my backside thanks to the mesh material. They are great for active people who sweat a lot. I received this product for free in exchange for my honest opinion.
Date published: 2020-04-08
Rated

5

out of

5
by
SportySuzie
from
Super Comfortable
I love how easily wind can pass through. I have not tested out the odor defense claim of the material but I do love the moisture wicking and how comfortable the material is. I like that the style of underwear fully covers the cheeks so no pulling out wedgies mid-run. The panties come with great instructions so you won't have any issues washing and caring for it.
Date published: 2020-03-08
Rated

5

out of

5
by
Kar545
from
Great product
The womens Give-N-Go 2.0 sport Mesh Hipster is performance travel underwear. The improved anti odor treatment stays fresh longer. The ultralight mesh is breathable and quick drying, keeps you cool. It wicks always moisture from skin keeping you dry and comfortable. Snug active fit and lower rise are ideal for high energy activity. I would recommend it to others.
Date published: 2020-03-11
Rated

3

out of

5
by
Kaydee
from
Unhappy Undies
I do love Exofficio for Travel wear. That said the panties were a let down. This is the second type of Exofficio "active undies" I've purchased & im still unhappy. Several yrs ago I purchased my first pair & Loved them. ExO. has changed the make & now they give you definite " panty line "….both at waist & thigh☹️. Very unhappy, really miss the old style
Date published: 2022-01-08
Rated

5

out of

5
by
Sugar1802
from
So comfortable!
Women's Give-N-Go 2.0 Sport Mesh Hipster panties are extremely comfortable! I got the XL and they are true to size. They stayed in place while I was working out and they are very breathable too. I also love the smooth, mesh material that they are made of. I honestly think these are the most comfortable pair of panties that I own and I need more!
Date published: 2020-03-25
Rated

5

out of

5
by
Jenna
from
I like these!
I ordered a large and I'm usually a size 8 or 7 so order a size up cause they are kinda tight on me. I like the material. It's like yoga pants for ur butt and I like me some yoga pantsss. Don't wear these with yoga pants cause u can see the underwear lines but for chilling around the house and sleeping these were super comfortable.
Date published: 2020-03-20
Rated

5

out of

5
by
Hallie
from
comfortable and stretchy
The Women's Give-N-Go 2.0 Sport Mesh Hipster underwear is comfortable to wear. They are stretchy and cover my whole bottom. I like that they are breathable and moisture-wicking. These are great to use during workouts. I have an elliptical so there is a lot of movement, but I didn't have an issue with my underwear bunching.
Date published: 2020-03-15
Rated

4

out of

5
by
MaMaKittyKat
from
Excellent fit!
The Give-N-Go Sports Mesh Hipster has an excellent fit and is very comfortable. The material is soft and has some stretch. The elastic band around the waist and buttocks keeps the hipster in place. Be sure to treat these with care and hand wash. Because the material experienced some 'pilling' after just two washes.
Date published: 2020-03-13
Rated

5

out of

5
by
Ana A
from
New go-to pair
This is my favorite pair of ex-officio underwear that I've bought. I travel a lot for work and often have to go out into the wilderness as well in different climates. These hold up well, feel even better than their previous products, and look great! I think these are going to be my go to pair from now on.
Date published: 2020-11-10
Rated

5

out of

5
by
Chica165
from
Fit Great
I've worn my new Give-N-Go 2.0 Sport Mesh Hipster undies a few times now. They are super comfortable and stayed in place during my workouts. The mesh fabric seems to be very breathable, so I was able to stay nice and cool. I may get a few more pairs and make these my daily undies instead of just for the gym.
Date published: 2020-03-16
Rated

3

out of

5
by
Anne828
from
OK now, better before
I wish they hadn't updated this underwear. They now have a wide elastic band at the top that gives the appearance of "muffin top" instead of the comfortable band it had before, which worked perfectly well and appeared seamless. They still fit OK and a really like the fabric, so I guess I won't be returning.
Date published: 2022-04-05
bvseo_sdk, dw_cartridge, 18.2.0, p_sdk_3.2.0
CLOUD, getReviews, 0ms
reviews, product
---
<ul id="BVSEOSDK_meta" style="display: none !important;"> <li data-bvseo="sdk">bvseo_sdk, dw_cartridge, 18.2.0, p_sdk_3.2.0</li> <li data-bvseo="sp_mt">CLOUD, getContent, 0ms</li> <li data-bvseo="ct_st">questions, product</li> <li data-bvseo="ms">bvseo-msg: Unsuccessful GET. status = 'ERROR', msg = 'Not Found.';</li> </ul>
product-detail-view
oos-pdp