Women's Give-N-Go® 2.0 Bikini Brief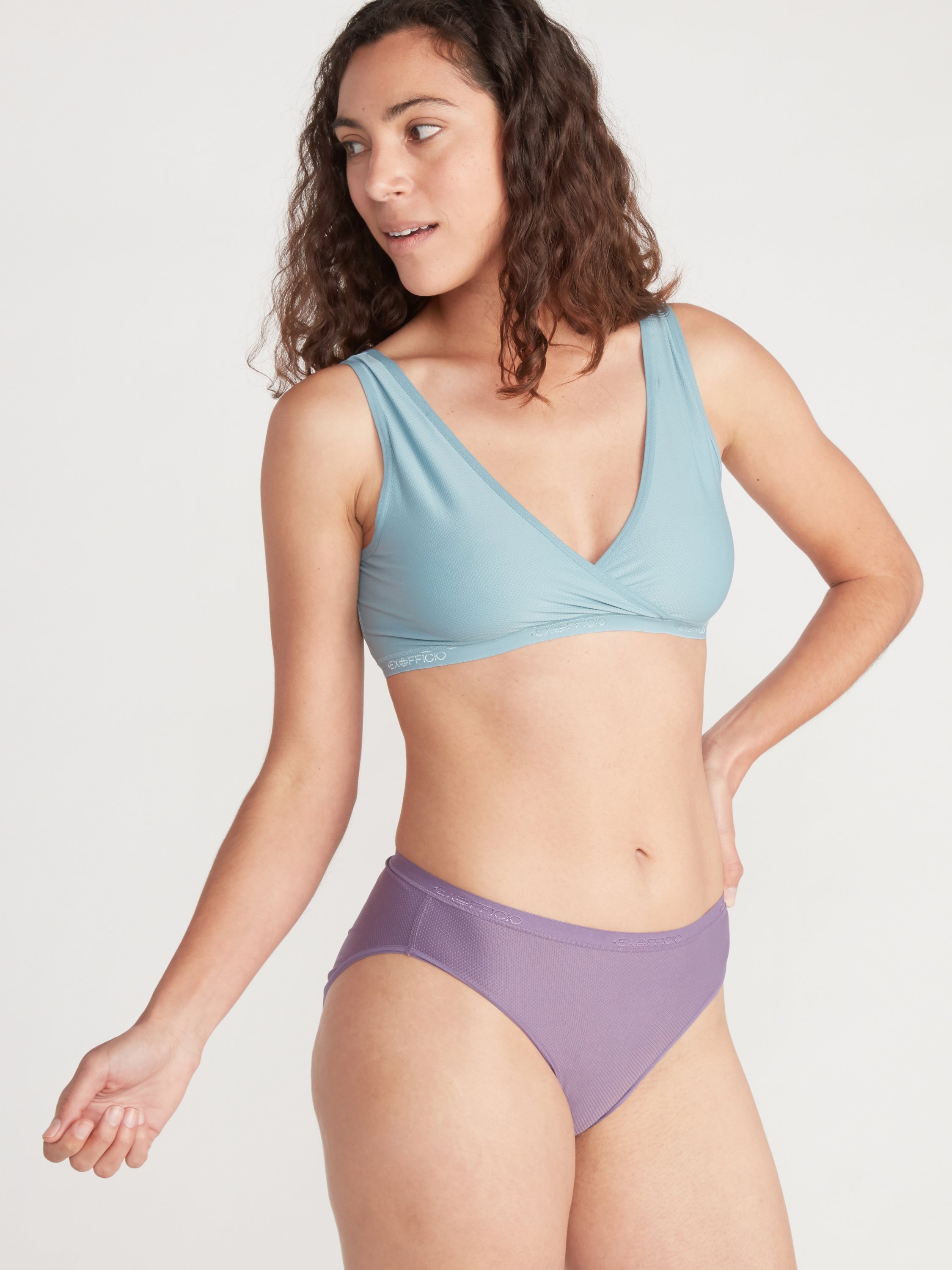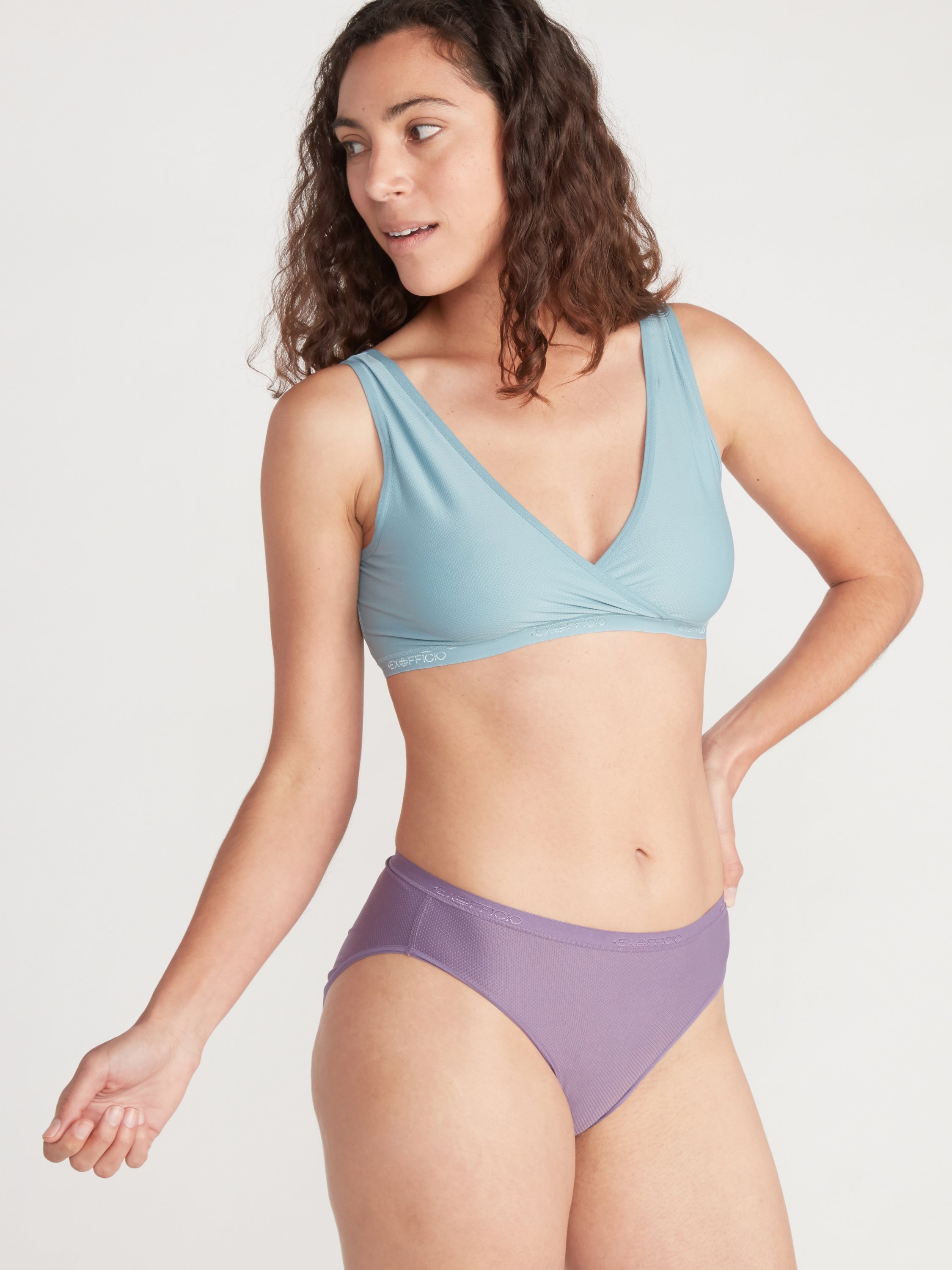 Women's Give-N-Go® 2.0 Bikini Brief
Sale Price
$10.99
Strikethrough List Price

$18.00
Final Sale: may not be returned or exchanged
Final Sale
This item cannot be exchanged or returned. Valid while supplies last. All sales final.
Selection will refresh the page with new results.
Selection will refresh the page with new results.
Sale Price
$10.99
Strikethrough List Price

$18.00
Final Sale: may not be returned or exchanged
Final Sale
This item cannot be exchanged or returned. Valid while supplies last. All sales final.
---

Free shipping on all orders $50+ and free returns* Details

Backed by ExOfficio's Lifetime Warranty
---
Product Details
Features
Breathable mesh fabric supplies airflow to keep you cool; Durable synthetic fabric
Improved anti-odor treatment stays fresher, longer
Flatlock seams reduce chafing; Wide, comfortable waistband retains its shape
Easy-care so you only need two for any trip
Description
From trekking across Thailand to traversing the toughest stretches of Baja, we've spent over 20 years perfecting the art of adventure—and underwear. That's where the Women's Give-N-Go® 2.0 Bikini Brief comes in. Now up to 4 times more breathable, 50% more moisture-wicking, and 25% more quick-drying compared to our original Give-N-Go® collections, our latest iteration of the perfect pair is designed to keep you moving more comfortably than ever. Explore more with durable fabric for long-lasting use, 4-way stretch for total range of motion, and chafe-reducing flatlock seams. The wide waistband retains its shape and improved anti-odor treatment keeps this underwear fresher, longer.
Specifications
Product Weight:

0lbs 1.23oz (34.9g)

Main Fabric:

89% Nylon / 11% Elastane
Rated

1

out of

5
by
Daphne
from
Wish these hadn't changed!
These used to be great panties with a non-visible elastic at the waist and legs. The new elastic is cheap and ugly, so I returned all 14 pairs that I ordered. I am so disappointed that the styling and detailing has changed!!
Date published: 2020-06-19
Rated

5

out of

5
by
Pinkz
from
Love the style.
This is the one I was looking for. The most comfortable I've found in a long time! I really like these and they fit very well. fit well, and can be worn all day and night. The material is so great and you never get a wedgie! Machine washable and durable...over and over. These undies is silky and stretchy. Accurate sizing and color. No issues whatsoever. So far my new favorite underwear. Finally, this is a high-quality panty that is great for everyday use. I definitely recommend these panties
Date published: 2020-03-19
Rated

2

out of

5
by
DLAB
from
Do not like the "re-design"
I bought these as my favorite underwear is from Ex-officio. I was planning on slowly replacing them. But these are not the same and I am not about to pay $18/pair for something that is of lower quality.
Date published: 2020-06-06
Rated

5

out of

5
by
Jenni
from
Comfortable
I've heard so many things about Exofficio's underwear over the years and I'm glad that I finally tried them! Bottom line, these are very comfortable. They're made from a mesh-sport-knit material that's both lightweight and substantially thick. I have a fuller backside and find that they are not full coverage; the sides of my butt hangout (although my husband doesn't mind!) Exofficio are known for being fast drying, and they are - as long as there's enough good circulation. Unfortunately there's not really good air flow in my bathroom (where I like to hand wash) and so these can take *all* day to drip dry. Normally I just run them through the washer and dryer, though, and they've held up well to that abuse.
Date published: 2020-05-29
Rated

5

out of

5
by
gerberbaby72
from
It's like wearing nothing.
If you like a pair of panties that are light and airy and feel like your not really wearing any, these are the panties for you. They are light, airy, and so comfortable. The waist band is soft and doesn't dig into your skin, the leg opening are roomy but not too loose, the crotch is of the perfect size and not really narrow nor too wide. The seams are well intack and show no evidence of coming apart. And the best part is the material is light and breathable. I have wore and washed these a few times now and they are still perfect, no fraying or signs of wearing out. They don't get deformed when washed and come looking like new. These are the first pair I always wear right after I do laundry. They are my new favorite panties and will need to get more.
Date published: 2020-03-17
Rated

2

out of

5
by
janeyeve
from
Inconsistencies
I ordered 6 pairs all the same size & style just in different colors. Many fit differently in the batch. I also do not like the change in material. I've worn these panties for many, many years and am disappointed in the change and inconsistencies. I gave 2 stars vs 1 because of the few in the batch that work; this has happened several times... unfortunately I lose $ in the process for those that don't work. Am actively seeking a different company & product.....
Date published: 2021-01-07
Rated

5

out of

5
by
JamSauce1
from
My new favorite underwear!
Ex Officio is now my favorite go-to underwear, so much so that I'm slowly replacing my old underwear with these. Their price definitely matches their value. I think of it this way; one pair is worth at least 3 pairs of Victoria's Secret undies as far as quality. At VC 5 pairs costs nearly $30. Do yourself a favor and spend that $30 on one or two pairs of Ex Officio instead and you'll be hooked! Breathable and comfortable, these keep up with you on outdoor adventures and travel days. They live up to their promise of being easy to wash and hang dry on the go. I wear them to work up a sweat backcountry and resort skiing, climbing, cycling, hiking, fieldwork and camping, travelling, and more. Treat yo' self and grab a pair!
Date published: 2020-02-18
Rated

3

out of

5
by
megss
from
Inconsistent sizing
I really like all exofficio underwear for excercise and travel, and they really hold up in the washer. They are comfortable and very light under clothing. However, the sizing is completely inconsistent - if you have a pair from a year or so ago - size down (I sized down in more recent orders to my normal size, whereas I used to size up one). I ordered my same size and the waist in the new pair is 3-4 inches larger. Also, would be nice if they were tagless for comfort. I did reach out to customer service over one month ago, but did not receive a response.
Date published: 2021-10-08
Rated

2

out of

5
by
Sherri48
from
Disappointing
The new style of these briefs is nowhere near as good as the old ones. They are cut more skimpily & have such large leg holes that they hang loose. The fabric is much thinner. Loved the older style.
Date published: 2020-10-05
Rated

4

out of

5
by
akakd
from
Sizing of Give-N-Go 2.0
I love ExOfficio products and these are no exception; however, I have had to go up a size, as these new bikini briefs don't have as much material to cover. Be aware that the sizing has changed. I am lean & trim & haven't changed my body shape. ExOfficio needs to re-add enough material to cover us!
Date published: 2020-08-19
Rated

4

out of

5
by
Hylas46
from
Size, WaistBand, and Tag
I've been wearing exofficio briefs for 20 years (not the same pair, lol). They're great. However, they have changed over the years. Waist band: it use to be wider and stronger. The current one is a bit loose. Tag: the tag in the back is huge, but you can cut it off. Size: I bought smalls at first, but they were too big, so I got extra smalls instead, which fit at the waist and cover my cheeks satisfactorily. But beware: they shrink over time. So in summary, the 4 of 5 stars is because of the flimsy waist band and big, useless, tag. Tighten it up Exofficio! These are for cowgirls, not debutantes.
Date published: 2020-10-24
Rated

3

out of

5
by
Lo5555
from
Soft!
These bikini briefs are extremely lightweight and thin. The mesh type material gives a nice airy feeling. The material is soft and comfortable against my skin, however the fit is a little off. They seem to run big, fitting a little too loosely and coming up too high on my waist. The bikini cut is pretty far which would be ok except that the material (around the edges) doesn't stay put very well. I found that the briefs rode up all throughout the day and frequently became uncomfortable. If they were a little smaller and had a lining around the edges to keep them from sliding, they would be a great fit!
Date published: 2020-03-18
Rated

5

out of

5
by
jns3
from
These feel great!!
I have pretty much stuck with the same expensive brand for the last 10+ years, but have noticed a decent decline in the quality. I have been hoping to find something comparable. After trying these, I believe I have! First off, if you are like me, you want a nice, breathable, thin brief. I don't want to feel like I'm wearing a restrictive pair of underwear. These make you forget you're wearing underwear, they are that comfortable and breathable. I am so happy to have found these! So far they have held up to regular washing and drying, which is super important. I can't recommend these enough!
Date published: 2020-03-12
Rated

1

out of

5
by
Bikini purchaser
from
Bikini briefs design problem
I bought this product many times before and was very happy with it. Unfortunately the current bikini design seems to have almost no elastic at the bottom edge so they ride up uncomfortably.
Date published: 2020-08-11
Rated

3

out of

5
by
Elizabeth Austin
from
Undies
These undies make a lot of claims. This is what I experience: they rolled down in the front and rode up in the back. I prefer undies that stay put. They are very soft. If they didn't roll and ride I would enjoy wearing them longer. They will likely make a great pair of pajama undies. In the time I wore them, they didn't chafe. While they did dry quickly as claimed, I did not wear them for an extended period of time to determine chaffing or not. It could go either way. They are soft which suggests low likelihood of chaffing, but they didn't stay in place so if your constantly adjusting them they could chafe. Overall, I guess if you're skinny and the panties don't roll down in the front of you, and when the ride up your butt you don't care, then these will be a great addition to your wardrobe. However, they aren't what I'm looking for.
Date published: 2020-03-29
Rated

5

out of

5
by
jewelsm
from
Nice fit - and great, light material for exercise
These fit in all the right places - they don't ride up on the edges or in the back when exercising, and the material is light and breathable (which works well for working out)! The smooth fabric is perfect for wearing under Lululemon style leggings. I wouldn't limit to just wearing while exercising though - the comfort and fit make them a great every day option as well. I am typically a size 4, and the medium fit perfectly. Highly recommend!
Date published: 2020-04-03
Rated

2

out of

5
by
Jennifer in Georgia
from
Leg openings loose
I have had past good experience with ex official underwear noth a T home and abroad (think wash in sink with quick dry) . This is my first time ordering them on line. I opened one package and wore them. They did not clung to my body. The leg holes were not elasticized as my previous purchases over the year. Have you changed the design? Is it possible they were too large for m? Also how do I return the 3 unopened packages.
Date published: 2021-01-05
Rated

5

out of

5
by
Edgelander
from
All good except blue
I ordered 3 pairs - to add to the four pair I already own. I love these except the blue. The blue are cut smaller and differently than all the other colors. The blue are narrower and ride up more - I don't know if it is because they are too little or because the cut is different
Date published: 2020-10-10
Rated

2

out of

5
by
shop4hubby
from
Drop in quality
I've been buying this same style for several years and this time I was disappointed with the quality of the waistband. It's thinner and and it rolls. I wish I could return them, but they've already been worn. I hope they fix this issue because I want to buy more in the future.
Date published: 2020-03-28
Rated

5

out of

5
by
laf58
from
Great for My Active Lifestyle and Travel
These underwear are perfect for my busy, active and travel schedules. I have a very slender physique and the XS fit me nicely. I can wear these underwear from gym to work. The material and is very breathable. When I am travelling, I can easily rinse and dry them quickly. The garment stays fresh and keeps its shape. I recently wore these underwear while hiking in the Adirondack Mountains. While hiking overnight I am very limited in what goes into my backpack. I can simply rinse these underwear in a fresh water stream.Very shortly thereafter have a pair of dry and comfy underwear. I am very happy with these underwear. I'll be adding Performance Travel Underwear to all my packing and everyday needs.
Date published: 2020-03-06
Rated

2

out of

5
by
Zita
from
Changed fabric and elastic
I've been buying these bikinis for several years and have loved them. I ordered more last week, and they're totally different. The fabric is thinner, and the elastic around the legs is very thin. I'd return them, but I had already washed them all.
Date published: 2020-06-29
Rated

4

out of

5
by
Bekah
from
Inconsistent sizing
These medium pinks seem to be sized large/incorrectly. I ordered medium blue ones earlier that fit just right. The pinks are cut much larger. Also, the pinks' elastic is of a different quality and is less likely to wear as long.
Date published: 2020-10-12
Rated

1

out of

5
by
WhyOWhy
from
Why Did Ex O Change these
I have purchased this style every year for 6 years. This year I am so disappointed. They run bigger than in the prior years and the elastic is loose and saggy around the legs. Even the elastic band at the waist gets saggy. Won't order this style again and now I'm stuck with many new pairs I can't wear (took the tags off and washed them thinking they were like they have been for all the past years).
Date published: 2020-03-12
Rated

1

out of

5
by
ELydia
from
ride up
I don't get why the only review option I received was for these Baja Blue briefs, which seem fine. But I got another pair in a lily pattern that I thought was identical, but they ride up my butt and are totally unacceptable.
Date published: 2020-07-20
Rated

5

out of

5
by
D Hoffmann5
from
Love the Give n Go Briefs
Love the Give n Go Briefs. I've purchased these for at least the past 10 years. They hold up and last a long time, are a great airy quick dry material after exercising and the fit is always perfect.
Date published: 2020-10-05
Rated

5

out of

5
by
Care9
from
Comfort & Great for Travel
Never have to worry if I have packed enough undies when I travel again!!! I chose the black bikini brief and I must say, they fit very well and are comfortable. They breath during even the most intense workouts and move and stretch with you without binding. I was skeptical about the whole "wear them in the shower to clean them" statement in the cleaning instructions, but let me say, they are quick and easy to clean, then wring them out by rolling them up in a dry towel, hang them up and Vola they are dry in about 3 hours and ready to wear again. These are a must for traveling.
Date published: 2020-03-18
Rated

1

out of

5
by
Not CK
from
I Hate change in something tha
It's changed! The elastic around the legs isn't as thick as it use to be so therefore they creep up immediately! These USE to be my faves now they are the worst!
Date published: 2020-07-28
Rated

4

out of

5
by
tbardwell
from
Breathable
I LOVE these panties! They are extremely breathable and dries super fast! I've worn these under - dry shorts on the river, and I swear they dry faster than my swimsuit. And im currently visiting Nashville, where the humidity and heat have had me sweating, but these panties keep me feeling fresh. They have also been easy to wash, and they're dry by morning. Definitely buying more! I bought a size bigger than my clothing size bc I didn't want panty lines. Im glad I did. My clothing size would probably fit, but the bigger size is very comfortable and not the least bit baggy.
Date published: 2020-03-09
Rated

3

out of

5
by
tolec
from
Cannot stick sanitary pads
Impossible to stick sanitary pads, will always fall off. No such problem in 1.0 briefs.
Date published: 2020-05-26
Rated

4

out of

5
by
captpower
from
Best physical activity underwe
Very reluctant as a man to write this review. I've worn the women's give n go for years. I'm at the point I believe that men who want comfortable underwear for backpacking, travel and even daily wear give them a try. The tag has become to long but not a major issue. Use a permanent marker to blank out women's on the tag.
Date published: 2020-05-06
bvseo_sdk, dw_cartridge, 18.2.0, p_sdk_3.2.0
CLOUD, getReviews, 0ms
reviews, product
---
<ul id="BVSEOSDK_meta" style="display: none !important;"> <li data-bvseo="sdk">bvseo_sdk, dw_cartridge, 18.2.0, p_sdk_3.2.0</li> <li data-bvseo="sp_mt">CLOUD, getContent, 0ms</li> <li data-bvseo="ct_st">questions, product</li> <li data-bvseo="ms">bvseo-msg: Unsuccessful GET. status = 'ERROR', msg = 'Not Found.';</li> </ul>
product-detail-view
oos-pdp