Women's Give-N-Go® 2.0 Bikini Brief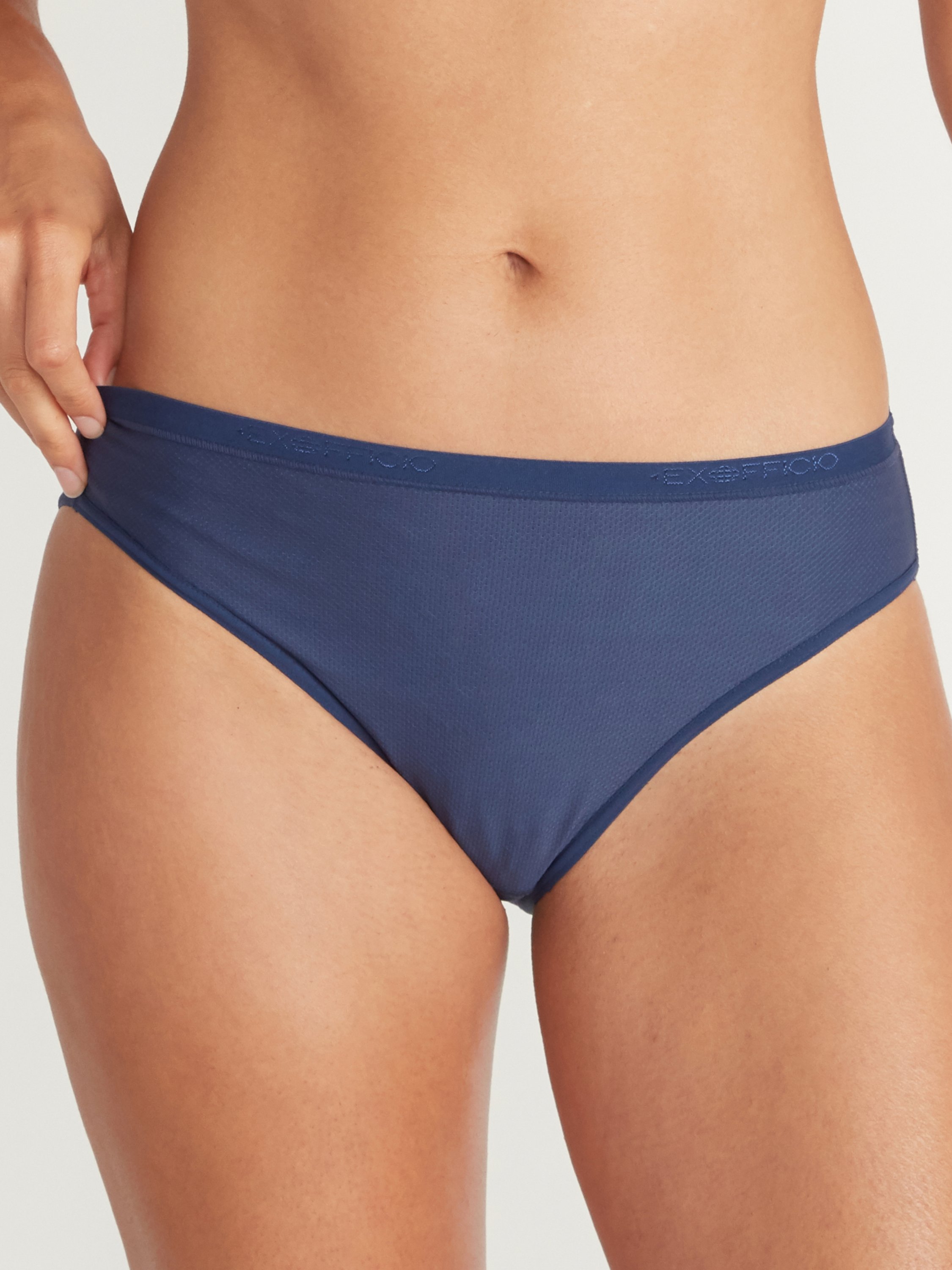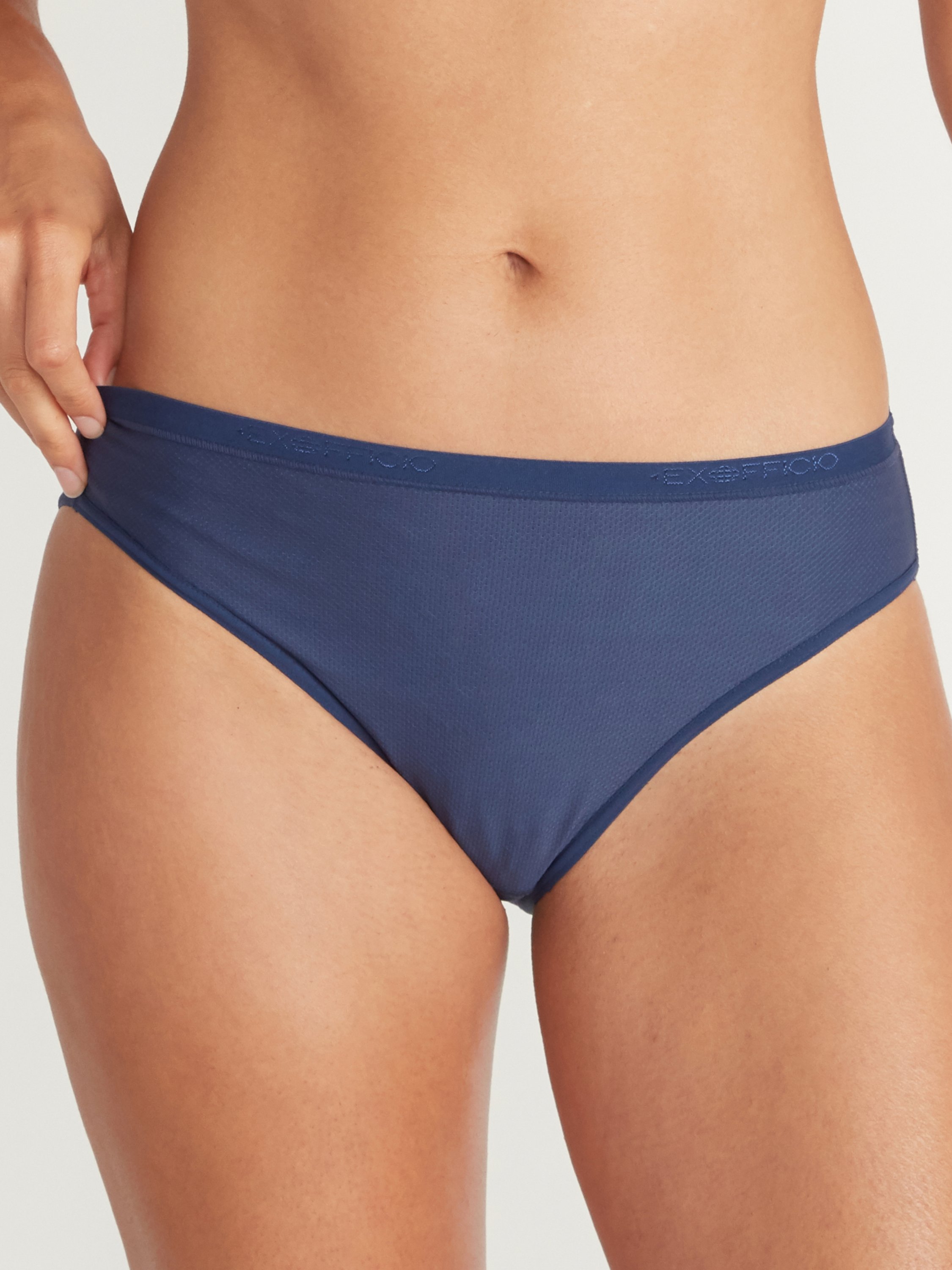 Women's Give-N-Go® 2.0 Bikini Brief
Final Sale: may not be returned or exchanged
Final Sale
This item cannot be exchanged or returned. Valid while supplies last. All sales final.
Selection will refresh the page with new results.
Selection will refresh the page with new results.
Final Sale: may not be returned or exchanged
Final Sale
This item cannot be exchanged or returned. Valid while supplies last. All sales final.
---

Free shipping on all orders $50+ and free returns* Details

Backed by ExOfficio's Lifetime Warranty
---
Product Details
Features
Breathable mesh fabric supplies airflow to keep you cool; Durable synthetic fabric
Improved anti-odor treatment stays fresher, longer
Flatlock seams reduce chafing; Wide, comfortable waistband retains its shape
Easy-care so you only need two for any trip
Description
From trekking across Thailand to traversing the toughest stretches of Baja, we've spent over 20 years perfecting the art of adventure—and underwear. That's where the Women's Give-N-Go® 2.0 Bikini Brief comes in. Now up to 4 times more breathable, 50% more moisture-wicking, and 25% more quick-drying compared to our original Give-N-Go® collections, our latest iteration of the perfect pair is designed to keep you moving more comfortably than ever. Explore more with durable fabric for long-lasting use, 4-way stretch for total range of motion, and chafe-reducing flatlock seams. The wide waistband retains its shape and improved anti-odor treatment keeps this underwear fresher, longer.
Specifications
Product Weight:

0lbs 1.23oz (34.9g)

Main Fabric:

89% Nylon / 11% Elastane
Rated

2

out of

5
by
The Happy Tramper
from
What happened to the sizing?
I absolutely love the new fabric, however the sizing has seriously changed. The cut is way larger than the ones I have bought for years. The size small is too big and with the changes in the elastic, I'm having to readjust the leg holes all day. Ugh. Not what you want for long days on the trail.
Date published: 2020-05-10
Rated

3

out of

5
by
Sunny
from
What Happened??
Quality has really declined. I just ordered a dozen pair of these panties. I do every year. Each year the quality appears to be a little less than it was previously. I have a few "old favorites" that are actually 8 years old - and look new. Most of last year's had to be tossed.
Date published: 2020-09-30
Rated

4

out of

5
by
TLR22
from
Bikini Brief
I own a pair of these in black. The fabric is cool and light and soft to the touch. I like that they don't leave a pantyline. My one complaint is that they didn't stay in place as well as I would have liked. They tended to ride up on the legs and slide down in the back a little.
Date published: 2020-03-31
Rated

5

out of

5
by
Gail
from
NOTHING compares!!
These are the MOST comfortable underpants I have ever had and I am 77! I started with 3 and now have 8! I gift them to family and friends for presents. What do I like? They never ride up, I don't even know I have underpants on and they dry in minutes. Try them now!
Date published: 2020-11-19
Rated

1

out of

5
by
RFerranco
from
Decrease in quality
We have purchased and worn these underware for over years. Unfortunatly this time we found the product changed, the fabric much thinner and the does not fit as well. Please reconsider the downgrade in the product provided. We won't purchase again. Very disapointed.
Date published: 2020-11-10
Rated

1

out of

5
by
Looo
from
Weak elastic and fabric
I have been wearing these ExOfficio briefs for close to ten years and have been very happy. The news ones I got several weeks ago are not the same. The fabric and the elastic is not as sturdy as my past briefs. I don't even like to put them on. Not happy!
Date published: 2021-05-01
Rated

4

out of

5
by
Young retired
from
Give n go bikini briefs
Have worn these for years, great for travel, quick wash/dry, comfortable, ok looking 'wares', but not as comfortable or great as your original lacy give-and-go bikini briefs. Please bring them back?!?! I'm begging you! Thus 4 stars rather than 5.....
Date published: 2020-07-11
Rated

2

out of

5
by
stacy1002
from
Unfortunately not what I hoped
I have a pair that I purchased a couple years ago and love them. I expected these to be the same but they are not. The elastic around the legs feels different and enough different to not be as comfortable.
Date published: 2020-08-13
Rated

5

out of

5
by
Kira
from
My only travel undies
I work for a medical humanitarian aid organization which means I spend a large portion of my life in underserved areas. Think places that planes don't fly or internet doesn't exist. And exofficio underwear are a staple. They wash and dry easily and quickly. They are light weight, hold up in harsh conditions and most importantly extremely comfortable. I don't go on an assignment without them (they are also my go to while at home).
Date published: 2020-05-06
Rated

3

out of

5
by
Hiker girl
from
Nice if fit is right for you.
Nice color, wash and dry easy. Fit was bigger in the back portion than previous bikini brief, and didn't work for my body type. Love the brand, but will not be purchasing online again.
Date published: 2020-05-08
Rated

3

out of

5
by
Cronmoax
from
wedgie city
The material is very nice and does breath well, but these give me a permanent wedgie. This is a huge issue for me when hiking, so these will be reserved for sleeping and bike riding.
Date published: 2020-08-20
Rated

1

out of

5
by
SicilySue
from
Extremely disappointed!
I've been wearing ExOfficio bikini briefs exclusively for many years. Ordered some of the new 2.0's, and the fit is entirely different. The leg openings are much larger than the originals and don't hug the derriere in the right place. Fortunately, ExOfficio pays for return shipping. However, the fit is a deal-killer for me. There are a few other companies that make a similar product, and I'm going to switch to one of those.
Date published: 2020-12-01
Rated

2

out of

5
by
Nara
from
Not what they used to be
This company used to make good underwear but they've gone downhill. They are too loose in back and the material is more flimsy than formerly. Won't buy again.
Date published: 2021-05-05
Rated

1

out of

5
by
Boulder Beth
from
change in bikini briefs
I've bought these underwear (Give and Go bikini briefs) for years in different colors, but these were a disappointment. The leg is bigger and they ride up.
Date published: 2020-12-18
Rated

5

out of

5
by
Roxy76
from
My New Go To!
I stay with my usual Victoria Secret panties because of I like them so much but I'm also getting older and uncomfortable.But these briefs are SO comfortable, I've never tried a pair of panties like these!. First off they're breathable which is great to me because no one wants to sweat and your underwear are damp and sweaty! They keep me very cool and washing them is very easy and they're air dried in no time! I would take these with me to the gym, traveling and just to have a pair in my tote bag just in case! I highly recommend these briefs ladies!
Date published: 2020-03-18
Rated

5

out of

5
by
Girlintherain
from
My Any Day Underwear
Love them! I have been wearing ExO underwear for more than 10 years when I got a pair for Xmas one year. I've been a huge fan since. Initially I planned to save them for travel because they dry so fast, but I found them so comfortable that I have continued to replace my underwear over the years with ExO. I now have 22 pairs snd still have the originals. The latest sports mesh version feel like silk when I wear them and I love them. I'll never own any other underwear! My daughter and some of her friends are fans also! I'm 5'8 135 and wear a Medium.
Date published: 2020-11-06
Rated

2

out of

5
by
Cosmo
from
Fabric has changed
Fabric has changed since the last time I purchased these. It's much thinner and the seem to ride up more. Not great for hiking or running.
Date published: 2021-01-10
Rated

1

out of

5
by
PattyD
from
Rides Up
Nice fabric but it might as well not have elastic around the legs. It really rides up on your bottom making for a very uncomfortable fit.
Date published: 2021-02-24
Rated

2

out of

5
by
mmingus
from
Not made like the old ones
The material is thinner, the leg openings are wider and the fit is generally larger than the ones from 2 years (I think it was 2 years) ago. I have washed and dried them to try to get them to shrink, but no real success. If the old ones fit you too tight, then these might be perfect for you. They are too loose on me - size XS. The give and go sport mesh ones, however, are true to size and fit me perfectly.
Date published: 2022-01-03
Rated

2

out of

5
by
Anonymous
from
Not as good as as before.
Fabric too stretchy, bigger than previous pairs, used to be my absolute favorite underwear (the only ones I wore.) There is something different now. They slide down and don't stay put. I am so disappointed! I thought these would be my forever undies. I have probably 25-30 pairs, all different colors, bought every few years over the past 10-15 years. Decided to buy some new ones and they aren't the same.
Date published: 2021-08-27
Rated

1

out of

5
by
Czis
from
Do not buy these underwear!
Do not buy these. The new elastic on the edging sucks. Hardly holds them in place. These were my go-to, favorite underwear for over 8 years but now I'll be looking for a new product. What a disappointment. I sure wish I'd trusted the reviews that said this same thing. I was too hopeful that my experience would be different. Save yourself the hassle of returns and find a different brand. What a bummer.
Date published: 2022-03-07
Rated

5

out of

5
by
Jazz Fanatic
from
Would buy again
Comfortable, good fit - doesn't ride up. Great for athletics.
Date published: 2020-10-07
Rated

5

out of

5
by
Valatx
from
Comfy!
I love this pair of underwear! The are made from a mesh material that is light and breathable. The band has the right amount of give, not too tight and not too loose either. I have a fairly large rear-end and only wish the back bottom end covered s *little* bit more of my rear. It rides up just a bit. But not enough to make them uncomfortable. And in case this helps with anyone's sizing needs: I am 5'7' and weigh about 160. I got a large. Comfy underwear should be a bare essential for everyone in life, and this pair fits that bill.
Date published: 2020-03-20
Rated

5

out of

5
by
Katz
from
Comfortable!
This has got to be one of the best underwear ever! It's lightweight and fits me perfectly. It moves nicely and doesn't twist or bunch up. The waistband is very comfortable and doesn't show through my clothes. It's made from a mesh fabric that makes it nice and breathable and does not get sweaty at all. These underwear are perfect for someone who is in a hot climate or does a lot of physical activity because they don't get all sweaty and sticky. I love this underwear and they still feel fresh and comfortable after a long day of work.
Date published: 2020-03-10
Rated

4

out of

5
by
mommymc
from
Super comfortable but not true bikini briefs
I received one Give-N-Go 2.0 Bikini Brief in the color black size XL 16-18. The material is very stretchy and accommodating. I'm a size 18 in women's pants and these fit me perfectly. I wouldn't call them bikini briefs though. They fit more like thigh high cut underwear. Which is fine since they don't pinch at the legs and don't ride down like some underwear do. The only thing that could be improved is make them tagless. The tags are huge. I carefully cut them off so problem solved. I would happily buy these in other colors.
Date published: 2020-03-06
Rated

4

out of

5
by
jewels
from
Durable, comfortable, clean!
These are my favorite panties for travel, everyday, and work! I have worn them for 10+ years because they are comfortable, wash and dry easily by machine or hand, and the fabric is anti-odor. However, this version was thinner than usual, and the leg elastic was looser. I don't know why they changed a great item. I still like them, but just a little less.
Date published: 2020-11-08
Rated

5

out of

5
by
LJN5
from
A necessity if you travel
I purchased numerous EXO products but this one in phenomenal. It is comfortable, won't rise up, dry quickly when washed at night and pretty to boot. I could never wear anything else once I tried these. Whether it is hiking, working out or a night on the town, this product has everything you could want in an undergarment. I highly recommend.
Date published: 2020-04-21
Rated

1

out of

5
by
Ivana
from
Not the best anymore!
I bought my first pairs of the give and go briefs and lacy style back in 2012 and have ordered several more over the years! I truly loved them a especially the fit of the lacy style and the fabric of both. They had become my daily underwear and not just for travel. I actually am still wearing the ones from 2012 as they still look like new and they wash great! Because I live in Canada and they cannot be sent to a "foreign" address I would order them when I was visiting the States and had them shipped to where I would be. All good as I could take advantage of the sales! However as of late, I could not even purchased on my "foreign" credit card so I had to have a family member use his. The whole process was a fiasco and unfortunately, they arrived only hours after our departure when the originals where ordered two weeks prior to our visit! This was in February 2020. Because I was in no rush, I finally made arrangements to have them sent to me a few weeks ago. I was quite excited as I had ordered one pair of sport mesh and one of each style of the new Modern collection. Yikes! The fabric is not what I expected and they are all uncomfortable and the sport mesh one is not like the original fabric nor comfortable. They also do not perform like the others as I easily sweated in them almost immediately! They are pure crap and unfortunately unless ExOfficio brings back the original styles and fabrics I will be search of other travel underwear that perform and feel nice against the skin.
Date published: 2020-08-29
Rated

3

out of

5
by
Sclostio87
from
Convenient but don't stay in place
These underwear are soft and comfortable but they move around easily. I found myself pulling at them all day. They are very breathable and truly convenient for travel. It was easy to hand wash and they air dried within 3 hours. I wouldn't recommend for daily water but would definitely use when traveling and needing to pack light.
Date published: 2020-03-28
Rated

5

out of

5
by
Anonymous
from
Very comfortable
I really love these underwear. They were very comfortable and breathable. They did not ride up any time I wore them. They stayed in place and really fit to my body very nicely. Some underwear I have tried are very tight and constricting, they ride up and I cannot wear them. I love that these stayed in place during my busy day and I did not have to adjust them at all. The material makes it seem like they would constantly ride up as you are walking, that is not the case at all. I could not be happier with these!
Date published: 2020-03-18
bvseo_sdk, dw_cartridge, 18.2.0, p_sdk_3.2.0
CLOUD, getReviews, 0ms
reviews, product
---
<ul id="BVSEOSDK_meta" style="display: none !important;"> <li data-bvseo="sdk">bvseo_sdk, dw_cartridge, 18.2.0, p_sdk_3.2.0</li> <li data-bvseo="sp_mt">CLOUD, getContent, 0ms</li> <li data-bvseo="ct_st">questions, product</li> <li data-bvseo="ms">bvseo-msg: Unsuccessful GET. status = 'ERROR', msg = 'Not Found.';</li> </ul>
product-detail-view
oos-pdp