Women's BugsAway® Lumen™ Hoody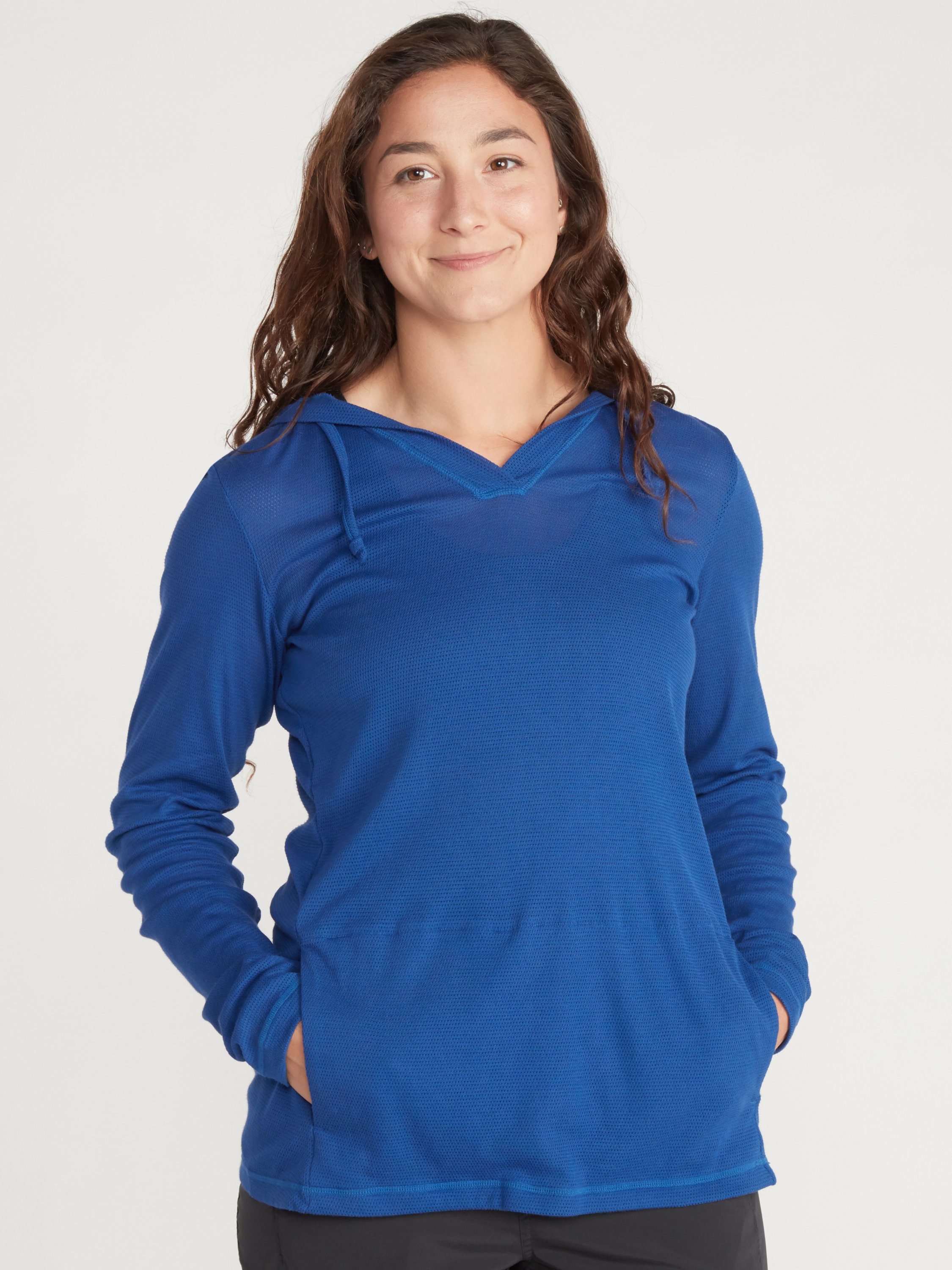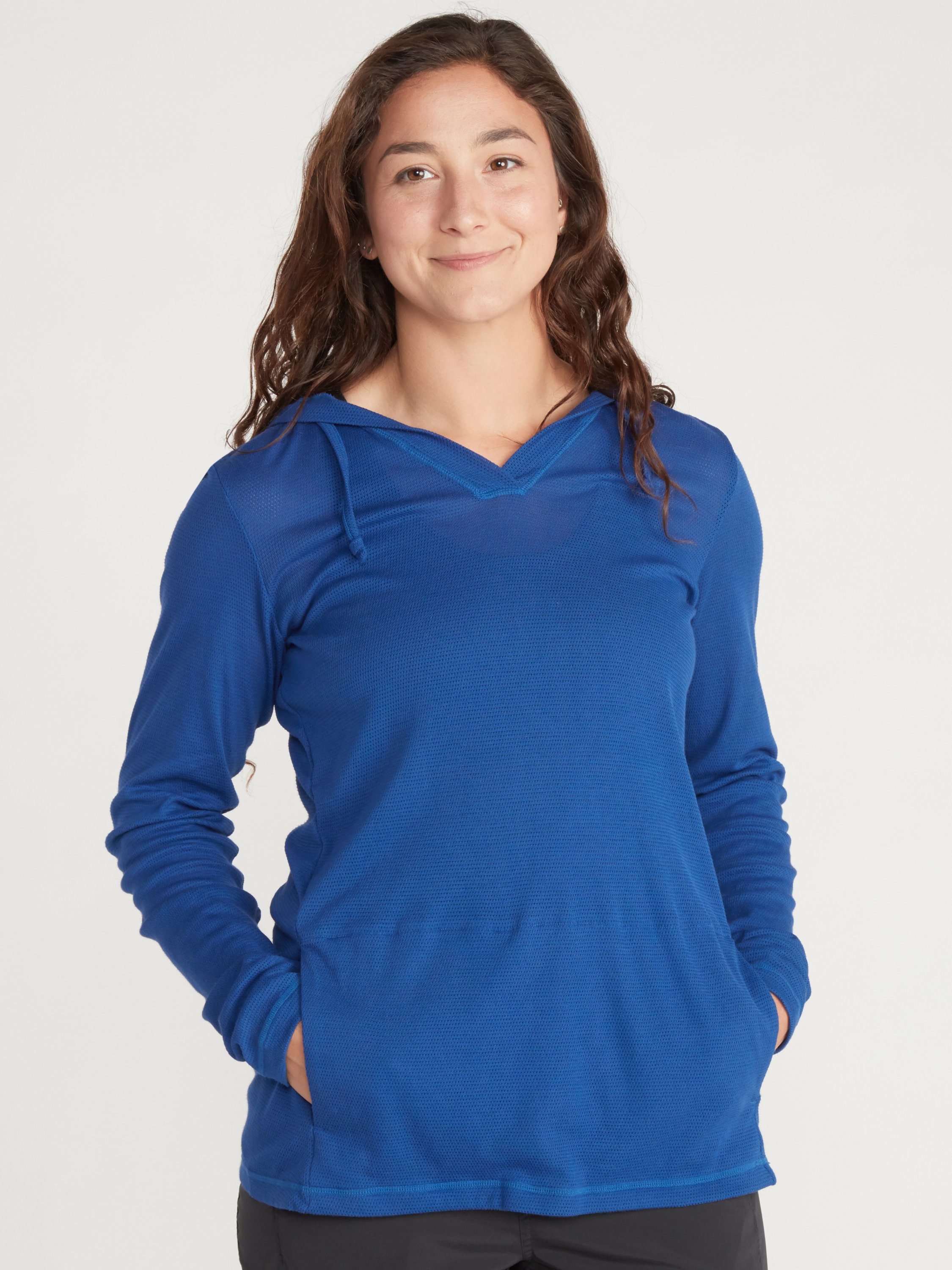 Women's BugsAway® Lumen™ Hoody
Final Sale: may not be returned or exchanged
Final Sale
This item cannot be exchanged or returned. Valid while supplies last. All sales final.
Selection will refresh the page with new results.
Selection will refresh the page with new results.
Final Sale: may not be returned or exchanged
Final Sale
This item cannot be exchanged or returned. Valid while supplies last. All sales final.
---

Free shipping on all orders $50+ and free returns* Details

Backed by ExOfficio's Lifetime Warranty
---
Product Details
Features
Insect Shield® insect repellent apparel repels mosquitoes, ticks, ants, flies, chiggers and midges (no-see-ums)
Ultra-lightweight, quick-drying, breathable cotton/polyester blend
Attached 2-panel fitted hood with adjustable drawcord
One security zip pocket inside kangaroo pocket that fits passport
Thumb loops
Description
Discover why the Women's BugsAway® Lumen™ Hoody is a year-to-year favorite. We've gone sleeker on the designs for the hood, pocket, and thumb slots, and the style is still lightweight and with lots of give. This comfortable knit is treated with Insect Shield® technology, giving you the invisible, odorless protection of Permethrin that lasts up to 70 washes.
Specifications
Product Weight:

0lbs 7.1 oz (201.3 g)

Main Fabric:

70% Polyester 30% Cotton Lumen™ Mesh 2.83 oz/yd²

Center Back Length:

25.25in
Rated

5

out of

5
by
Tempest
from
VERSATILE HOODIE!
I love this hoodie for different reasons, first of all, of course is the fact that I have worn it in mosquito infested campsites and the mosquitos leave me alone:-) Another reason I have purchased 6 different Lumen Hoodies since 2013 is because the hoodie is lightweight, easy to match to leggings, shorts, jeans, etc. and it is very easy to care for. It's also a great quality material, I can say that all of my hoodies - including a white one - look like new! When backpacking, if I have to wash it, I know that it'll dry fast; at home I just throw it in the washer and can dry it by hanging it up or putting it in the dryer. I love the variety of colors that ExOfficio has come out with over the years for this hoodie. My hope is that they'll keep making it for years, because I'm pretty sure it's been a hit for them!
Date published: 2018-08-16
Rated

5

out of

5
by
AliB
from
Love it
I love the loose fit of this hoody. Even though a medium would have fit, I bought a large so that I could wear it over long sleeve shirts in cooler weather. I live in the woods, so mosquitoes and flies are horrendous from spring through fall. This isn't a top that you would wear on its own though because it is see through. When it's warm outside I wear a tank top underneath and I feel very comfortable. The top is breathable, so I don't feel overly warm while wearing it. I like this hoody so much, I bought two more of them. For size reference I am 5'8" and I weigh 155 lbs.
Date published: 2020-06-18
Rated

5

out of

5
by
eae2017
from
Light and comfortable
I bought one before traveling to Costa Rica and hiked in the cloud forest. Light and comfortable and kept the bugs away. I recently bought 2 more in different colors.
Date published: 2017-11-30
Rated

4

out of

5
by
IowaCamper
from
Comfy but not great protection
I bought this because I typically get many mosquito bites when we go camping. This was soft and comfortable but I got several bites (through the hoody) before having to spray deet all over myself anyway. I bought two but as of now, I wouldn't buy again. I'm bummed!
Date published: 2019-06-22
Rated

5

out of

5
by
Becky54Florida
from
Colorful and lightweight!!
I just love, love, love my BugsAway Lumen Hoody. I was so happy with my first that, I went back online and bought one in every color that Exofficio had in stock. It is very stylish yet really comfortable. This top definitely lives up to its name!
Date published: 2017-07-21
Rated

5

out of

5
by
weissd77
from
Bugsaway Hoody
I bought the hoody for a fly fishing trip to Alaska. The hoody is comfortable and stylish and the best part I didn't get one bite! It definitely protected me from the "bugs".
Date published: 2017-07-25
Rated

5

out of

5
by
Lw sfo
from
My fifth!
Love these tops. They work for me in repelling bugs. And mosquitoes love me. I get many compliments while wearing them. Just added the peach to my collection.
Date published: 2017-09-07
Rated

5

out of

5
by
Annie24
from
My favorite shirts!!
I bought my first BugsAway Lumen Hoody last year. I get so many compliments when I wear it AND it is super comfortable. I decided that I needed more and found two from your website that were on sale and in my size. I love my striped one the best! These shirts are perfect for me because I have some skin issues and like coverage, but I live in Florida so that makes it hard!! These shirts are nice and thin and are great at letting some air in.
Date published: 2019-05-15
Rated

4

out of

5
by
ellenebay
from
GREAT COLOR AND WT
IT WAS HAD MAKING UP MY MIND WHETHER TO GET THIS IN A MED OR LG. I DIDN'T WANT IT SKIN TIGHT SHOWING ROLLS I'D RATHER HIDE SO I GOT A LG. IT IS A BIT LONG (I'M 5'4") BUT THE SLEEVES ARE HUGE IN WIDTH AND FALL ALMOST BELOW MY FINGERS. I HAD THIS SAME ISSUE WITH THE SOL COOL KAILIANI L/S SHIRT WHICH I RETURNED BECAUSE OF THE SLEEVES. MAY END UP ORDERING IT IN THE MED BUT HATE TO HAVE TO PAY SHIPPING CHGS JUST IN CASE THE MED ENDS UP BEING TOO TIGHT. WISH SOMEONE ELSE HAD MENTIONED THE SLEEVES IN A REVIEW.
Date published: 2019-05-23
Rated

1

out of

5
by
Dianne W
from
Worst purchase from ExOfficio
Unfortunately, I purchased this hoody on final sale and didn't realize I couldn't return it. It doesn't fit me and even if it did the style is unflattering. The fabric is very very loose weave and would snag on any little thing. I own tons of ExO clothing and this item is a real disappointment. I have to keep it, so might wear it under another full top as a layer.
Date published: 2020-10-26
Rated

5

out of

5
by
Boater87
from
Perfect for Buggy Nights
I own three of these, which I primarily use for buggy evenings at home or abroad, most recently in Roatan. PRO: It is perfect to keep away the slight chill that comes after sunset in the summer. It's very soft and cozy, and can't be beat for pulling on after a long day scuba diving. It does an excellent job keeping the mosquitos and sand flies away. The hood is tight and stays put when up, and the fabric it's a little stretchy and very flattering. CONS: It is not great for water sports (I sometimes wear this kayaking) as it gets and stays soggy and takes a while to dry. I also find it stifling on hot, humid days (I like my Modena better in that weather) and would recommend it for evenings/nights only.
Date published: 2019-06-02
Rated

5

out of

5
by
jamie64
from
lightweight, effective
I was doing microbiology field work on the North Slope of Alaska and the mosquitoes were epic--requiring headnets and covering every surface. This performed excellently and was not too hot (the Arctic was 71 degrees!).
Date published: 2019-07-30
Rated

3

out of

5
by
AdventureAwaits
from
Love but I got bitten!
I live as a full-time volunteer in Haiti, so I was looking for something to wear to keep the mosquitoes away. I love this shirt, it fits well and is very comfortable. The material is light and airy with lots of little holes in it. The first few times I wore it I had no trouble with the mosquitoes, but the last time I wore it, I got bitten on the shoulder. I was very sad because I was hoping that I was wearing an impenetrable shield!
Date published: 2019-06-19
Rated

5

out of

5
by
swim4me
from
Runs big.
The cornflower is a beautiful color. I bought a small but I could have worn xs as I have xs in other colors. I will keep it and wear it over a shirt.
Date published: 2017-09-20
Rated

5

out of

5
by
Terri
from
Super comfy
Bought 2 of the bugs away lumen hoody just before a journey to Africa & Madagascar. I wanted to minimize those super annoying bites. I am so prone to being the one who comes away covered in bites. Well, either there were no biting insects in any of the 6 countries that we visited or the hoodies lived up to their claim. The feel of the fabric is super soft, I even said that they would be great to sleep in.
Date published: 2018-09-24
Rated

5

out of

5
by
Beth H
from
BugsAway Lumen Hoody
I really like my BugsAway Lumen Hoody. I prefer the oil green color because I photograph birds and want something that is more of a camouflage color rather than some of the brighter choices. I can wear it easily over a short sleeve shirt and purchased a size that I can also put over a light jacket. I like the hood because I can pull it up over my visor and keep the insects away from my neck and ears.
Date published: 2020-10-11
Rated

5

out of

5
by
kaydeetee
from
Very happy with this hoodie!
I've wanted to get one of these hoodies for a while, and I couldn't pass it up on a Labor Day sale! The fit is great, and it's lightweight and comfortable. I typically wear a L to XL (14-16) and the XL was perfect. I originally wanted to get a hoodie with insect repellent to keep in my emergency bag, but I'm now wearing this one fairly regularly. Mosquitos love me. We live in the country. I can't even so much as let the dogs out without getting eaten alive. While I use bug spray or lotion before an outdoor adventure, I really don't want to put on a bunch when I'm only going to be in the yard for a few minutes. The insect repellent in the fabric works exactly like it's supposed to! I keep the hoodie in the coat closet and throw it on before I head out into the yard. I'm finally able to avoid getting bitten. I'm very happy with this hoodie, and I will definitely be getting at least one more!
Date published: 2019-09-23
Rated

5

out of

5
by
Karmen
from
Great Hoody!!!
Excellent product, it was exactly what I expected. Thank you, Exofficio
Date published: 2017-10-10
Rated

5

out of

5
by
landshark70
from
the perfect light layer
I have 4 of these hoodies and wear them all the time. They are so lightweight and great to layer. They are soft and comfortable and mine have lasted for years through lots of washings. I order new colors as they come out. I have bought them for my sisters who also rave about them!
Date published: 2019-06-03
Rated

1

out of

5
by
sara27
from
Got a bite right through
Fabric is super thin and I got bits right through this. Doesnt seem to work at all as chemical or physical barrier.
Date published: 2021-12-03
Rated

4

out of

5
by
PaulaK
from
Very lightweight
This shirt is so lightweight it would be perfect for bug protection on a hot day or when you don't need any extra warmth. Plan to wear over just a light tank or t-shirt for bug protection. It's good looking, runs a little on the longer side
Date published: 2019-05-15
Rated

4

out of

5
by
Jaye
from
The hoody is perfect for travel. It is not bulky and takes up very little space for packing and I love the zippered pocket. A nice 2nd layer if it's a little cool.
Date published: 2018-09-02
Rated

4

out of

5
by
Vetmom
from
Comfortable
Like the color and pocket in front. Seems like it might snap easily but hasn't so far. I hate bugs so will do whatever to avoid bites as they love me.
Date published: 2019-07-17
Rated

5

out of

5
by
Boo307
from
So comfortable & no bugs
This is my third Lumina Hoody. I used them regularly in order to be able to enjoy Maine evenings without mosquitos or black flys. I was first sold on the Lumina Hoody when I used my first one hiking two days on the Appalachian Trail. Mosquitos buzzed away from my face, but never came near. The cotton/poly blend kept me comfortable in the humid weather with an occasional breeze flowing through the open weave. I bought this most recent hoody because I love the storm color.
Date published: 2020-06-26
Rated

4

out of

5
by
Ms mary
from
Women's bugs away hoodie
I absolutely love the top. It does stretch a bit after a couple wears on a trip.
Date published: 2020-05-02
Rated

4

out of

5
by
jill49
from
Great features for backpacking
I bought the first of two of these hoodies in the spring prior to leaving to hike on the Appalachian Trail in Maine. It was the cornflower color. I bought a second one in a darker color (burgundy) in the fall in anticipation of future hikes and backpacking adventures. I appreciated that it helped keep away the hoards of bugs we experienced on one part of the Hundred Mile Wilderness of the AT. I would put the hood up and then put on my hat and mosquito net to protect my face and neck from bugs. I liked that the sleeves were long as I could pull them over my hands to protect them from bugs. The kangaroo pocket was great for keeping my bug net and other needed items handy. The hoody also protected me from the sun without being too hot and it helped keep my warmer when it was cool. I didn't realize the hoody had a zipped security pocket in the kangaroo pocket until I washed it the first time. I liked the bright blue color but it did show the dirt that ended up on the sleeves and back section from climbing up and sliding down boulders. I was unable to completely clean this dirt out. Hence the purchase of the darker burgandy color for future adventures. I ordered the hoody in a medium (8-10). I also tried the small and both fit but I wanted to a loose fit and some room under it for other clothes so I kept the medium.
Date published: 2019-10-09
Rated

5

out of

5
by
MaryE
from
I own 4 of these
I bought 4 bugs away lumen hoodies 4 years ago for a hiking trip. They keep sun and bugs off my arms and the hood has come in handy for swarming gnats and those times I don't have my sun hat handy. I wear them almost everyday. People often asked if they are hot, but they are cool. They are also more comfy and easier than constantly applying sunscreen. I've had all 3 forms of skin cancer.
Date published: 2021-06-22
Rated

5

out of

5
by
RhondaAgate
from
Comfy cool hoodie
I wore this hoodie during a mosquito outbreak at home, what a relief to slip it on to go outside! My old bug-proof shirt was hot and uncomfortable, this was quite airy. It worked well while kayak fishing on vacation too. I did have one fly bite thru it, but I was glad to not have to entirely soak myself in HD bug spray. Pretty warm that day and it was not too hot to wear it.
Date published: 2021-08-21
Rated

5

out of

5
by
imaginejasmine
from
Just bought a second one
I originally bought this hoodie in 2015, and used it on numerous hiking trips in humid, hot Texas. It was nice to see nearly the same shirt for sale four years later, so I picked it up right away. The material is so light and great for hiking on hot or cool days, and layers really well. Definitely no insect problems while wearing it. Will be buying more in the future.
Date published: 2019-05-15
Rated

5

out of

5
by
NancyJ
from
The Perfect Summer Hoodie
Bought this in pink at The Mast General Store in Asheville and searched the ExO site for a new one during this pandemic. So happy to find it in green! This hoodie works really well because it has micro holes that let in the breeze, keep out the sun and the chemical deters the bugs. Love the cut, the pockets and the hood!
Date published: 2020-05-29
bvseo_sdk, dw_cartridge, 18.2.0, p_sdk_3.2.0
CLOUD, getReviews, 0ms
reviews, product
product-detail-view
oos-pdp