Women's Give-N-Go® Full Cut Brief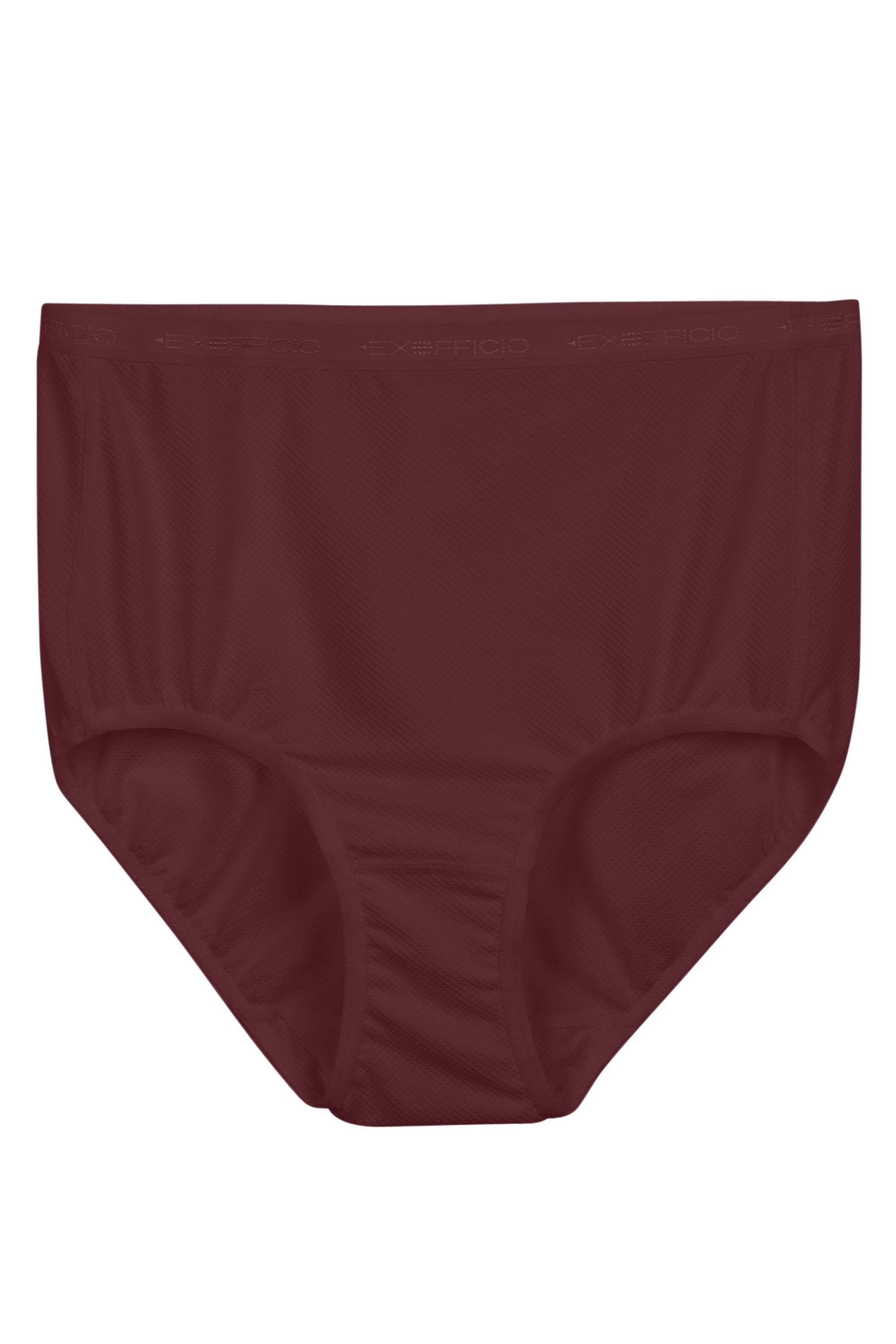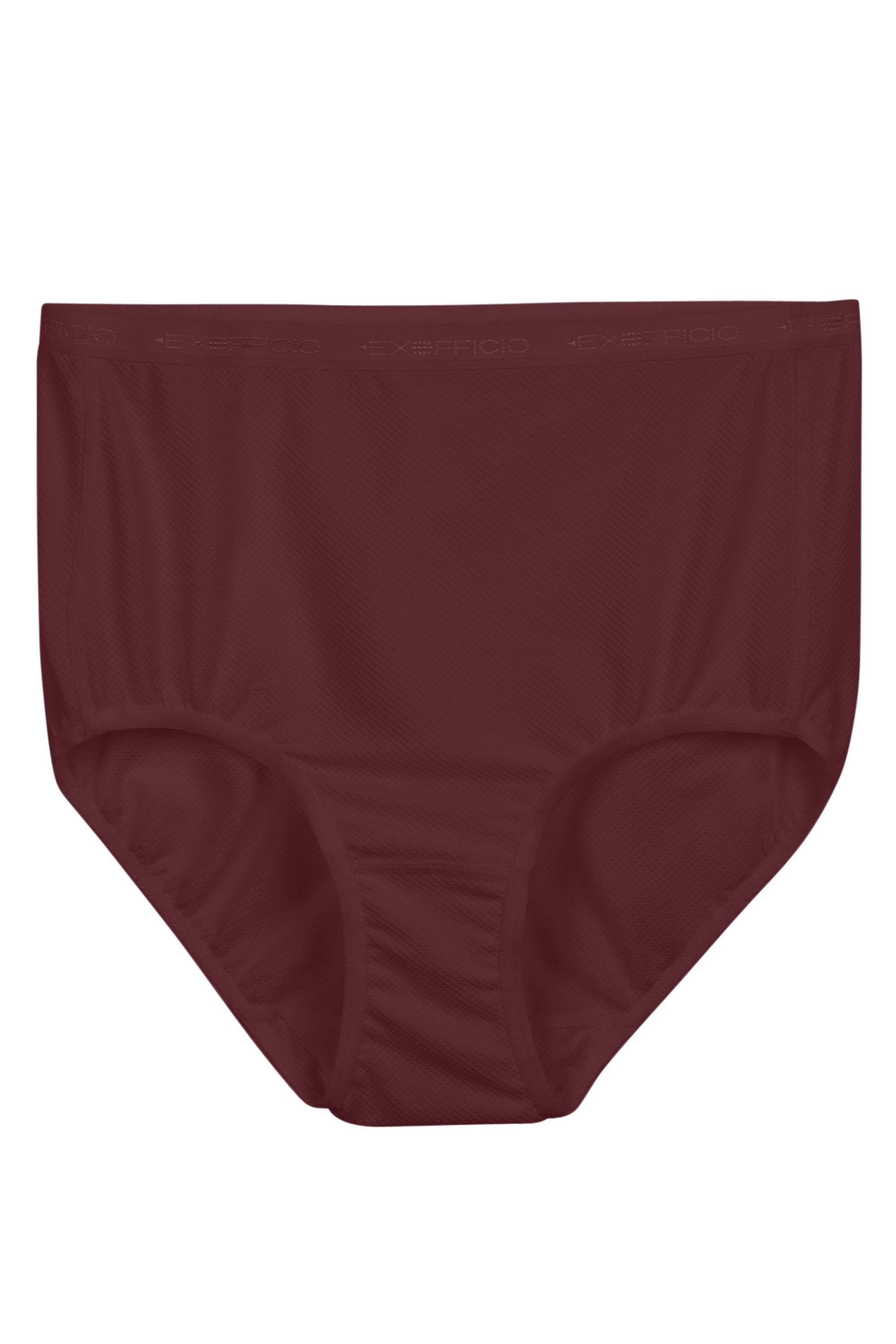 Women's Give-N-Go® Full Cut Brief
Sale Price
$7.99
Strikethrough List Price

$20.00
Final Sale: may not be returned or exchanged
Final Sale
This item cannot be exchanged or returned. Valid while supplies last. All sales final.
This item is currently not available
Sale Price
$7.99
Strikethrough List Price

$20.00
Final Sale: may not be returned or exchanged
Final Sale
This item cannot be exchanged or returned. Valid while supplies last. All sales final.
This item is currently not available
---

Free shipping on all orders $50+ and free returns* Details

Backed by ExOfficio's Lifetime Warranty
---
Product Details
Features
Breathable mesh fabric supplies airflow to keep you cool
Antimicrobial treatment reduces odor in fabric
Comfortable and durable fabric won't stretch out
Easy-care so you only need two for any trip
Description
17 countries. 6 weeks. One pair of award-winning underwear. (Ok, maybe two.) Join the thousands of people who have discovered the ExOfficio travel underwear revolution. Just toss your Give-N-Go''s in the laundry or wash them in a sink. Within hours you will have a fresh, dry pair of underwear. Breathable, lightweight, odor resistant and long-wearing, you will toss them into your carry-on for every trip. Soon they will replace every other pair in your underwear drawer."
Specifications
Product Weight:

0lbs 1.23oz (34.9g)

Main Fabric:

94% Nylon / 6% Lycra® Spandex
Rated

2

out of

5
by
Ladydill
from
Quality has declined
I have been buying ExO underwear for about 10 years, during which time the quality has seriously declined. The fabric is flimsy, the sizing is skimpy, the stitching poor, the elastic cheesy, and advertised tagless tag is now a sizeable tag sown to the inside back of the waistband, where it irritates me no end. There is a major disconnect between the high price and the low quality of the latest iteration of this garment.
Date published: 2012-12-24
Rated

2

out of

5
by
bkauff
from
Easy to wash/dry but....
I've been purchasing ExOfficio wash/wear underwear for many, many years. However, I have to agree with a previous reviewer that this latest rendition IS NOT holding up as well as the ones produced in years past. The elastic has started to fray after just one year of use and the fabric is definitely not as robust. I will purchase replacements but not happy to be doing so after just one year.
Date published: 2017-06-18
Rated

3

out of

5
by
Darlaj
from
Disappointing Changes
I have worn and loved these panties daily for years. I still have many pairs of the original style and quality...the ones with the little tag at the waist in front. The new model is like a cheap imitation with flimsy elastic and missing the quality feel that made them worth the price.
Date published: 2012-01-02
Rated

5

out of

5
by
Cello Gal
from
Cool and Comfortable
My husband's and I travel frequently and I am continually trying to reduce the amount of item we take along. So, I took a chance and purchased three pair each of the men's and women's briefs. We love them. I wash them in the sink in castile soap each night. By morning they are perfectly dry. While the third pair isn't absolutely necessary, I like to have an extra in case I am especially lazy and take a couple of days off from washing.
Date published: 2017-06-26
Rated

2

out of

5
by
cityslicker
from
This product HAD great features
Last year's model was super. The seams were much better and much more professional. The latest ones are cheaply made and look cheap. The waist band is also not the same and detracts from the quality of the garment. You have either changed manufacturers or somebody has decided this is a cheaper way to go. In any case, it's not a better way.
Date published: 2011-06-28
Rated

1

out of

5
by
Sharry
from
I am very disappointed
I was very disappointed in the quality of this product. I have purchased this same item earlier and the quality and fit was far superior to what I received from my internet purchase. I plan to return these as they are of inferior material and construction.
Date published: 2010-12-13
Rated

4

out of

5
by
Louise57
from
ExOfficio replacement
These briefs were replaced by ExOfficio because the stitching on the waist elastic on the last six pair I bought came unraveled! I have been buying them for over ten years and this never happened before. I did noticed the stitching on these newer pairs is bigger than on my older ones so this could be the cause. I have always line dried them. Now I and also washing them in a lingerie bag! I wear them everyday but they are great for travel as you can hand wash them and they are dry by mining!!
Date published: 2016-12-18
Rated

4

out of

5
by
Beepo
from
Love the fabric!
I've been using this product for about 8 years. I must say as much as I continue to purchase the Exficio line; the quality is not quite as good as it was in the past. I have briefs that are about six years old and the fabric seems better in the old ones!
Date published: 2016-09-08
Rated

4

out of

5
by
Crjsahm
from
Nice light weight panties
I originally bought 4 pairs of these from Amazon then when I wanted more found they couldn't get them, but there was a better shipping and return policy on this site anyway. I have lost weight since I bought my first pairs but they stretch quite a bit so I'made still in the same size. If you don't match hip/waist measurements, I'd recommend finding a balance between the two, if possible, as the panties do stretch to fit and are not uncomfortably tight. The 2xl I have now fit my waist measurements and are 4" bigger (by the charts) than my hips, but fit comfortably and don't bag. My only complaint about these is that they do discolor in the crotch, which is unfortunate for ladies of a certain age.
Date published: 2017-03-31
Rated

4

out of

5
by
Birdertoo
from
Production suggestion
I have purchased these briefs several times. They wash easily and are great for travel. Please switch to printing labels on the briefs instead of long sewn in labels that inch their way out of your slacks waistband.
Date published: 2017-03-31
Rated

5

out of

5
by
Lola3
from
Bring back 3x
I love this underwear! What I don't understand is not being able to purchase 3x any longer. Please bring back 3x. We plus size women still lead active lives and this is the BEST moisture wicking underwear I have ever found! With the added features of durable, compact, comfortable, non-binding and easy to wash, who could ask for more? ME !! I need my 3x !! I am going to try 2x but why mess with a good thing? I have used these for travel and packing light, long vacation or short, but they are the best everyday underwear on the market. Moisture does not stay next to your body as with cotton underwear in any climate. It can be over 100 degrees wet or dry climate, humid or not, and your skin can breathe and stay dry. Buy these you won't be disappointed....as long as they don't stop making your size.
Date published: 2012-10-09
Rated

5

out of

5
by
Lucy
from
Perfect fit and comfortable
I bought Ex Officio Full Cut Briefs for a trip a year ago because I needed underwear that I could wash and that would dry quickly. I was very pleased. Now I would like to wear the briefs for everyday use because they fit snugly, are cool and very light.
Date published: 2018-05-20
Rated

1

out of

5
by
lacey lady
from
Where is the lace?
PLEASE, please bring back the full cut lace brief, not the second one, but the first one with the little seam in the front. My old ones are now worth gold to me. These have no class, don't fit s well, are unattractive, and dry more slowly
Date published: 2019-01-14
Rated

5

out of

5
by
Dawn from Orlando
from
Like wearing nothing at all.
I bought my first Give-n-Go Full Cut Briefs for traveling. However, they are so comfortable that I bought more and got rid of all my other undies. They fit my "senior" figure perfectly. They never ride up, grab, bunch, or roll.
Date published: 2017-10-12
Rated

3

out of

5
by
WillTravel
from
Wish it came in a larger size!
I purchased the brief to try in anticipation of a 2 week bus tour of Europe next year. I got a 2X because that's the largest available, although the website notes it's made in 3X. The fabric feels good on, and it dried quickly, but a 3X would fit much better. 2X is a little small and feels somewhat constricting. If I could get a 3X I might consider these for every day wear. Please give me a 3X!!! I can't address how durable it is because I haven't worn it that long.
Date published: 2013-11-12
Rated

5

out of

5
by
KathytoChina
from
Feel like my skin.
I bought my first two pair of Give-N-Fo Briefs a few years ago to take to China where I was able to interact with the year-old baby Pandas. The brief were said to dry quickly, and that they did. I was also sold on the fit and feel of them. I've since bought several pair and love them. I have cotton briefs, but they nothing like thee Give-N-Go. Try them.
Date published: 2017-04-30
Rated

5

out of

5
by
Shingles
from
Therapeutic value
I've traveled internationally with the Give-N-Go and normally save them for travel. They are soft against the skin and do not rub or irritate. When shingles migrated below the belt, the silky Fabric of the given go did not further irritate my skin. It was my favorite prescription.
Date published: 2017-11-15
Rated

5

out of

5
by
Dity
from
Comfortable and long lasting
I have been wearing give-n-go for years. They are very comfortable, wash and dry easily and last forever. I ordered more because I wanted the nude color. I highly recommend them. Although they are expensive you end up saving money in the long run because they last so long.
Date published: 2018-03-22
Rated

5

out of

5
by
Happy customer
from
Love these pants!
Just purchased 3 more of these pants. They wear well, are comfortable, dry overnight - sooner if rolled in a towel to remove excess water.They never wear out - probably an exaggeration, but pants bought 4 years ago are still in good shape, elastic a bit stretched, but then, so am I 4 years later. They are on my travel essentials list.
Date published: 2017-03-15
Rated

5

out of

5
by
Laura8
from
Comfortable and Pretty
I love my uber comfortable Give-N-Go briefs. At 5'3", 185lbs and carrying my weight in my stomach I buy the large size and find the fit perfect. The waistband does not roll. My recent purchase brings the number of pair I own to 15, having acquired the collection over the last few years. Fit and style have remained consistent and the fabric is longlasting. I am amazed that how well they wear.
Date published: 2019-03-04
Rated

5

out of

5
by
Freck2
from
Easy to wash out!
These take up so little space. Very comfy. However I need a daily mini pad and they just don't stick well.
Date published: 2018-09-23
Rated

5

out of

5
by
orgo
from
Great for travel
I have owned a few pairs in the past and am planning on travelling a lot in the next six months, so I ordered more. They are comfortable, easy to launder and dry quickly which makes them perfect for my needs.
Date published: 2018-04-23
Rated

5

out of

5
by
Travlinmaniac
from
Favorite all time wear
I started wearing for two month on the trail hikes - they do not dry especially fast after washing but are extremely comfortable, never get sweaty, and remain odor free. They are now my everyday panties.
Date published: 2018-03-02
Rated

2

out of

5
by
Margaret
from
17 countries? 6 weeks? I don't think so.
I bought these because I travel a lot and often find myself a pair or two short of undies. I saw these advertised as "incredibly quick drying" . $20, but on sale for $15. Wow! Expensive for 'briefs' but if they worked? so, on a trip, I washed them at the same time as I washed Hanes nylon with cotton crotch. In the morning, the nylon Hanes were dry, the Exofificio were not. I will not buy anymore and consider my $15 as a consumer experiment. My lesson is learned.
Date published: 2012-02-05
Rated

5

out of

5
by
Midwesterner
from
LOVE THESE BRIEFS!
On a recent mission trip to Mexico, each day was spent outside in the heat and miserable humidity and high dew point. From morning until I reached my room at night, I was continually dripping sweat. These briefs far surpassed my expectations. They resisted odor, and never felt damp or clingy from sweat. There was never that 'wet swimsuit' feel. I have 'exercise' clothing that is supposed to help keep me dry, but they don't work nearly as well as these briefs. I have not found a better panty for the active woman. By the way, I purchased men's briefs for my husband - he loves them!
Date published: 2011-08-21
Rated

5

out of

5
by
Auntie M
from
Great for Plus Sized Ladies
I'm a plus sized lady, and these undies stay where they are supposed to and are very comfy. And as advertised, they do dry overnight!
Date published: 2018-03-08
Rated

5

out of

5
by
Poppy
from
So light, cool and comfortable
I bought 2 pairs of the 2XL Give-N-Go Full Cut Brief and they fit wonderful. In fact I just bought four more pairs while they are on sale. Also, in addition, I did purchase the Give-N-Go tank top 2XL. The comfort is the same as the above Review Title.....Thank you Exofficio for making such....great....products !
Date published: 2017-12-18
Rated

5

out of

5
by
Nana S
from
Very comfortable
Just wore the underwear for the first time yesterday & it is so comfortable. I purchased 4 pair to take on an extended trip overseas. I bought them because they are washable & dry overnight. I'm probably 170lbs & bought the xl size. They fit very good & stretch. I think they will be perfect for this trip.
Date published: 2017-12-18
Rated

5

out of

5
by
Dolce
from
Comfort and cool
I bought two pair before a trip to Peru s8nce I knew it was going to be hot. They performed really well! I was cooler and when washed out at night, they dried very quickly, and remain looking brand new. I recently bought two more so they can be the only panties I need to bring on any trip!
Date published: 2018-03-07
Rated

3

out of

5
by
clsexo
from
I like the lacy give'n'go better.
After replacing all my old underwear with lacy give'n'go briefs, I bought one pair of the plain briefs to try them. I like the lacy give'n'go style better. The plain briefs did not have the same fit/feel (I guess because of the lace) and they look "clunky". I will stick with the lacy style. If the full cut brief came in a French cut leg, they might be more attractive.
Date published: 2015-06-29
bvseo_sdk, dw_cartridge, 18.2.0, p_sdk_3.2.0
CLOUD, getReviews, 0ms
reviews, product
product-detail-view
oos-pdp