Women's Give-N-Go® Full Cut Brief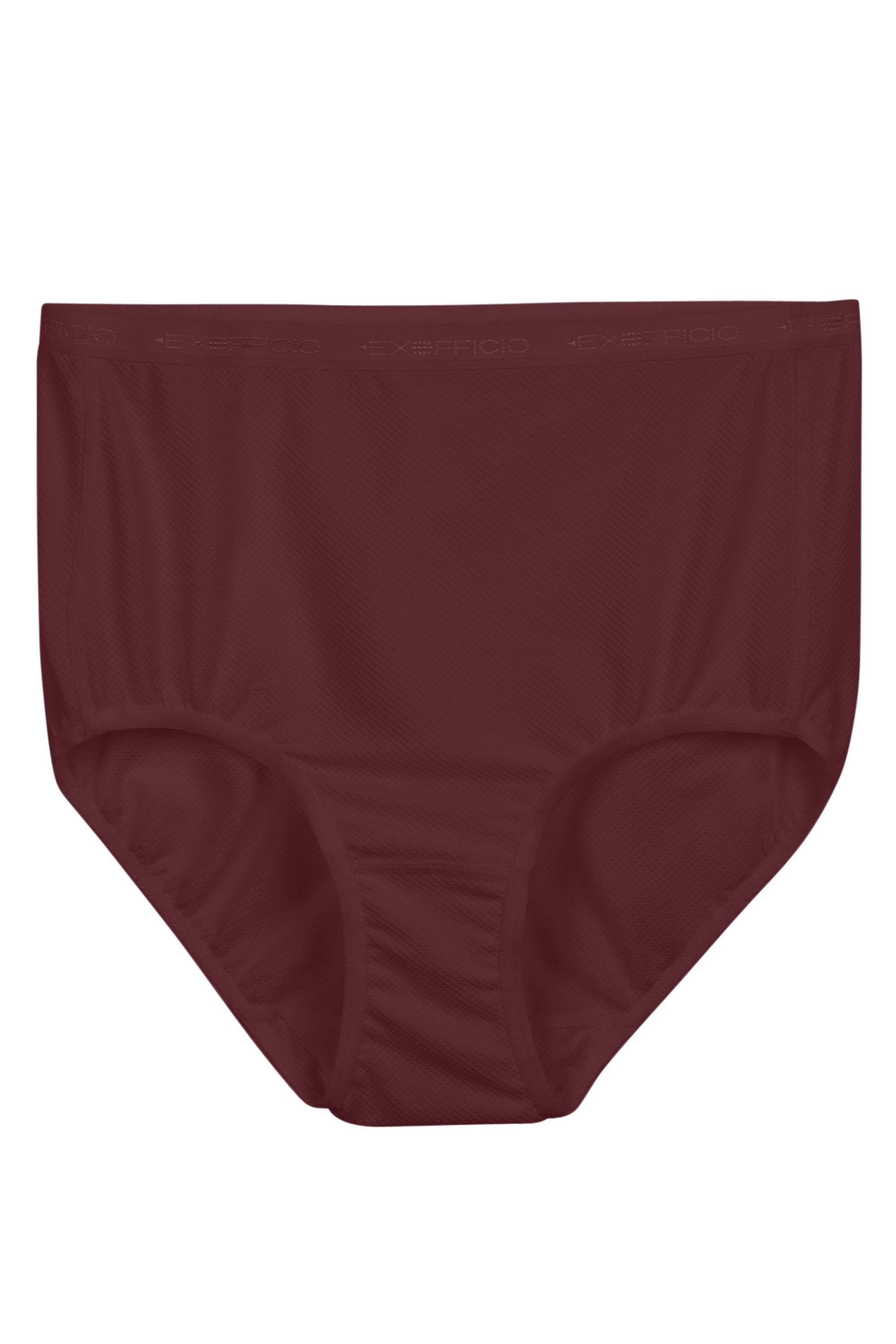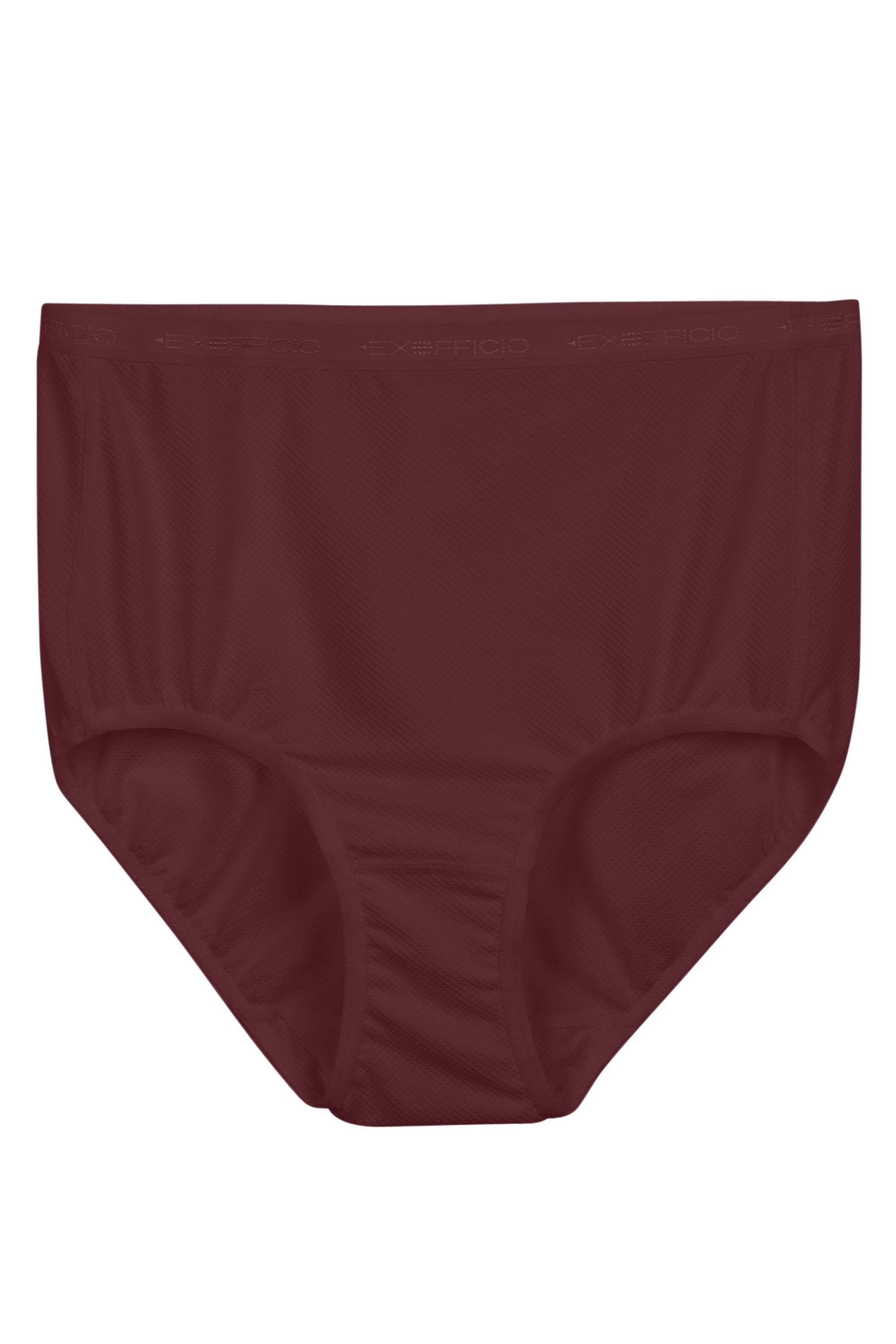 Women's Give-N-Go® Full Cut Brief
Sale Price
$7.99
Strikethrough List Price

$20.00
Final Sale: may not be returned or exchanged
Final Sale
This item cannot be exchanged or returned. Valid while supplies last. All sales final.
This item is currently not available
Sale Price
$7.99
Strikethrough List Price

$20.00
Final Sale: may not be returned or exchanged
Final Sale
This item cannot be exchanged or returned. Valid while supplies last. All sales final.
This item is currently not available
---

Free shipping on all orders $50+ and free returns* Details

Backed by ExOfficio's Lifetime Warranty
---
Product Details
Features
Breathable mesh fabric supplies airflow to keep you cool
Antimicrobial treatment reduces odor in fabric
Comfortable and durable fabric won't stretch out
Easy-care so you only need two for any trip
Description
17 countries. 6 weeks. One pair of award-winning underwear. (Ok, maybe two.) Join the thousands of people who have discovered the ExOfficio travel underwear revolution. Just toss your Give-N-Go''s in the laundry or wash them in a sink. Within hours you will have a fresh, dry pair of underwear. Breathable, lightweight, odor resistant and long-wearing, you will toss them into your carry-on for every trip. Soon they will replace every other pair in your underwear drawer."
Specifications
Product Weight:

0lbs 1.23oz (34.9g)

Main Fabric:

94% Nylon / 6% Lycra® Spandex
Rated

5

out of

5
by
Nancy
from
They last too long :-)
I have just discard another pair of ex-officio full-cut briefs - finally. I have travelled to 66 countries - took these briefs to evey one. In a damp. humid envirionment, such as the rainforest I rolled them in my mini-dri towel to remove the excess moisture and they were the driest piece of clothing I had. In other friendlier environment, I found they dried between a few hours to overnight. The ones I use for adventure travel are well over 10 years old. The elastic on the waist has finally been beaten into submission by the laundry in Tanzania beating them on the rocks. At the end of their life, I wash them and leave them behind in a prominent place in the room. One place I have visited several times last year, the lady overseeing the camp took me aside and proudly showed me her recycled panty from my room. She looked hopeful, so I left behind 2 pairs. All I can is thanks for wearing out, I can finally buy new ones.
Date published: 2012-04-22
Rated

5

out of

5
by
NeeCee
from
Love These!
Use size chart and they fit perfectly. Very breathable and comfortable, too. I don't understand the negative reviews.
Date published: 2017-02-26
Rated

5

out of

5
by
schmily
from
Will not consider traveling...
without my Ex Officio Give and Go briefs. Even though I am clueless what Give and Go means with regard to this terrific product, I would not be without them. They are Wash and Wear par excellence. I travel world wide and have found these briefs dry overnight every where, every climate, every temperature. There is no better product than this, now I just have to convince my spouse that men need and would benefit from this product as much as women and that he should buy some instead of stuffing his bag with fifteen pairs of briefs for a fifteen day trip.
Date published: 2019-10-02
Rated

5

out of

5
by
MickSue
from
Very Comfortable
I bought these for an extended walking vacation. They fit great, are very comfortable and dry very quickly. They will make packing and traveling a lot easier. I am very pleased with the purchase.
Date published: 2018-03-14
Rated

2

out of

5
by
travelerMT
from
I loved the fabric and really wanted this item for travel. The elastic around the legs was very tight and binding on both the small and medium sizes and my measurements indicate I fit a size small.
Date published: 2011-04-25
Rated

4

out of

5
by
C1Sharona
from
Not your granny's panties.
I really like these. I purchased the boy shorts & hated them. The elastic in the legs gave out after a few wears. I'm hoping these will wear better. I love the performance and they are true to size. I'm a big girl XL glad they make these for us. Wished they had more colors like the lacy line though. Use for everyday.
Date published: 2013-07-21
Rated

5

out of

5
by
Older_Traveler
from
Quick wash & dry travel undies
Went to 5 Tanzanian cities and a 2 day safari using only 2 of these. All of my clothes had to fit in a 40L backpack because of the limited luggage space on planes. These worked out great. When I needed to, I sink washed one and it was dried the next day. They were very comfortable.
Date published: 2018-03-07
Rated

5

out of

5
by
traveldoc
from
Comfortable but small
Definitely need to order 1 size larger than your normal. But it does have good coverage, dries fast.
Date published: 2011-12-27
Rated

5

out of

5
by
Lisac52
from
Running
These are the only briefs I have ever had that don't ride up are comfortable and stay dry
Date published: 2016-07-01
Rated

5

out of

5
by
Ladybug0124
from
Great purchase
I bought for a trip. Easy to pack, comfortable and dry almost instantly!.. Love em.
Date published: 2018-05-02
Rated

1

out of

5
by
Rebecca
from
Not that great
Dissappointed in these because sanitary pads won't stick to the material.
Date published: 2018-10-21
Rated

5

out of

5
by
sharpeigirl
from
Give N Go Briefs
These briefs are everything they are advertised to be... comfortable, breathable and no seams to show through! I can hand wash in the sink and they're ready to go in no time, well before I am. They are expensive, but they last a long time.
Date published: 2012-01-02
Rated

4

out of

5
by
readyfortravel
from
size was the only issue
I purchased a L and XL. The L does not equate to the same size in women's underpants - they were too small. The XL fits perfectly and feels nice. I wear a size 16 pant so my advice is to get the larger size.
Date published: 2011-03-28
Rated

5

out of

5
by
F Fawcett
from
Best Underwear I've Owned
I only buy these briefs when my underwear needs replacing. And this is happening more infrequently now because these panties are so long-lived. They are extremely comfortable, and as quick drying as advertised. An excellent product. My only complaint is the price -- it's very high. But, as you can see, I've been willing to pay it.
Date published: 2013-11-09
Rated

5

out of

5
by
Chiefrose
from
Cool Comfort Control & Cloud
Greatest underwear I have found in years. They are Cool unlike cotton, and the Comfort is there whether sitting, walking or squatting, no riding up. Odor Control is a plus unsurpassed in ladies underwear. Light in weight as a Cloud. Purchased 3 to try and I am back for more and colors. Thanks for the great undies.
Date published: 2011-03-17
Rated

5

out of

5
by
poppie
from
Go to underwear for travel!
Have used these for years, one to wear, one to hand launder, and a spare.
Date published: 2018-01-06
Rated

5

out of

5
by
jroho
from
Comfy!
True to size, comfortable; easy wash and wear for traveling
Date published: 2018-03-12
Rated

2

out of

5
by
Whichawaya
from
Not as quick drying nor odor resistent as claimed
I had purchased three pairs of these for an early fall trip to Yellowstone and the Tetons, thinking that would be more than enough. It was extremely humid there, and I found that these briefs took forever to dry - in some cases more than overnight; I had to take them in the car and put them on the dashboard to dry. I was surprised to discover that my "regular" undies that I'd worn on the plane trip there actually dried quicker than these "special quick-drying" briefs when handled the same way. And even when washed, the odor retention in these things is not good, unless you use scented detergent to cover up the odor. If I'd had only one or two pairs, I would have been walking around in wet skivvies. I'm disappointed, since the fabric's comfort is nothing to write home about, but it would have been worth the tradeoff if they'd worked as claimed. I do like the crossover bra - that works well for this compact, small-chested lady, and they aren't subject to the same odor control issues. But the briefs are a real disappointment. Would not recommend.
Date published: 2013-09-17
Rated

4

out of

5
by
travel4joy
from
does what it promises but
True to size, fast drying and does all it promises but, they are super silky and I kept feeling that my pants were sliding off - I know, funny. More importantly, there are many seems that are not soft and I found a bit bothersome and the elastic is rough. If you are sensitive to this than maybe they are not for you. I thought that despite my complaints I would still like them but in truth, they are not the ones I pick up first when I go into my drawer. - I purchased them on sale which made the price a good value.
Date published: 2013-12-31
Rated

4

out of

5
by
Sashie
from
Mostly good things to say
I often travel from Europe and back with long layovers and no funds for a hotel or member's lounge-. The price kind of put me off since I usually buy economy packages of undies, but I found these on sale and decided to try them. I usually wear a size 5 and purchased a size s/p in the chlorine color that is even prettier than shown on my computer- kind of a turquoise. The size was right and then to washing and wearing them- washed with other items in the washer in cold water and dried in the drier- no problems. The day I decided to try them out was very hot and someone decided to spray me full force with a garden hose. I dried out in the sun and was thankful that my underwear dried out with me. My two 'complaints' are that I seem to get a 'tingling' in my privates with these underwear and I wonder if there could be a reaction to the 'antimicrobial' agent used? Also once when I slept in them the leg bands had bitten into my legs and left marks- and I have fairly skinny legs. The waistband on these is faced inside, where the panty and band meet, with a fairly soft, almost rubbery thread- tthere is one seam where the band comes together that can be a touch irritating if you are sensitive to such. The tag is in back and so far does not seem to be a problem. Other than the price I think I would have to recommend these underwear. I'm planning on taking them on an extended trip soon and packing fewer pairs of undies because I have these.
Date published: 2016-06-30
Rated

5

out of

5
by
Kokomis
from
Comfort plus for a plus-sized woman
I bought these for a trip to Europe that is still three weeks away, but I've been "test driving" my new underwear and so far so good. As advertised they wash easily and dry quickly, especially if as suggested one rolls them in a towel to get rid of most of the moisture. One almost feels naked wearing these briefs and yet there is not a feeling of being under dressed. For other "plus sized" ladies I think the following story might help sell you on these undies: I just returned from a trip to NYC which involved a very fast 30 minute walk and race through Penn Station to make a train and grab something for dinner before getting on an overheated train. While "glowing" quite a bit I never felt overheated below the waist. And, nothing stayed damp either - I think if I'd been wearing my usual cotton briefs I'd have been unhappily damp and chafed the whole ride home. This experience alone make these a great purchase. The one negative is that when i first ordered these I got the size that compared to the size I wear in my other underwear by looking up measurements for both online. The first pairs were way too small and so I ordered two sizes larger and these while a tad big are super comfortable and roomy. While i don't think I'll buy more (I got four pairs for my trip) right away due to the price, I am looking forward to wearing them in the heat of the coming summer. If I wear them enough, and they continue to perform well, the price will seem more reasonable per number of wearings and who knows, I might get more.
Date published: 2011-04-06
Rated

3

out of

5
by
Panty2tight
from
The bad reviews were right.
The fabric is rough and inflexible, loose tag annoying, leg bands were sharp and binding,
Date published: 2013-07-30
Rated

5

out of

5
by
chiquita
from
Give and Go underwear
Wonderful product. Lightweight, easy to care for, perfect for not only travel, but also for everyday use. I now wear nothing but this brand.
Date published: 2014-03-19
Rated

5

out of

5
by
Cathy 1
from
Worth the price.
Comfortable fit, easy to wash, and dry quickly. Excellent quality. So much better what I was wearing. This will be what I buy from now on.
Date published: 2017-03-17
Rated

4

out of

5
by
loves2travel
from
need xxl
I realy like these but I wish they came 1 size bigger. I wear size 14 and they are just a tad too small. but I can still wear them.
Date published: 2011-10-07
Rated

4

out of

5
by
Pippy
from
Really nice, but has some drawbacks
I purchased these panties for my upcoming trip to China. I wish I had them when I had been in Egypt two years ago. The style is great with adequate coverage, and a true-to-size fit. The fabric has a very silky feel. However, because the crotch fabric is the same nylon fabric as the panty and not a cotton fabric, panty liners do not adhere at all to the fabric. The liners actually fall out of the panty. This will be a major drawback with using this product while traveling. As much as I like the fit and the fabric, I may have to send these back as they won't work for me while traveling. I plan to try to purchase some double sticking fabric tape from a fabric shop to see if that will help. However, having to use another product to secure any panty liners or pads could be a drawback when traveling.
Date published: 2011-04-01
Rated

5

out of

5
by
Valerie1
from
Perfect fit.
They are just what I needed for my vacation. They take up no space in my case and when washed they dry in no time.
Date published: 2018-03-08
Rated

5

out of

5
by
lovebug404
from
Different fabric than past
These are wonderful briefs & utterly comfortable. However, unlike the pairs I bought years ago from your company (and still wear!) the material is different. I need to wear a thin in-continence pad, & because the fabric is so stretchy, they will not stay fixed. Do you still sell the plain nylon (I assume) ones? Thank you.
Date published: 2017-07-27
Rated

5

out of

5
by
travelinmimi
from
As stated
Have worn these- happily for over 5 yrs. Wouldn't leave home without them. Soft, dry fast, perfect.
Date published: 2011-05-17
Rated

5

out of

5
by
Activegranny
from
Comfortable and light
Good fit, no riding up. A little expensive, but I like them very much
Date published: 2011-11-14
bvseo_sdk, dw_cartridge, 18.2.0, p_sdk_3.2.0
CLOUD, getReviews, 0ms
reviews, product
---
<ul id="BVSEOSDK_meta" style="display: none !important;"> <li data-bvseo="sdk">bvseo_sdk, dw_cartridge, 18.2.0, p_sdk_3.2.0</li> <li data-bvseo="sp_mt">CLOUD, getContent, 0ms</li> <li data-bvseo="ct_st">questions, product</li> <li data-bvseo="ms">bvseo-msg: Unsuccessful GET. status = 'ERROR', msg = 'Not Found.';</li> </ul>
product-detail-view
oos-pdp