Men's Give-N-Go® 2.0 Sport Mesh Brief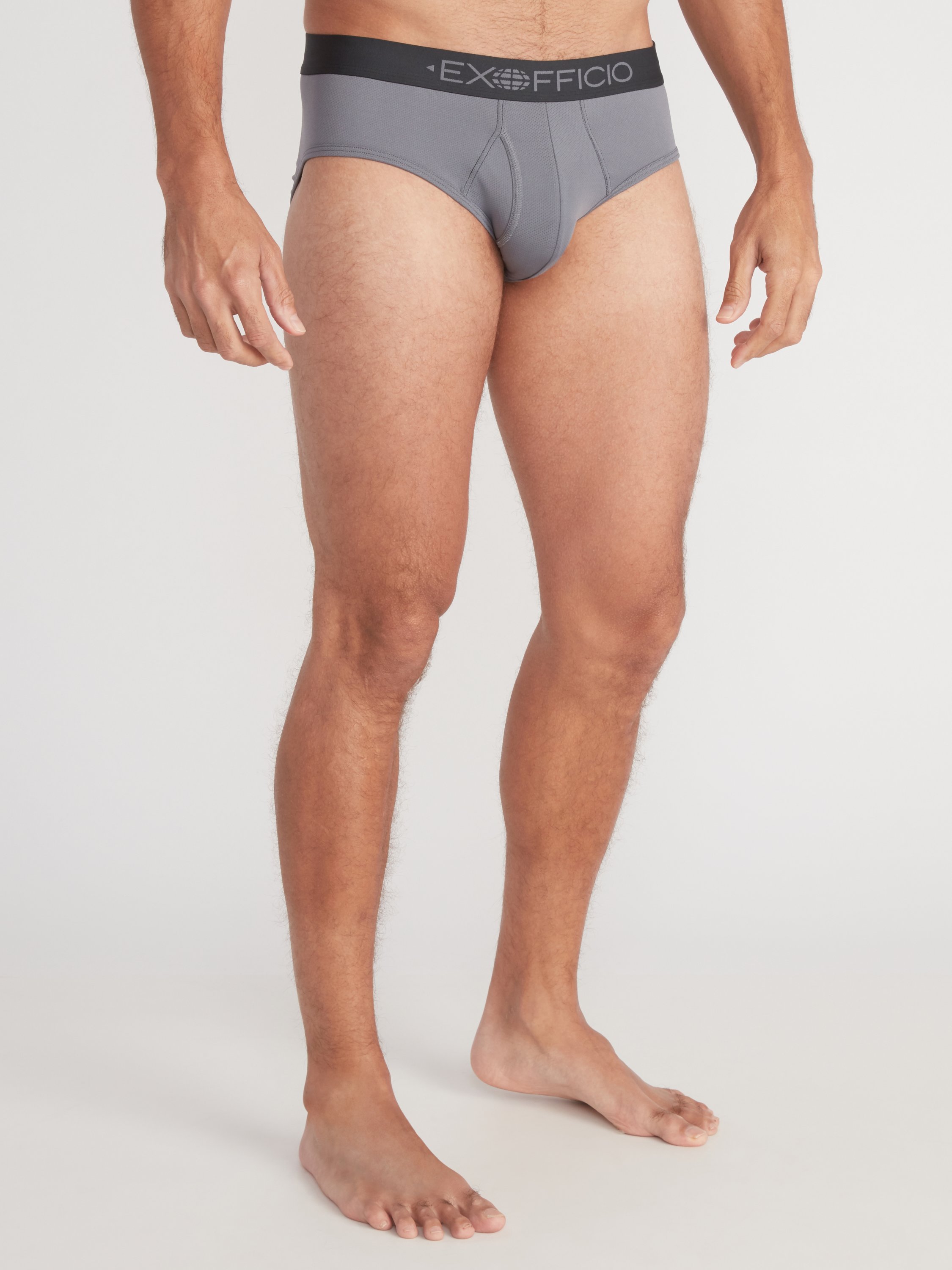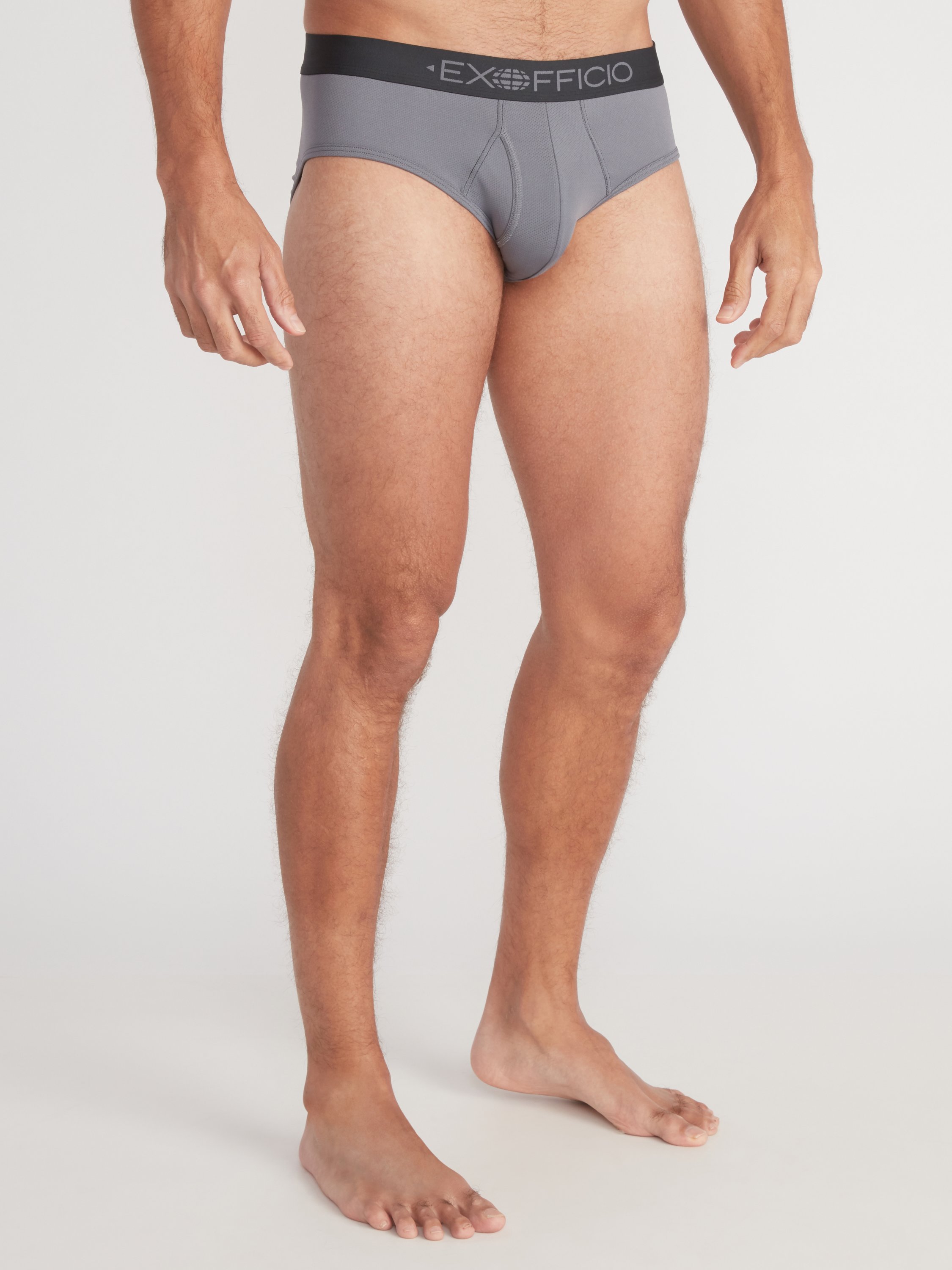 Men's Give-N-Go® 2.0 Sport Mesh Brief
Final Sale: may not be returned or exchanged
Final Sale
This item cannot be exchanged or returned. Valid while supplies last. All sales final.
Selection will refresh the page with new results.
Selection will refresh the page with new results.
Final Sale: may not be returned or exchanged
Final Sale
This item cannot be exchanged or returned. Valid while supplies last. All sales final.
---

Free shipping on all orders $50+ and free returns* Details

Backed by ExOfficio's Lifetime Warranty
---
Product Details
Features
Ultralight breathable mesh fabric supplies airflow to keep you cool; Durable fabric
Improved anti-odor treatment stays fresher, longer
Flatlock seams reduce chafing; Wide, comfortable waistband retains its shape
Easy-care so you only need two for any trip
Snug active fit and lower rise are ideal for high-energy activities
Description
From trekking across Thailand to traversing the toughest stretches of Baja, we've spent over 20 years perfecting the art of adventure—and underwear. That's where the Men's Give-N-Go® 2.0 Sport Mesh Brief comes in. Now up to 4 times more breathable, 50% more moisture-wicking, and 24% more quick-drying compared to our original Give-N-Go® collections, our latest iteration of the perfect pair is designed to keep you moving more comfortably than ever. Explore more with durable fabric for long-lasting use, 4-way stretch for total range of motion, and chafe-reducing flatlock seams. The wide waistband retains its shape and improved anti-odor treatment keeps this underwear fresher, longer. With a snug fit and low rise, the Give-N-Go® Sport Mesh 2.0 Collection is ideal for high-energy activities from intense gym sessions to bike trips in far-off places.
Specifications
Product Weight:

0lbs 1.23oz (34.9g)

Main Fabric:

90% Nylon(66)/10% Elastane
Rated

2

out of

5
by
chubbyhubby21
from
Ball Crusher
Not impressed with these briefs at all. With the price point of these, I expected better quality. The shrunk after first wash and there was not much room in the crotch area. Also very any around legs to point where it felt like circulation was being hindered. Material not breathable nor comfortable.
Date published: 2020-03-26
Rated

5

out of

5
by
Iantrovert
from
Fat guy's new favorite.
I've been wearing exclusively ExOfficio underwear for years now, after discovering that their briefs hit the sweet spot between support and not steam-cooking my junk. With the release of the 2.0 series, I decided to pick up both the regular and sport mesh brief to see what I thought. The 2.0 regular briefs are softer and comfortable, but pretty tall, and as a fat guy, I found that the waistband on those tended to roll down and add additional pressure. Enter the Sport Mesh 2.0: shorter (no more waistband roll!), even silkier in feel, still stretchy enough to fit, and able to handle how much I sweat. I'm fat, but I have been working hard to get in shape for a few years, and the material works to prevent the unpleasant chafing I'd previously experienced. I'm sure they're great for gym rats too, but for a big guy like me, it makes a big difference. Thanks, ExOfficio.
Date published: 2020-04-30
Rated

3

out of

5
by
Steve Buschemski
from
Description Fly Issue
Beware there is a fly on This product. The last version didn't. It allows my area to get loose frequently and Frequent adjustment is required. I wish they didn't change anything from the first version. I returned the one pair I hadn't worn. I won't be ordering more of these, but they may work for you. The photo shows the fly but the description didn't mention it. Now I have to have the fly sewn shut. Fits well otherwise
Date published: 2020-10-01
Rated

4

out of

5
by
Shorts123
from
Comfortable but low cut
These underwear were very comfortable but somewhat low cut. Also, my thighs rubbed together so I had some issues with a rash (I usually wear boxers). I really did like the fabric and the mesh was quick dry. These would be perfect for the gym. The waistband was good quality and seemed to hold the underwear up pretty well. Overall, pretty good pair of underwear but would have liked the fit to be a little better.
Date published: 2020-03-11
Rated

5

out of

5
by
AshedOrchid
from
How Comfortable!
My husband is a roofer and these activewear styled underwear have helped him keep cool as the weather gets nicer. Although he is a briefs guy, I opted for him just to try something new, and they were a nice change. Very comfortable in the legs, the band was comfortable and they definitely stayed where they were supposed to during his workday. Constantly up and down ladders, so these were tested thoroughly! A+
Date published: 2020-03-10
Rated

4

out of

5
by
Mmartinex1995
from
Comfortable Fit!
Extremely comfortable. Low cut, but no so small you're wearing Speedos. No fly so there's only one layer up front to do the job of one, and not two layers always getting out of adjustment. Now that I've tried the Sport Mesh, that's all I plan to purchase in the future. The fabric of the mail part of the underwear should dry fast, the heavy-duty (but artfully designed) waistband may take an hour longer.
Date published: 2020-03-22
Rated

5

out of

5
by
LenetteQ
from
Like you are Naked!
Even though I am a woman, I enjoy the feel and flexibility of some men's underwear. The Give-N-Go 2.0 Sport Mesh Brief is the best that I have ever tried. They truly feel like you are naked! In fact, I checked to make sure I still had them on because they feel like nothing, but provide the support that I need. They are priced higher than I would normally spend for 1 pair, but are definitely worth it!
Date published: 2020-03-17
Rated

3

out of

5
by
Pipette2020
from
Just okay
When they first arrived in the mail, I unfolded them out of the packaging and my initial reaction was wow these are definitely not a size medium! Even though label and tags both said M, they looked like XXL. They shrunk a great deal after initial wash and dry and the fit is much better now and truer to size. Mesh material could be more comfortable and breathable. I've worn better quality briefs.
Date published: 2020-03-21
Rated

1

out of

5
by
Geol
from
Small is 2 sizes too large!
Horribly huge fit at least two sizes too large. Haven't even worn. Must be a quality control issue because the boxers are surprisingly amazing. I'm between medium and small and go with small with this brand. This is bad.
Date published: 2021-07-28
Rated

3

out of

5
by
ben329
from
A little too big
I had high hopes for these mesh briefs, but was a little disappointed at first. The size seems just a little on the large side which made them bunch up in some areas, which is one of the reasons I switched to briefs (to avoid that) in the first place. Also, the color I ordered is not what I received. I ended up liking them but will think twice about my sizing before buying again.
Date published: 2020-03-10
Rated

4

out of

5
by
Another Kevin
from
Excellent Delivery
The delivery on these was excellent. I really like the feel of the fabric and how it highlights my goods. The mesh fabric feels a little loose, but I like my briefs to fit snugly. I have found that I really like wearing them under my board shorts when I go swimming. I will use these more for active pursuits rather than everyday wear. The orange and blue color scheme is good.
Date published: 2020-07-03
Rated

5

out of

5
by
Marcus Absent
from
Hubba, Hubba
These briefs provide a light and airy feeling, hold the fella's firmly in place and provide plenty of flexibility in times when there is unanticipated expansion in the area.
Date published: 2020-09-15
Rated

5

out of

5
by
Ethan
from
Ultralight and comfy
Lightest weight underwear I could find for travel. Incredibly functional and comfy. Actually so comfy that I started just using them as my daily normal undies. They are showing some slight signs of wear in areas that rub against my clothes when I walk but nothing major or that I am worried about. I like them a lot and they are a huge step up from version 1.0
Date published: 2021-06-22
Rated

5

out of

5
by
wtnskater
from
Great fit and lightweight
I tried these Men's Give-N-Go Sport mesh brief and I am very pleased with how well they fit. They are light and I can move around freely. I like to wear these when I work out because they don't bunch up and are very breathable. They keep me comfortable and cool.I like the cut, also. They are not too long or too short. They are perfect for being active in.
Date published: 2020-03-16
Rated

5

out of

5
by
Dio16
from
excellent product, the fabric is super fresh
My wife has received this sample for me, I must say that they are the best underware I have had, very fresh, they do not cause me to roll, the garters do not bother me and I do not feel sweaty ... I work in a high temperature environment, also to wear overalls to protect myself from high temperatures. I liked it so much that now I want to buy some more.
Date published: 2020-03-17
Rated

5

out of

5
by
thegentleman
from
Cool and breathable
This underwear has it all. It's breathable, comfortable and shaped right. They feel good going on and stay cool all day long. The material is unique and high quality. Although it's labeled as a sport underwear, it is great for office work. No more overheating and everything is optimally positioned. The entire design of this underwear is intelligent.
Date published: 2020-03-10
Rated

5

out of

5
by
Tye C
from
Big fan of these underwear!
No more constant readjustment! They are comfortable, soft to the touch, and look fantastic. Sizing is on point for me, went with a large and have a 36 waist depending on the brand. Was skeptical about the way they hold things in front rather than off to one side or the other at first, but the positioning has grown on me and is very comfortable.
Date published: 2020-03-12
Rated

5

out of

5
by
JoeC
from
Great underwear
I'm a huge fax of Ex Officio underwear -- it's all that I will wear. They are true to size and fit well. The material is soft and breathable, which helps to prevent any chafing issues. The waist band is comfortable. If you use them for hiking and camping, they dry very quickly if you need to hand wash them. Overall, I would 100% recommend them.
Date published: 2020-03-16
Rated

5

out of

5
by
Yumadreams
from
Breathable and Comfy
I got these a few weeks ago for my boyfriend to wear and though he was hesitant at first because hes more of a boxers guy than briefs....he said they are actually quite comfortable. The breathable material kept him from sweating and felt light and soft to the skin. He said that he would definitely recommend them if briefs are your preference.
Date published: 2020-03-16
Rated

5

out of

5
by
GeoffR
from
Great material & comfortable!
I bought this a few months ago and am thrilled with how comfortable they are. The material is excellent and I expect it to hold up as well as my Ex Officio boxer briefs I've owned for many years now. These products may be more expensive than other brands of underwear, but make up for the extra cost in comfort and durability.
Date published: 2020-04-21
Rated

5

out of

5
by
Suzynunu
from
Breathable, comfortable for working out
My fiancé works out daily and is always looking for ways to keep cool - he overheats easily. So, he gave these a try. They were a perfect fit, and he said they were cool and comfortable to wear while working out. The fabric is a breathable stretchy mesh fabric, but definitely not see through. Strong seams and waistband too. I
Date published: 2020-03-16
Rated

5

out of

5
by
Shaheera89
from
Amazing even for Women
I don't normally buy men's underwear but I was got these because my size wasn't avaliable in the women's underwear. When I tell you I am so happy with these they are so comfortable. I love the breathable mesh that they have especially since the warmer months are upon us. These are perfect for people who sweat more than usual.
Date published: 2020-03-11
Rated

4

out of

5
by
Greg2
from
Cool. And also sexy.
I live in a humid climate and I'm always searching for ways to stay cool and well-ventilated. These are great. They're a bit skimpier than I was expecting. Banana-hammock-esque. They're basically a bikini brief. It doesn't bother me. My SO chortled when she saw them but decided that they were actually pretty sexy after all.
Date published: 2021-06-15
Rated

5

out of

5
by
Ben R
from
Flexible, comfortable and breathable.
Absolutely great underwear. I wear em for work, they are extremely comfortable. I am definitely buying more, the quality of the fabric is really good, breathable and flexible. Incredibly lightweight and perfect for traveling since they take less space. I am 5'-8", 175, med build, 34 waist, I wear L and it fit great.
Date published: 2020-03-25
Rated

5

out of

5
by
Gregger
from
But these!
I have several pairs of these all the colors. I wish there were more color options so I could get even more. I wear them everyday. They are incredibly cool and comfortable, stay put, and I look awesome in them. The high cut is great and they don't stink even after a few days. I can't get enough pairs of these.
Date published: 2020-04-21
Rated

5

out of

5
by
TiaMia83
from
Awesome undies
These undies are super awesome. My favorite thing about them is they are super breathable and are prefect for wear on jobs that you sweat a lot because they are quick drying. These also help keep down chaffing because they wick away moisture. They fit super well as well. I would highly recommend these to a friend.
Date published: 2020-03-13
Rated

5

out of

5
by
Cmoon
from
Great Tech Underwear
I have been wearing ExOfficio Mesh Briefs for over a decade, and have been very happy with all former and current iterations. Excellent materials, fine workmanship, the quality of ExOfficio underwear is top notch. They do what they are advertised to do and allow one to keep packing to a minimum. Highly recommend!
Date published: 2020-05-06
Rated

5

out of

5
by
Seeking the best
from
Perfection!
Perfection. Simply the best underwear I have ever worn. Very comfortable fit, as if you're wearing nothing while at the same time securely held in a very soft, light, breathable fabric. I've worn these during a variety of activities from hiking and cycling to strolling around town. These are all I wear now.
Date published: 2021-05-03
Rated

5

out of

5
by
Robert G
from
Almost Perfect
Bought these for my outdoor activities - hiking, camping and off road trips with the Jeep. I bought 6 pair - 3 medium and 3 small. Both sizes fit good. I have a 32 inch waist. Only minor issue is the elastic waist band is a little on the strong side. Even with the mediums. Bikini version would be great
Date published: 2020-11-11
Rated

5

out of

5
by
EricW
from
Breathable
I get hot and sweat easily. I find that underwear with any cotton in it doesn't do the job. I've worn these in many different settings, and each time they have performed very well. The also do a good job of staying in place, and do not bunch up, like cotton underwear does when I sweat. Great product!
Date published: 2020-06-11
bvseo_sdk, dw_cartridge, 18.2.0, p_sdk_3.2.0
CLOUD, getReviews, 0ms
reviews, product
---
<ul id="BVSEOSDK_meta" style="display: none !important;"> <li data-bvseo="sdk">bvseo_sdk, dw_cartridge, 18.2.0, p_sdk_3.2.0</li> <li data-bvseo="sp_mt">CLOUD, getContent, 0ms</li> <li data-bvseo="ct_st">questions, product</li> <li data-bvseo="ms">bvseo-msg: Unsuccessful GET. status = 'ERROR', msg = 'Not Found.';</li> </ul>
product-detail-view
oos-pdp