Men's Give-N-Go® 2.0 Sport Mesh Brief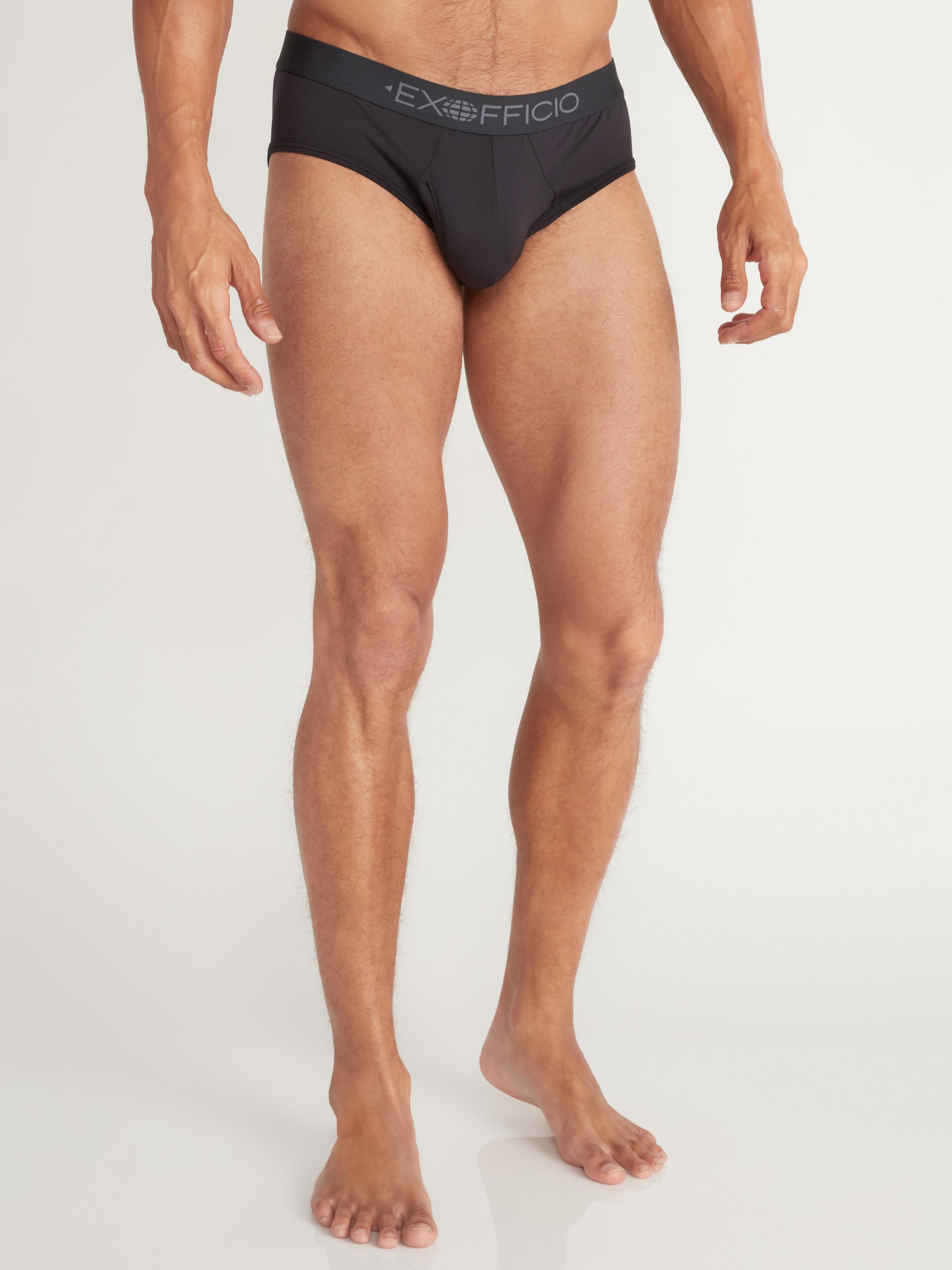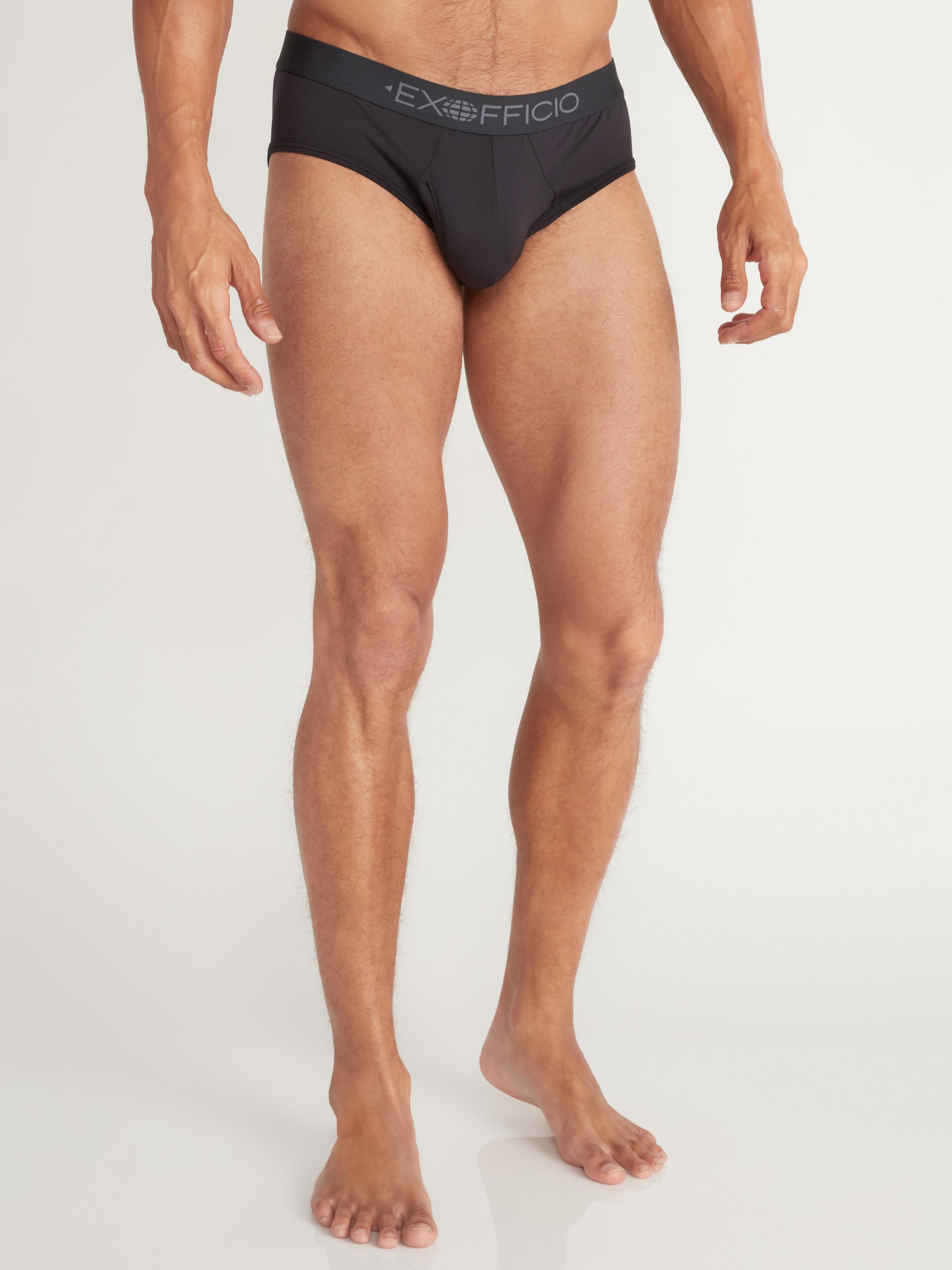 Men's Give-N-Go® 2.0 Sport Mesh Brief
Final Sale: may not be returned or exchanged
Final Sale
This item cannot be exchanged or returned. Valid while supplies last. All sales final.
Selection will refresh the page with new results.
Selection will refresh the page with new results.
Final Sale: may not be returned or exchanged
Final Sale
This item cannot be exchanged or returned. Valid while supplies last. All sales final.
---

Free shipping on all orders $50+ and free returns* Details

Backed by ExOfficio's Lifetime Warranty
---
Product Details
Features
Ultralight breathable mesh fabric supplies airflow to keep you cool; Durable fabric
Improved anti-odor treatment stays fresher, longer
Flatlock seams reduce chafing; Wide, comfortable waistband retains its shape
Easy-care so you only need two for any trip
Snug active fit and lower rise are ideal for high-energy activities
Description
From trekking across Thailand to traversing the toughest stretches of Baja, we've spent over 20 years perfecting the art of adventure—and underwear. That's where the Men's Give-N-Go® 2.0 Sport Mesh Brief comes in. Now up to 4 times more breathable, 50% more moisture-wicking, and 24% more quick-drying compared to our original Give-N-Go® collections, our latest iteration of the perfect pair is designed to keep you moving more comfortably than ever. Explore more with durable fabric for long-lasting use, 4-way stretch for total range of motion, and chafe-reducing flatlock seams. The wide waistband retains its shape and improved anti-odor treatment keeps this underwear fresher, longer. With a snug fit and low rise, the Give-N-Go® Sport Mesh 2.0 Collection is ideal for high-energy activities from intense gym sessions to bike trips in far-off places.
Specifications
Product Weight:

0lbs 1.23oz (34.9g)

Main Fabric:

90% Nylon(66)/10% Elastane
Rated

1

out of

5
by
napkin
from
skimpy
As a larger guy, these just weren't the right fit. I much prefer the regular give-n-go briefs and will stick with those. No complaints about them. Regarding these, it's a completely different material and seemed very nice, but it was also so light that it didn't feel like I was wearing anything at all. Sometimes that can be a pro, but in this case it felt odd. It ran a bit small in my opinion as well, or it's just very skimpy underwear. It's definitely skimpier than what the photos portray. Doesn't cover your rear, and it hugs your crotch - purposefully creating a bulge which I did not enjoy. You can basically see everything. This would also cause the waistband in the front to arc downwards which was uncomfortable. It may sound like I bought a pair that was too small, but this is definitely my size. The original give-n-go briefs just have better construction. Maybe these are cool for thinner guys, but if you're on the buffer or larger side, skip these, they have no practical application. I've tried the sport mesh in other iterations, and I'm just not a fan. The original give-n-go material/products are far superior in every way.
Date published: 2020-09-24
Rated

5

out of

5
by
CyberBuyer
from
Great style, while keeping dry
So I got these because I heard so many good things. So far it all rings true. I like the fit, and the fabric is super soft. Very comfortable. Stay dry and easy to wash and dry if traveling. This is a good cut for a trim person. I'm med build, 165, and Med looks good, a tad loose, but not baggy. It makes me want to try a Small and see if they look better or are too tight. But the Medium does look good and feels fine. It just depends how snug you want them. I would recommend for sure. I got the brief and the 3". I like both. I bought Black/Black. Maybe Blue/Orange next time.
Date published: 2020-07-23
Rated

4

out of

5
by
DHarris
from
VERY surprised with these briefs
I can not remember the last time I wore a pair of briefs. I am very much a boxer brief guy and even more so, longer ones. In the past, I might have even considered going commando before putting on a pair of briefs like these. Wow was I surprised! These felt great and I hardly realized I was wearing briefs. I never tried to pull them down and was never uncomfortable in every-day activities! I especially appreciated the mesh material vs thicker cotton. That is the only material I buy now for my undergarments.
Date published: 2020-03-12
Rated

5

out of

5
by
ADKJosh
from
Hands down the best underwear.
I've tried so many other brands and finally decided go give these a go. Havent looked back and have ordered a few more. I am a hiking guide and mainly use them on excursions and backpacking travels but also use them for sport, playing rugby and really anything active. They fit perfectly and comfortably, clean easily and dry super quick. 10/10 would reccomend.
Date published: 2020-04-21
Rated

4

out of

5
by
Alvionf
from
Men give and go
The men give and go sport mesh briefs are very comfortable. I got this product just to try something different and I'm glad that I did. The mesh material make these briefs very comfortable and breathable. They feel like you aren't wearing any underwear at all. They are great for working out or any other activities that might have you sweating.
Date published: 2020-03-27
Rated

1

out of

5
by
Good
from
Like wearing just a strap
Don't Hold you in, you fall out of briefs very disappointing
Date published: 2020-09-03
Rated

3

out of

5
by
Samikayyy
from
Not the greatest fit
The give and go 2.0 sport mesh briefs are very soft to the touch and are breathable but the fit is off a little bit. The waist band fits perfect but the legs have more of a boxer fit than a brief fit and are quite loose.
Date published: 2020-03-30
Rated

3

out of

5
by
yank23
from
VERY DISAPPOINTED
very disappointed w/fit. Realize LITE mesh, but it feels there's NO support when working out. I'm thinking product update from earlier purchase has resulted in a flimsy feeling item . Highly doubt will purchase again -
Date published: 2020-04-28
Rated

5

out of

5
by
Kenneth613
from
Game changer
I have owned these briefs for some time now. When I travel I usually take three pair just in case I don't feel like washing out a pair at night. I usually just wear these into the shower and wash them out as I shower. On a six week trip to Southeast Asia they were a game changer. They were cool and comfortable even in the humid temperatures. They also left room for other essential items. You can't go wrong with these briefs.
Date published: 2020-04-21
Rated

5

out of

5
by
JeffR
from
Comfortable!!!!
These briefs are more comfortable than many others I've worn. They don't have the tight fit and there's room to move more comfortably. I've washed and dried them and there hasn't been any noticeable shrinking. The material has plenty of stretch to it. The material is also breathable, which is a big plus. The mesh has plenty of stretch to it which makes them even more comfortable. These are the first set of briefs I have worn that have worn and have me wanting to switch from my regular whitey tighties to these briefs. I would definitely recommend them.
Date published: 2020-03-19
Rated

5

out of

5
by
Morticiagb
from
EX Officio briefs
My husband's review: I have been extremely happy with my first test of the Ex Officio brand, and I feel confident that I will be purchasing more in the near future. The sizing was a bit of a surprise; I normally wear a Medium waist (33-34") and though the size Large I received *seemed* big, they were actually very comfortable. The material and the sewing are top-notch and are extremely comfortable as well. This pair of briefs seems quite durable and it feels like it will hold up well over time. Though I generally prefer boxer-briefs over briefs, but I must say that these were much more comfortable than I expected them to be. I have not tested out their claims with respect to cleaning with traveling, but I have no reason to be skeptical.
Date published: 2020-03-14
Rated

5

out of

5
by
Rhughes
from
Perfect travel companion
My wife read about these online. I bought four pairs for a round Europe trip. Truth be told you only need three. These wash out and dry so fast that the third pair is a spare in case you can't find the opportunity to wash a pair before bed. Also, undocumented tip, based on personal experience... These wick moisture away so well that in emergency you can wear them two days running and won't even realize. Now wear these every time I travel after being caught in snow and put up overnight in a hotel at Dulles with no spares on me.
Date published: 2021-12-28
Rated

1

out of

5
by
number9
from
Not all are the same size.
I purchased three of these, and one of them was so far off in size from the others it is not usable for me. The other two fit great, and are great briefs, but now I am short $26 and can not wear the third pair. I washed them and wore them more than once, so I can not return them.
Date published: 2020-08-02
Rated

3

out of

5
by
ErikaD
from
The material feels silky
Unfortunately, the size was too big. The material feels really nice and silky. After washing, they still feel silky, and sturdy. The material, is very strong. There was no fading after washing several times. Pulled to stretch the waistband as much as possible, it bounced back nicely. I did this after each wash. The underwear, have a deep rich gray color and quality detailing. They are very well made for sure. Too bad they were too big.
Date published: 2020-03-24
Rated

5

out of

5
by
greendaygrl
from
My New Favorites!
I recently got a pair of ExOfficio Men's Give-N-Go 2.0 Sport Mesh Brief and really like them! I work hard, so I appreciate the fabric is breathable, moisture wicking & quick drying. I like them so much I want to replace all of my briefs with ExOfficio!
Date published: 2020-03-24
Rated

5

out of

5
by
MarkL
from
Great breif
When I got the brief, I wasn't expecting this good of a product. It stayed very cool and was very lightweight. I barely felt I was wearing anything at all. They are very breathable. Fit was very good based on size recommendation. I would buy again.
Date published: 2020-03-31
Rated

4

out of

5
by
RebeccaW2208
from
Lightweight comfort
These were for my husband. He is 5'10 and 170lbs. He usually wears FoTL tightie whiteys, size medium, but that the size medium of this pair was slightly looser. He said that these were very light weight and breathable and the mesh fabric was quite comfortable. He does mild exercise every day and said that these did not feel as "constricting" as his regular underwear. One issue he did notice was that the areas where he sweated were slightly damp, which on his cotton underwear is not as noticeable.
Date published: 2020-03-12
Rated

5

out of

5
by
tomlika
from
Great briefs
Fell in love with these briefs. The fabric is so soft, breathable, and light. These are great for sports because they form to you so well, plus allow your skin to breathe so you aren't sweating and holding in the sweat. I had not worn briefs in a really long time and these really changed my mind about wearing while playing baseball and for every day use. They have a wider waistband that helps keep them in place while running. They are so thin that they take up less space when packing as well.
Date published: 2020-03-13
Rated

5

out of

5
by
Uncle Crom
from
Great for Runners!
I am a little bit "husky" so it is often difficult to find underwear that are comfortable, breathable, and will not ride up in places it should not. These are great for running... super comfortable and wicking.
Date published: 2020-05-01
Rated

1

out of

5
by
Tyjoe
from
Terrible smell!
As soon as I brought the package inside I could smell something unpleasant. I opened it and the odor was overwhelming and smelt like strong chemicals. . I was going to try to wash them to see if I could rid them of the smell but ended up throwing them away. They seemed to be great quality but obviously something happened in manufacturing/shipping that needs to be fixed.
Date published: 2020-04-07
Rated

4

out of

5
by
BeenStroupin'
from
Smoother than they appear, quite comfortable!
Not being much of a 'tighty-whitey' consumer, I was skeptical of my satisfaction with these Sport Mesh Briefs from Give-N-Go 2.0. Living in a humid and always hot climate as I do (FL), I was eager to try em' out. These briefs did NOT disappoint! I am impressed by the amount of air flow that you still receive without having to practically go without undies altogether. My partner was also pleased when I wore my 2.0 Mesh Briefs because of how soft and silken they feel to the touch. Which, I'm not gonna lie...feels amazing! I noticed much less sweat and odor as well. I am hoping to replace most of my boxer short with pairs of these comfy and well ventilated briefs. I highly recommend you try Men's Give-N-Go a try, specifically if you too, live in a warmer climate, are into sports and performance, athletics etc.
Date published: 2020-03-23
Rated

5

out of

5
by
wyerivercrab
from
Best fitting briefs ever!
Crazy good fitting briefs. Perfect support for the boys. Extremely comfortable. Compared to other brands the ExOfficio quality is much better.
Date published: 2020-04-24
Rated

4

out of

5
by
Anyone
from
Great, butt.
Breezy, well made. But like all briefs they run up your crack. Get past that and they are great.
Date published: 2020-06-12
Rated

1

out of

5
by
Sonia
from
Improperly sized
These have a very different cut and sizing from the regular briefs. Good for hefty fellows
Date published: 2020-09-19
Rated

5

out of

5
by
JWolfbaby
from
Saves me laundry&drawer space
I have like 7 pairs of various undies from Exofficio for the last 5 years and they're still in great shape!!!! I'm also a fitness instructor that conducts class at least 10 classes a week and I appreciate that the underwear is breathable and it doesn't chaffe. I also like that it dries off fast so there's less funky smell, and I can go from one gig to another without worrying about stinking. I almost don't wear any other brands these days. Great quality products
Date published: 2020-04-21
Rated

5

out of

5
by
David L
from
Very comfortable and very breathable
Let me start this review that the last time I wore briefs I was probably 5 years old and they had Superman on them! But I'm always up for a change so I decided to try out Give-N-Go 2.0 Sports Mesh Brief. I am very happy to report that I'm totally blown away with these briefs. They are very comfortable, they are very breathable, they keep you cool and they move with you all day long. This is definitely a five star product and a new staple to my underwear collection!
Date published: 2020-03-08
Rated

4

out of

5
by
Anonymous
from
Comfortable !
I recieved my husbands underwear a couple days ago and this is a review based on his opinion... He doesnt like to use that kind of underwear ( he prefers boxers or boxer brief ) but they didnt have any so he went ahead and bought these for work as he works in the sun. He said they are comfortable & bring nice breeze in them as they are fit pro material ! He just didnt like that it sits right under his butt cheek instead of his thigh. But overall is a good product
Date published: 2020-03-07
Rated

5

out of

5
by
Okie Traveler
from
Excellent fit
I've been wearing ExOfficio Give-N-Go briefs for years, but these are my first Give-N-Go 2.0. I really like this material & hope it lasts as long as the original. Being a shorter guy, I appreciate the lower rise of the Sport Mesh Brief. The waistband shouldn't be around the bellybutton…. The material is extremely soft & supportive. Overall, these are very comfortable. I look forward to several years of hiking & travel with the Give-N-Go 2.0 Sport.
Date published: 2022-03-26
Rated

5

out of

5
by
Anonymous
from
comfortable and quick-drying!
I really like these sport mesh briefs -- I had some of the previous style, then got these, which now include a fly, which is more convenient, and still look rather stylish - you can almost use them as a swimsuit (like in a lake, might seem too revealing in a swimming pool, lol). And they dry so quickly! Roll them up in a towel to squeeze out excess moisture, then hang them up to dry. Fits great, no need to size up, unlike many briefs that run small.
Date published: 2020-11-11
Rated

5

out of

5
by
Anonymous
from
Good for travel or daily use.
I first bought your underwear about 10+ years ago for a four week trip out of country. I wanted to pack light. I found them to be very comfortable and quick drying. I since have used the same pairs on subsequent trips. They don't seem to wear out. It was around five years go that I started wearing them at home as well as when traveling. Still no signs of wear, still comfortable. A great product so I bought more. It's the only underwear I use.
Date published: 2022-03-15
bvseo_sdk, dw_cartridge, 18.2.0, p_sdk_3.2.0
CLOUD, getReviews, 0ms
reviews, product
---
<ul id="BVSEOSDK_meta" style="display: none !important;"> <li data-bvseo="sdk">bvseo_sdk, dw_cartridge, 18.2.0, p_sdk_3.2.0</li> <li data-bvseo="sp_mt">CLOUD, getContent, 0ms</li> <li data-bvseo="ct_st">questions, product</li> <li data-bvseo="ms">bvseo-msg: Unsuccessful GET. status = 'ERROR', msg = 'Not Found.';</li> </ul>
product-detail-view
oos-pdp