Men's Give-N-Go® 2.0 Boxer 2-Pack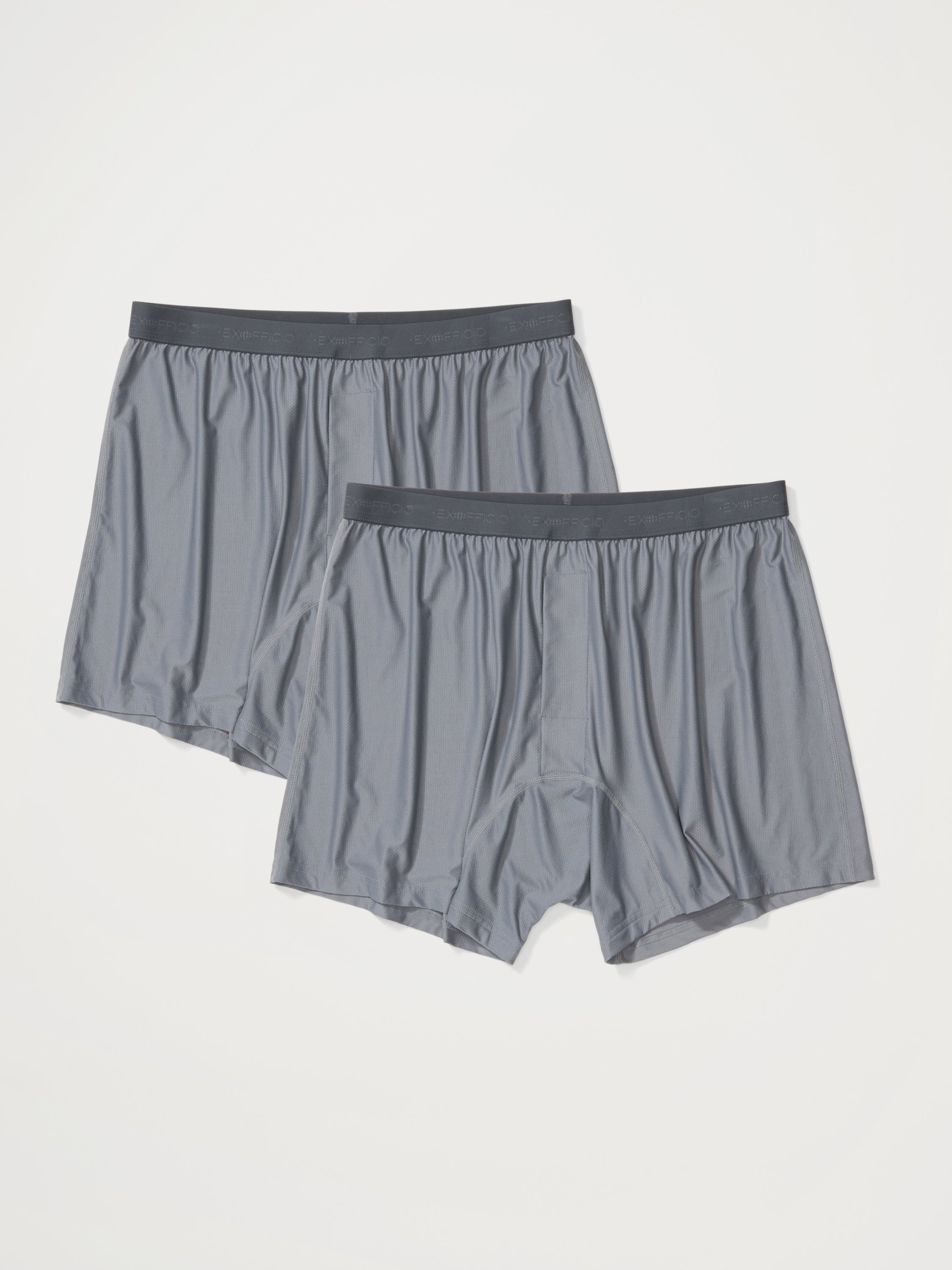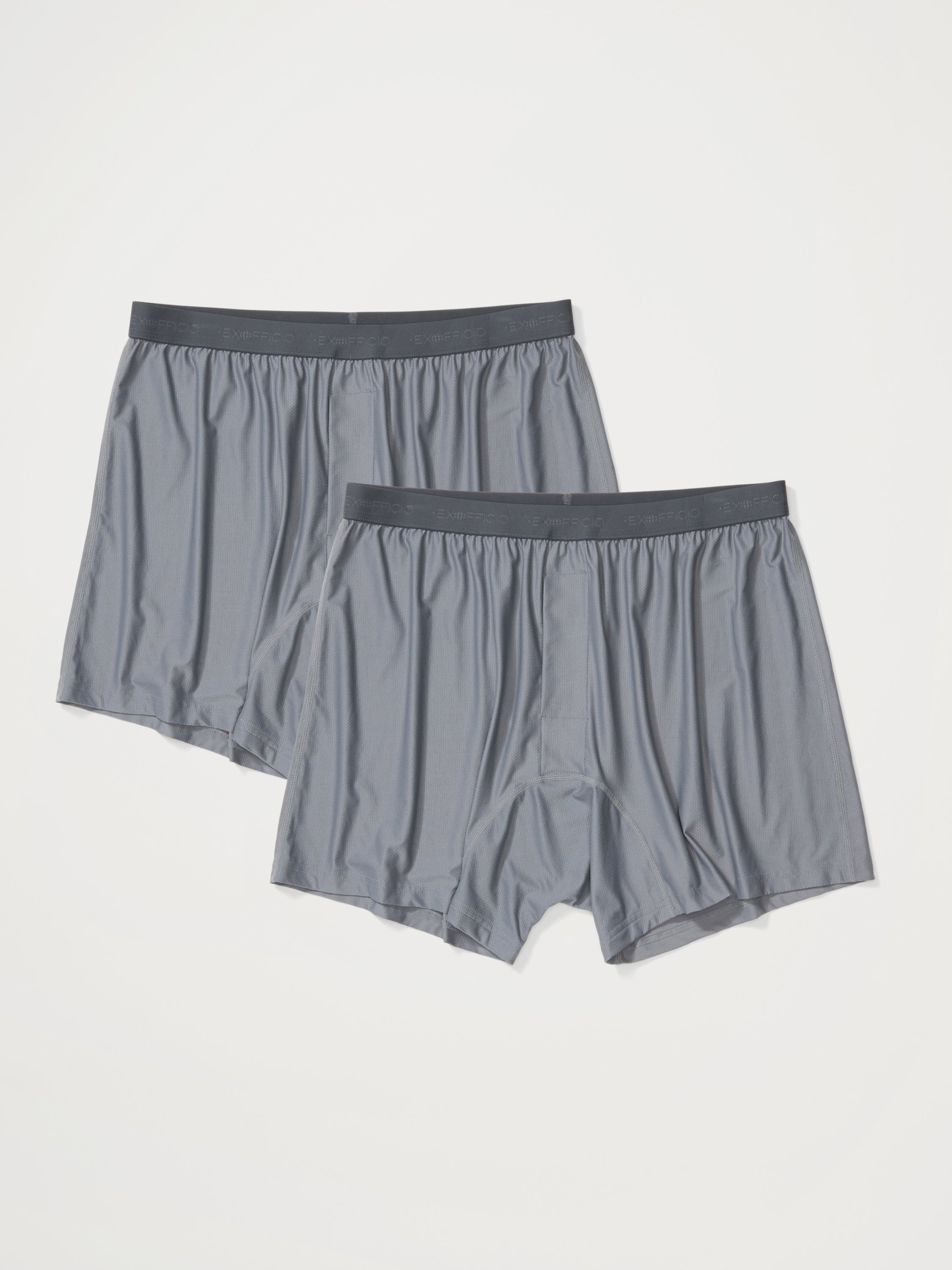 Men's Give-N-Go® 2.0 Boxer 2-Pack
Final Sale: may not be returned or exchanged
Final Sale
This item cannot be exchanged or returned. Valid while supplies last. All sales final.
Selection will refresh the page with new results.
Final Sale: may not be returned or exchanged
Final Sale
This item cannot be exchanged or returned. Valid while supplies last. All sales final.
---

Free shipping on all orders $50+ and free returns* Details

Backed by ExOfficio's Lifetime Warranty
---
Product Details
Features
Breathable mesh fabric supplies airflow to keep you cool; Durable synthetic fabric
Improved anti-odor treatment stays fresher, longer
Flatlock seams reduce chafing; Wide, comfortable waistband retains its shape
Easy-care so you only need two for any trip
Description
From trekking across Thailand to traversing the toughest stretches of Baja, we've spent over 20 years perfecting the art of adventure—and underwear. That's where the Men's Give-N-Go® 2.0 Boxer 2-Pack comes in. Now up to 4 times more breathable, 50% more moisture-wicking, and 25% more quick-drying compared to our original Give-N-Go® collections, our latest iteration of the perfect pair is designed to keep you moving more comfortably than ever. Explore more with durable fabric for long-lasting use, 4-way stretch for total range of motion, and chafe-reducing flatlock seams. The wide waistband retains its shape and improved anti-odor treatment keeps this underwear fresher, longer.
Specifications
Product Weight:

0lbs 7.94oz (225.1g)

Main Fabric:

89% Nylon / 11% Elastane
Rated

3

out of

5
by
Jenkem
from
Used to be my favorite boxers
They changed the cut and construction of these, now they're wedgie city.
Date published: 2020-03-20
Rated

4

out of

5
by
topcat420
from
So far, so good.
These boxers are performing as expected. Good quality and construction. The only oddity I found was a change in the color of the waistbands. This doesn't seem to affect their performance, it was just odd.
Date published: 2020-11-12
Rated

1

out of

5
by
Taylor W
from
Stitching falls apart
Stitching falls apart on every new pair i received. At the thigh on each set the stiching is completely worthless and comes apart within the first two wears.
Date published: 2020-09-29
Rated

5

out of

5
by
Taimen Prince
from
Pack light
Every ounce counts when you travel to remote areas to fly fish. Stories are endless about repacking and having to leave items behind prior to bush plane taking you in for a couple weeks of paradise. It really helps when the comfort you want comes with a weight advantage. These boxers fit the bill on both accounts. Just wish I would have figured it out sooner. Great Product for travelers!
Date published: 2020-05-06
Rated

1

out of

5
by
Disappointed undies
from
Warranty fodder
After wearing once and washing once, following the manufacturer's recommendations, several elastic strands in the waistband are already starting to break and fray. I will be initiating a warranty claim soon. For a product at this pricepoint, the quality is not what was expected.
Date published: 2020-09-19
Rated

5

out of

5
by
Rick K
from
The Best...Period!
I have been wearing these Exofficio Boxers for ten years now. The only boxer I will ever buy. I'm a big guy and they fit great with no binding or bunching up. The elastic does not wear out and they wash wonderfully. I literally would be in a bind if you guys stopped producing these boxers. I am a very loyal customer and I buy direct from your site. All the best to all employees at Exoffcio during these uncertain days...I wish and pray for your good health and many joyous years ahead. Rick K
Date published: 2020-04-21
Rated

5

out of

5
by
Mr G
from
Simply the best
These boxers have become just about the only underwear I wear. Many many years ago I decided to give these a try on a trip to Europe and was impressed by the comfort and quality; you really can wear them for days without washing, it's not hype (and things don't get ugly if that's what you are imagining). They keep you cool, dry, and comfortable throughout the day, take up almost no room in your pack or suitcase, can be washed by hand or in the machine and hang dry quickly. Worth the money.
Date published: 2021-03-22
Rated

5

out of

5
by
Ken F
from
My "go-to" underwear choice
This is the only underwear I buy and it's been that way for 10+ years. They keep improving the products and I will keep coming back!
Date published: 2020-10-01
Rated

5

out of

5
by
Dustin
from
The only underwear you need!!
The only boxers in my underwear drawer. Once I discovered these, I replaced all my underwear and now only wear exofficio boxers.
Date published: 2020-09-29
Rated

5

out of

5
by
Tom O
from
Great boxers
I'm 6'2", about 270lbs. The XXL have a nice full size fit and are super comfortable and soft. I highly recommend
Date published: 2020-09-19
Rated

5

out of

5
by
Gentleman Jack
from
A Great Buy
Very comfortable and durable. Great for travel, backpacking, and everyday use.
Date published: 2020-11-19
Rated

5

out of

5
by
Oliver
from
Fabric even better
They have new and softer fabric. Excellent as always!
Date published: 2021-01-03
Rated

5

out of

5
by
Sadler
from
Best Underwear Ever
Best fitting underwear on Earth. Only buying these
Date published: 2020-06-03
Rated

3

out of

5
by
Anonymous
from
Poor Elastic is being used.
You need to check your elastic. I have thrown away four pairs over the past two months. Elastic goes from a size 40 to a 44. Almost needing a belt to hold up. Very poor quality for 24. Dollars a pair.
Date published: 2021-12-03
Rated

5

out of

5
by
Grootus
from
Comfortable
Haven't been disappointed yet by exofficio. I work in wildland fire, and when I go to a fire assignment, I don't get to shower every day. I can go up to a week or so without switching them out just because of the fire assignment and they are just as comfortable as day one when I first bought them. They're long lasting, quick drying, and easy to wash. I recommend them if you like to go to camping trips as well.
Date published: 2020-05-07
Rated

5

out of

5
by
Cda 2
from
My favorite boxers
I bought a pair of these on sale five years ago. A week later, I owned 6 pairs of them. I still wear these everyday and they are by far my favorite. They are quite soft and remain comfortable all day regardless of how much physical activity I'm subject to. It's also pretty easy to clean them which is very convenient while hiking or traveling without bags. They have held up pretty well to daily use.
Date published: 2020-04-21
Rated

5

out of

5
by
Laughingwater
from
The Optimal Underwear
These boxers are officially the most comfortable option on the market. I have spent years field researching, and theses g-n-go are the perfect compliment of flexibility comfort and breath-ability. They are highly functional for all activities from a vigorous fitness activity to a simple office day. I highly recommend these for anyone who has struggled to find comfort in competing brands
Date published: 2020-04-23
Rated

5

out of

5
by
JamLew
from
Long time wearer
I've been wearing nothing but exofficio boxers every day for over 6 years. And I still regularly wear those purchased that long ago. Many of the reviews focus on initial comfort (which is great) but I can't imagine version 2.0 would not be the same quality and last as long. The material is the best mix for comfort and function. 71 inches tall and 157 lbs wearing small
Date published: 2020-05-06
Rated

3

out of

5
by
Jakester
from
1.0 Boxers, WHERE ARE YOU??
ExOffficio now has a "2.0 Boxer". I'd kill to have the old 1.0 back. I find the new material clingy, slick, and more like women's underware than men's. The old 1.0 version was light and had texture. A much preferred feature than the current "improvement". If ExOfficio has any of the old 1.0 boxers in the warehouse in an XL, please let me know so I can stock up.
Date published: 2021-11-19
Rated

5

out of

5
by
matt00
from
Awesome day-to-day boxers
I bought my first pair 7 years ago and now they're the only pair I buy. They are extremely comfortable boxers that provide exactly the support I need. I am in the military and have worn them through two deployments with zero complaints. They are great travel boxers and have provided comfort for some long travel days. I will be a loyal customer for a long time
Date published: 2020-04-21
Rated

5

out of

5
by
ChrisLikesBali
from
Hot humid tropics solved
Indonesia is a fabulous country. Bali in rainy season had one drawback: hot humid days, every day. I brought along cotton underwear, and Ex Officio... Ex Officio won , er, hands down. Actually, just kept the cotton ones in the suitcase. Even assertive washing in the streets' laundry shops didn't seem to create any trouble. Two thumbs, and two big toes, up!
Date published: 2020-04-21
Rated

4

out of

5
by
Bobba
from
Thinner fabric, same fit
Have worn these for years. I hope the thinner fabric turns out to be a plus, not a wear-out-sooner minus. Disappointed not to find any lighter neutral colors in the boxers to wear with light-colored, lightweight fabric summer pants. I don't wear boxer briefs and hope you won't abandon those of us who like traditional boxers and are longtime customers.
Date published: 2020-04-21
Rated

5

out of

5
by
Bosco
from
I really like these.
Bought my first pairs of these in 2007 for an overseas trip. Sure, they're great for travel, but I like these so much I wear them all the time. My only complaint is something I've experienced consistently over the years: the waistband tends to loose its elasticity after three or four years even though the boxers themselves have plenty of life left.
Date published: 2021-01-05
Rated

5

out of

5
by
JJ70
from
Best Underwear Ever!
I have been wearing the Give n Go Boxers (not boxer brief) for years. Yes, they are pricier than other brands, but nothing else compares to the fit, feel and durability of this product. Totally worth the extra cost. So much so that I have ditched my other boxers and now exclusively buy the Give n Go boxers. Would absolutely recommend.
Date published: 2020-04-30
Rated

5

out of

5
by
DrewS
from
Only type of underwear to get.
I love these underwear. They are the perfect pair for a hot day, the fabric is light, moisture wicking, and breathable. At the same time, they dry quickly, so washing them in a hotel sink overnight means you'll actually have dry skivvies to put on in the morning. The elastic band is comfortable, doesn't bunch, and holds them up.
Date published: 2020-11-06
Rated

5

out of

5
by
rampart385
from
very comfortable
Several years ago, I handled a climbing equipment case and met a world class mountain climber. He took me to REI. As we passed the rack with Ex Officio underwear, he told me that is all he wears and I should buy a pair. That was 15+ years ago. The upgrade to 2.0 is a significant improvement of an excellent product.
Date published: 2020-05-06
Rated

5

out of

5
by
Humid in Arkansas
from
Best boxers I own
I have several brands of boxers and these are by far the best. They feel great and the no button fly stays shut. I have some of your competitors and they have a button fly. I've grown to hate that button. Will probably buy only Exofficio from now on. They are a bit pricey so I almost always wait for sales to buy.
Date published: 2020-04-22
Rated

5

out of

5
by
Bert
from
Travel lite
I traveled to Madrid, Paris & London with my granddaughter, grandson and just two pair of exofficio boxed briefs and tee shirts. All four of us had a great experience. Could have easily stayed for a month. Just need a sink or equivalent to wash one set out & you're ready to go the next day. Couldn't be easier.
Date published: 2020-04-21
Rated

5

out of

5
by
Brower Power
from
Best River Undies
Took 3 pairs of these on a 21 day float down the Big Ditch, you know El Grande Canyon. They outperformed everyone's else's undies 10:1. Upon my re-entry into civilization, I realized I have to have a few more pairs. I'll summarize it like this, if Joe Eoxtic wore underwear, he's wear these.
Date published: 2020-05-06
Rated

5

out of

5
by
CoachV
from
Great underwear for the hunter
The Anti-Bacterial fabric is great for long hunting trips. I took 4 pairs of Exofficio boxers on a Brown Bear Hunt, and they were perfect for the 10 day hunt in Alaska. The boxers were very breathable and served me well. I liked them so much, I bought more and now that's all I wear!
Date published: 2020-04-30
bvseo_sdk, dw_cartridge, 18.2.0, p_sdk_3.2.0
CLOUD, getReviews, 0ms
reviews, product
product-detail-view
oos-pdp