Men's Give-N-Go 2.0 Sport Mesh 9'' Boxer Brief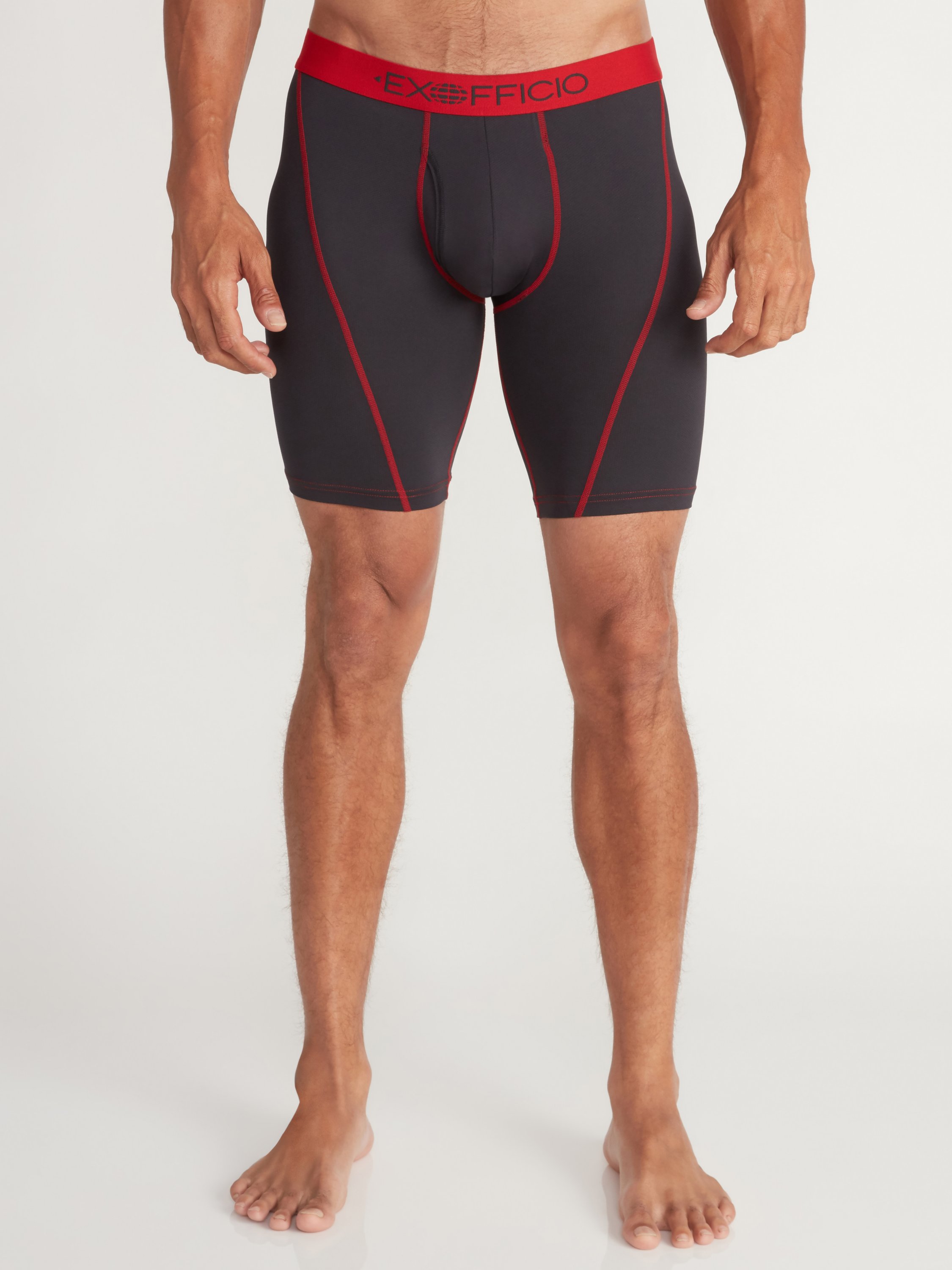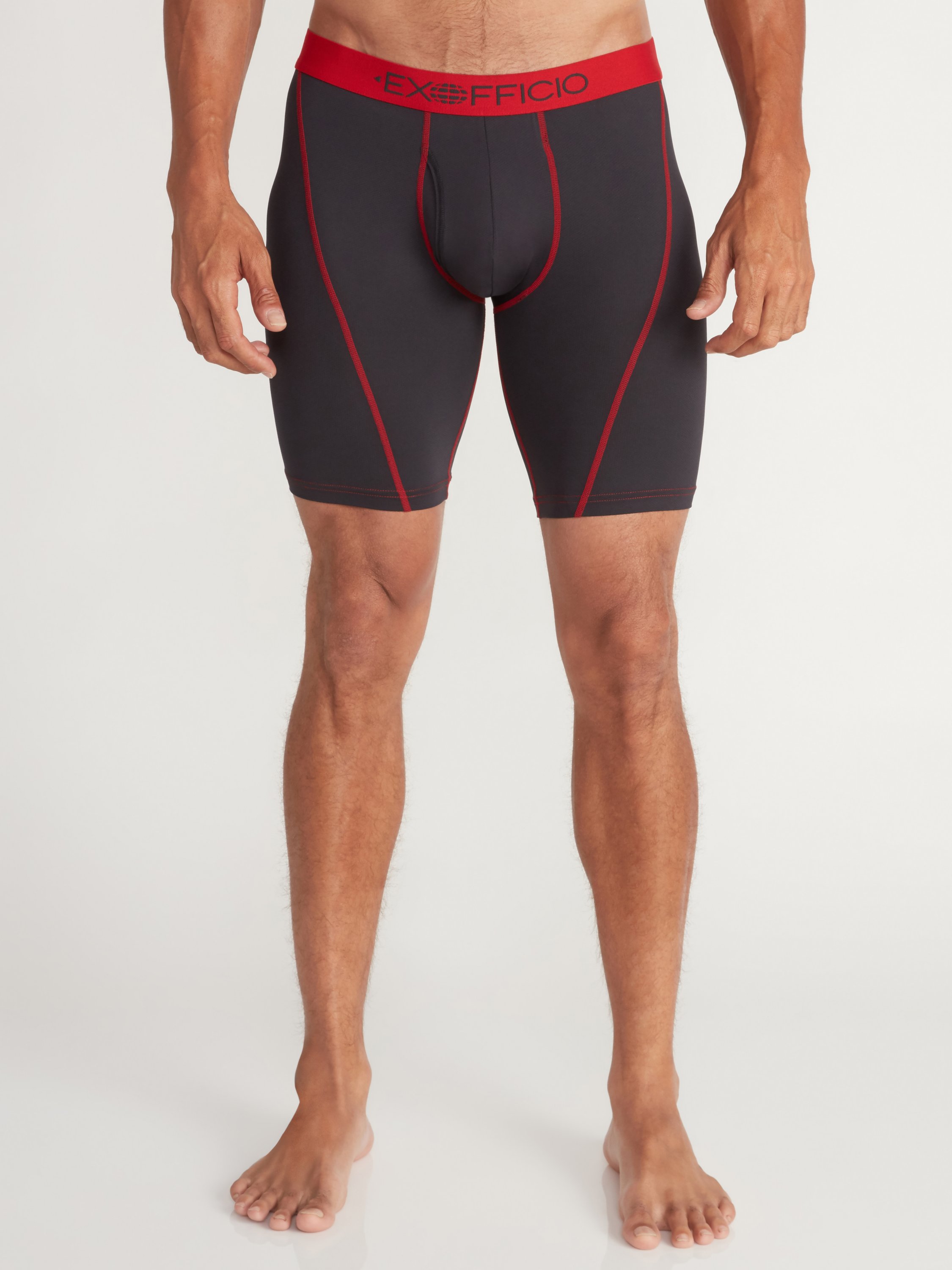 Men's Give-N-Go 2.0 Sport Mesh 9'' Boxer Brief
Final Sale: may not be returned or exchanged
Final Sale
This item cannot be exchanged or returned. Valid while supplies last. All sales final.
Selection will refresh the page with new results.
Final Sale: may not be returned or exchanged
Final Sale
This item cannot be exchanged or returned. Valid while supplies last. All sales final.
---

Free shipping on all orders $50+ and free returns* Details

Backed by ExOfficio's Lifetime Warranty
---
Product Details
Features
Ultralight breathable mesh fabric supplies airflow to keep you cool; Durable fabric
Improved anti-odor treatment stays fresher, longer
Flatlock seams reduce chafing; Wide, comfortable waistband retains its shape
Easy-care so you only need two for any trip
Snug active fit and lower rise are ideal for high-energy activities
Description
From trekking across Thailand to traversing the toughest stretches of Baja, we've spent over 20 years perfecting the art of adventure—and underwear. That's where the Men's Give-N-Go® 2.0 Sport Mesh 9" Boxer Brief comes in. Now up to 4 times more breathable, 50% more moisture-wicking, and 24% more quick-drying compared to our original Give-N-Go® collections, our latest iteration of the perfect pair is designed to keep you moving more comfortably than ever. Explore more with durable fabric for long-lasting use, 4-way stretch for total range of motion, and chafe-reducing flatlock seams. The wide waistband retains its shape and improved anti-odor treatment keeps this underwear fresher, longer. With a snug fit and low rise, the Give-N-Go® Sport Mesh 2.0 Collection is ideal for high-energy activities from intense gym sessions to bike trips in far-off places.
Specifications
Main Fabric:

90% Nylon(66)/10% Elastane
Rated

2

out of

5
by
Stephen from Montana
from
Good product but poor quality.
Love the fit but the quality is poor. I've owned other Give N Go underwear in years past and they are my go to underwear but the quality of this recent order is poor. The sewing of the leg seams started unraveling in the first week. I'm going to complain to Ex Officio to see if they'll replace.
Date published: 2020-08-08
Rated

4

out of

5
by
Rebec39
from
Dry quickly and very airy!
Ex-Officio's Give-N-Go 2.0 Mesh boxer briefs are light and very 'airy.' The mesh is a diamond pattern that allows tons of air to flow through places that need air to keep them odor-free and to aid in drying quickly. My husband fishes on the ocean and often gets soaked when he has to battle a tuna or marlin for sometimes hours. He gets drenched by waves coming over the boat, sweat from exertion, slime from the fish, etc. The grueling sun demands that he has thin and light boxer briefs like these so he doesn't get the proverbial 'swamp-b u t t' from all that moving around and being sweaty and wet! The second best aspect of these boxer briefs is their ability to dry completely in a matter of hours, even if my husband is still wearing them! The synthetic material and mesh design allow for optimal drying time, and this is super-appreciated given my husband's environmental and physical demands. That being said, they are just plain comfortable and the 9-inch shorts are his preferred length so there is no bunching action from the legs riding up. These are by far my husband's favorite boxer briefs. Despite knowing that, I am still giving these four stars because for the price, these should not pill so soon (began after two washes). They pill especially quickly in the fly area, which quickly gives way to a rather disheveled look and eventual discomfort as it gets worse with every washing. We have been big fans of the Ex-Officio brand for a while now, and we can thankfully afford this brand now that we've gotten a bit older and more settled! Highly recommend and, aside from these pilling, their products perform perfectly over a long period of time!
Date published: 2020-03-14
Rated

5

out of

5
by
Lizard93
from
So soft!
I got this for my husband to try. Not going to lie I almost kept them for myself. They were so soft. My husband loves them. He said they were super soft and "probably the most comfortable boxers he's ever worn." his words. He said that he loves how breathable they are. Usually he has issues with chafing, but he doesn't have that issue when he wears these. He also like that there's kind of like a pocket that holds everything where it needs to be. Instead of it constantly rubbing against his leg and stuff. He's already put in an order for more. He highly recommends these boxers.
Date published: 2020-03-13
Rated

5

out of

5
by
Caiello10
from
Comfortable!
My men's give-n-go 2.0 mesh boxer briefs thwt are 9" long are insanely comfortable. I work in an industry where I'm outdoors, climbing, cutting and sweating from the massive amounts of gear i wear. And i really wanted to try these because of the thin breathable material. I have to say these are the most comfortable ones i have ever had the pleasure of owning. They are so breathable, the length is perfect, it is moisture wicking, and so comfortable. The top band keeps them up in place and they dint get saggy through my day. Going on long hikes would be no issue wearing these.
Date published: 2020-03-10
Rated

5

out of

5
by
sartek
from
Washes well, quick dry
I bought this underwear for my trip to Austria to cut my luggage down to a backpack, avoiding o rehear baggage fees. It folds up into a very small size, so I packed 2 and wore a pair. They are easily washed in the shower in the morning and when hung on the shower bar, they're dry by morning. If I travel that day, I put them in a bag, after washing, and hang at my destination. They are dry in the morning. they accomplished what I wanted them for and they are super comfortable, too. I have bought more since that trip. They are holding up well after 5 years :)
Date published: 2020-04-30
Rated

3

out of

5
by
Wendi
from
Quality
My husband loves this underwear for fit and comfort. He has several pairs and loves them! I bought him 6 pairs for Father's Day, and the threads already coming out. I am disappointed with the quality this time.
Date published: 2020-07-10
Rated

1

out of

5
by
hiker29
from
New design is too loose
I love the old version of the 9 inch give and go boxer briefs. However the new version has thinner material and they are not nearly as tight. The reason I purchased 6 new pairs was to replace my old ones with worn out spandex. I was very disappointed to discover that these feel like they are over two years old right out of the box. I suggest ordering two sizes smaller than you really are if you care at all about a compression fit.
Date published: 2020-04-24
Rated

5

out of

5
by
Sprice7235
from
Give-And-Go 2.0
My husbands loves the Mens Give-N-Go2.0 Sports Mesh 9" boxer briefs. He says they are the most supportive and comfortable under garnet hes ever wore. Putting on his Jean's daily the leg openings of his current brand roll up, these do not do that. The stay in place without being tight. They are extremely well made and look very nice. We both definitely recommend giving them a try. You will not regret it. Worth every penny.
Date published: 2020-03-18
Rated

3

out of

5
by
JDH5
from
Ok, not versatile
I have a pair of the 6" and they pilled after first use. They aren't the best in synthetic (poly) shorts/pants. Definitely don't run in the dryer with other clothes, even on air fluff or low. They air-dry very quickly which is great! They are not made for hiking, but travel. I will wear these on my trips through the airport and road trips as they are very comfortable, but not for high activity.
Date published: 2020-06-30
Rated

5

out of

5
by
Kev73
from
Great for moisture wicking
I have had these boxer briefs for about a month. I can honestly say they are the perfect pair of underwear. I do landscaping and I sweat alot. These briefs keep me feeling dry and that's a big relief. I love how long the leg part is. This has definitely stopped the skin from chaffing. I have since bought more of these boxer briefs. I want everyone to know how comfortable and reliable these are!
Date published: 2020-03-18
Rated

5

out of

5
by
wifly
from
so comfortable
Bought these for wet wading. Still too cold for wet wading in the upper midwest. I thought I would try them with a pair of jeans. I was afraid they would be too tight for me but I couldn't believe how comfortable they are. They are snug but not at all constricting. No creeping, twisting, or restriction. You almost forget you are wearing them. Look forward to testing them in the water.
Date published: 2020-05-06
Rated

5

out of

5
by
Trelian
from
Best Underwear, Hands down.
Ever since I heard about ExOfficio Give-N-Go Sports Mesh from Wirecutter, I've slowly replaced all my other underwear. Why? These things are super comfortable, offer excellent support, pants slide right over them, they dry quickly, resist odor - they're everything you'd want out of a pair of underwear. Also, they definitely shine while traveling because they pack down small, and can be washed in the shower with you and then just hung up to dry for a couple of hours. I started with two pair, and I am up to nine. They're my go-to.
Date published: 2020-04-21
Rated

5

out of

5
by
jen21
from
most confortable boxers ever
Before trying these boxers my husband thought they were just like any other boxers he has worn, after trying them he said they were the most comfortable he had ever worn. They gave plenty of room in the front but snuggly on his thighs and waist so they don't ride up his legs or down his waist... He noticed he didn't get sweaty like he normally does with other brands,so the material is very breathable allowing him to stay dry. He normally has to readjust with other brands but with this product, everything stayed in place. So he didn't have to keep trying to pull them down his upper thigh. The waist band stayed where he wanted them to; even when pulling out his tank top to let them to hang out his pants.Not to mention they are stylish and great looking......
Date published: 2020-03-07
Rated

5

out of

5
by
teecup05
from
Nice Boxer Brief
The Men's mesh boxer brief are definitely a great product and I love how great it feels on the skin. This product is so amazing and comfortable if the mesh part makes it even more better. I just love how well this boxer brief are made. Nonetheless, one of the Pros I like about this brief is how stretchy the material is and when you in the sun for a couple of hours, it still feel comfortable on and the material isn't wet. Overall, I will definitely recommend this product because, of how stylish it is an how fits.
Date published: 2020-03-13
Rated

5

out of

5
by
Cullen
from
Better version of the best!
More breathable than some earlier fabrics used & the legs seem to stay in place better, too, which is exactly what I was hoping for in going to the 2.0 & downsizing to XL from 20 pairs of 2XL. Been wearing ExOfficio 9" SportMesh boxer briefs since 2016 & these are the best incarnation yet.
Date published: 2020-05-14
Rated

5

out of

5
by
Nanette03
from
My Husband Loves!!
I got these for my husband because he hates wearing underwear. He says they bother him too much, so needless to say, there are times he goes without underwear (which I hate). I thought he would like these, since they go down farther, which helps so his legs don't rub together. He came home after the first day of wearing them, and said he absolutely loves this underwear!! He said it feels like he's not wearing any at all. It is so comfortable all day. He said it does not ride up at all, and the fabric breathes, whereas he doesn't get sweaty and the waistband is super comfortable. I have washed them several times now, and they wash up beautifully. No shrinkage, pilling or fading. He wants to wear these all the time now! Definitely will be buying more of these for him!!
Date published: 2020-03-13
Rated

3

out of

5
by
Kingfisher
from
Nice fit
If I were to write this review by fit and comfortability alone I would have given these five stars as they fit perfectly and didn't ride up at all throughout the day however straight from the package some of the stitches were loose and thread was hanging from one of the leg holes
Date published: 2020-03-09
Rated

4

out of

5
by
Jojosaltx3
from
Runs a bit big
So these underwear run big. I got a large for my boyfriend since he wears that size and they were pretty big. Way too big. But they were very soft and comfortable. I also liked the material it was made from. Just make sure you order the right size. They are good underwear.
Date published: 2020-03-20
Rated

5

out of

5
by
JoeB
from
Very comfortable
Got these as a gift, and are probably the most comfortable underwear in the dresser. Fit very nice, supportive when hiking and outdoor activities, perfect for layering, and keeps the boys at the perfect temp. Highly recommend to anyone with an active lifestyle
Date published: 2020-04-30
Rated

4

out of

5
by
Jess92
from
Super soft
I bought this product for my husband because his other pairs are barely hanging on. These are super soft and fit him great. The crotch area is a bit weird on them though. Over all I think that he would order more of these when it comes down to it
Date published: 2020-03-12
Rated

5

out of

5
by
Saljay
from
Comfortable
Where have these boxer briefs been all my life? They're comfortable, they're breathable and the material quality is great. I've tried different brands before but nothing like this one before. They're absolutely my favorite
Date published: 2020-03-24
Rated

4

out of

5
by
michaelair
from
very light and comfortable
Love these - very light - very comfortable. It's nice that there is also the front window as most of these wick away briefs do not have that. A welcome addition for sure.These are so light you forget they are on.
Date published: 2020-03-09
Rated

5

out of

5
by
Redleg Carl
from
Travel Ready - Rugged Comfort
I own multiple pairs. Some I have owned for a 5 years and they show almost no signs of wear. I have worn these on military deployments, on a treks across Scotland and Iceland, A multi-day train trip around the U.S. and numerous other travels. They can be washed in a sink and dried quickly, wich drastically cuts down on the amount of clothes I need to pack for long trips. They are the most comfortable underwear I have ever worn and if they ever wear out I will gladly purchase another pair.
Date published: 2020-04-30
Rated

5

out of

5
by
Galloping Goya
from
Replacement product just abou
I have been a fan of ExOfficio underwear for years for travel and when outdoors near any water, some of my older pairs waist bands wore out; while the rest of the underwear was like new. I still have really old tiddy whities have bands that have lasted (granted the rest of the brief has a few holes) but that is saved my dollars and bought one pair of premium underwear every years. I sent some of the worst examples to ExOfficio and to my extreme satisfaction they sent me replacement underwear free of charge. I love ExOfficio because they stand by their product. Which brings me to my review of the Give-N-Go Sports mesh brief. These are the best underwear ever. Well constructed and oh so comfortable! It cradles you in the right places if you know what I mean. Well constructed with a great band.
Date published: 2020-11-10
Rated

5

out of

5
by
Numoney
from
6 years and going strong
I bought 5 pairs of these 6 years ago and they are still going strong. Not a single thread has come loose and they have followed me through 15 states. River water, ocean water, and pool water, they can handle it all. They have been on more SAR missions then I can count, more rock climbs than Alex Honnald (ok that's a lie), and approximately 4 drunk wanderings through Joshua Tree. Throw a tank at these and see whose the winner (hint: it's the boxers). Highly recommend.
Date published: 2020-11-12
Rated

5

out of

5
by
bangl
from
Nicely done!
These are very comfortable and apparently well-made and durable [only time will tell].
Date published: 2021-01-06
Rated

5

out of

5
by
SFD303
from
Give-N-Go perfection 2.0
*******TMI ALERT***** I bought these after a Rim2Rim hike at the GCNP, during the hike I was wearing UA... and I chaffed so bad during that hike that no cream or ointment or powder would help.. and I vowed in the bottom of the Grand Canyon that I didn't care how much they cost, I would buy underwear that fixed that problem... well 4 years later, the G-N-G 9" is officially my daily wear, every day.. I don't even own any other underwear. They dry almost instantly!!!
Date published: 2020-11-06
Rated

3

out of

5
by
NotPublic
from
Not really mesh.
They are constructed of solid fabric, not mesh. Extra words needed to post.
Date published: 2020-07-31
Rated

2

out of

5
by
H Maclean
from
Could be better
Pilling occurred on first wash, even after following washing directions.
Date published: 2020-07-14
Rated

5

out of

5
by
MFDeac
from
Most Comfortable Underwear
I have been wearing ExOfficio boxer briefs for 10-15 years and have yet to find anything that comes close to the comfort and durability. I recently tried the 2.0 line and was amazed at how much better they were than the others I have worn for years. Many new companies have started up in the last few years in an effort to duplicate what ExOfficio has been doing for decades. Don't waste your money on the imitators, splurge on these and you will thank yourself.
Date published: 2020-04-30
bvseo_sdk, dw_cartridge, 18.2.0, p_sdk_3.2.0
CLOUD, getReviews, 0ms
reviews, product
---
<ul id="BVSEOSDK_meta" style="display: none !important;"> <li data-bvseo="sdk">bvseo_sdk, dw_cartridge, 18.2.0, p_sdk_3.2.0</li> <li data-bvseo="sp_mt">CLOUD, getContent, 0ms</li> <li data-bvseo="ct_st">questions, product</li> <li data-bvseo="ms">bvseo-msg: Unsuccessful GET. status = 'ERROR', msg = 'Not Found.';</li> </ul>
product-detail-view
oos-pdp