Men's Give-N-Go 2.0 Sport Mesh 6'' Boxer Brief 2-Pack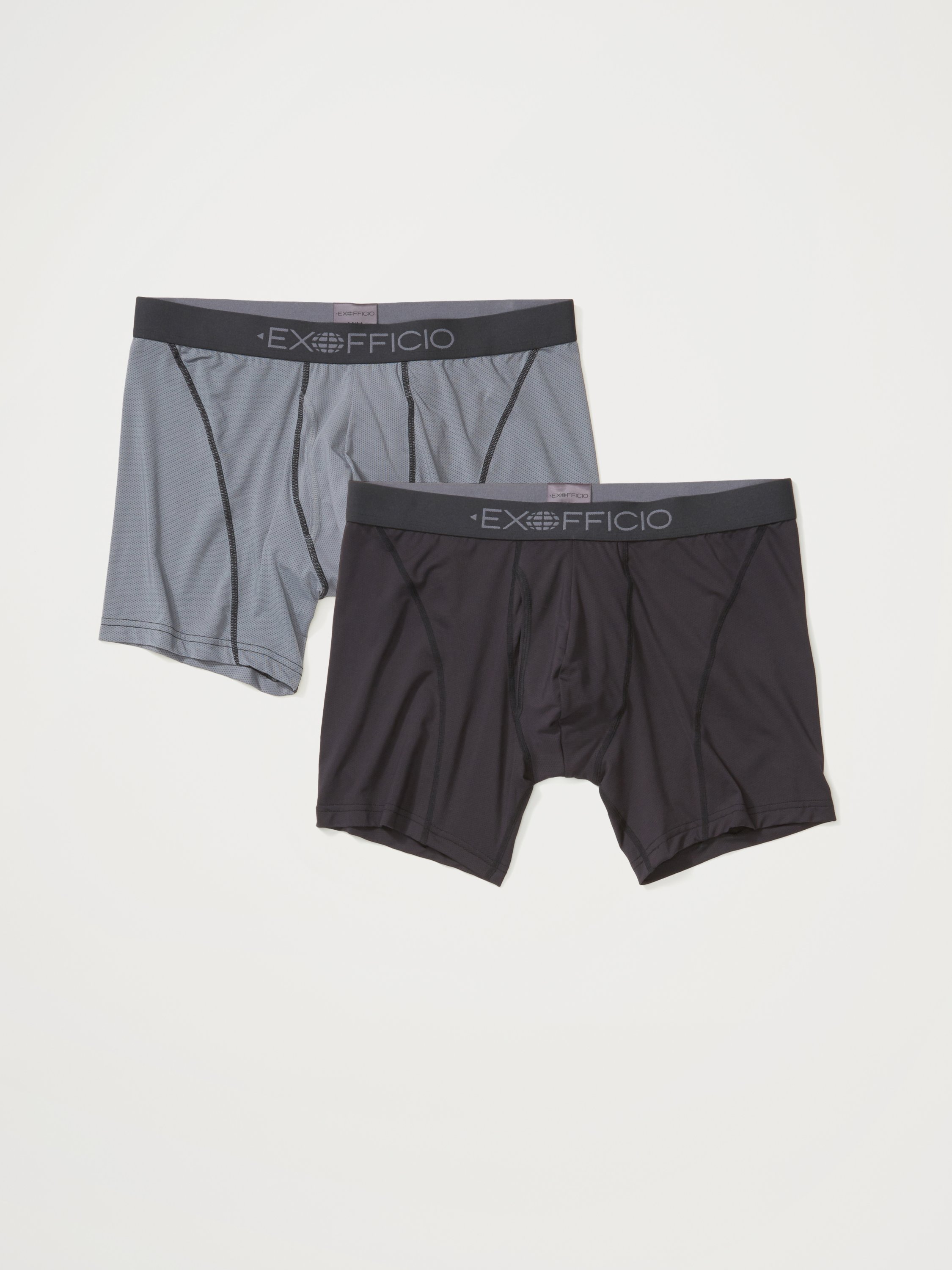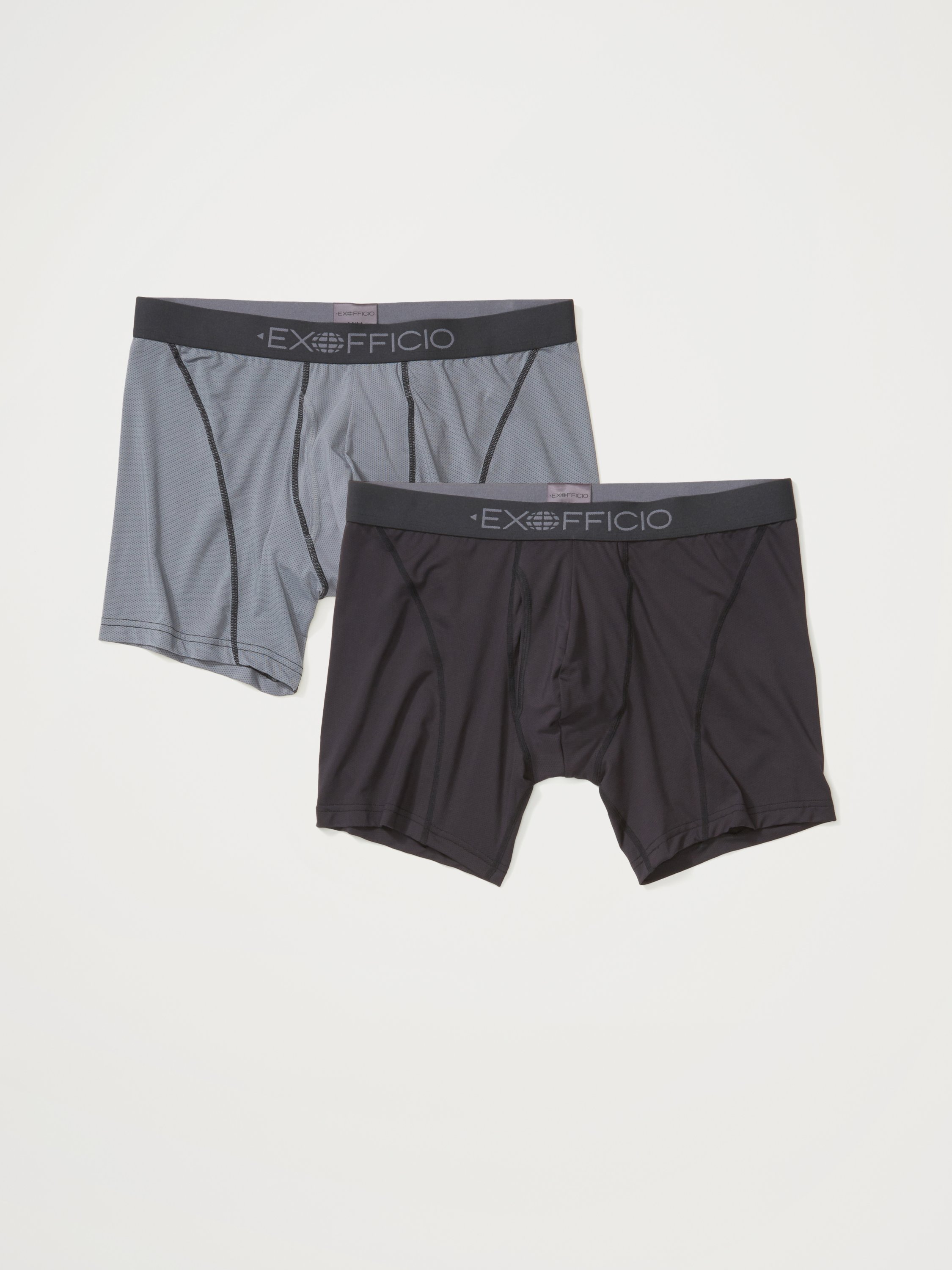 Men's Give-N-Go 2.0 Sport Mesh 6'' Boxer Brief 2-Pack
Final Sale: may not be returned or exchanged
Final Sale
This item cannot be exchanged or returned. Valid while supplies last. All sales final.
Selection will refresh the page with new results.
Final Sale: may not be returned or exchanged
Final Sale
This item cannot be exchanged or returned. Valid while supplies last. All sales final.
---

Free shipping on all orders $50+ and free returns* Details

Backed by ExOfficio's Lifetime Warranty
---
Product Details
Features
Ultralight breathable mesh fabric supplies airflow to keep you cool; Durable fabric
Improved anti-odor treatment stays fresher, longer
Flatlock seams reduce chafing; Wide, comfortable waistband retains its shape
Easy-care so you only need two for any trip
Snug active fit and lower rise are ideal for high-energy activities
Description
From trekking across Thailand to traversing the toughest stretches of Baja, we've spent over 20 years perfecting the art of adventure—and underwear. That's where the Men's Give-N-Go® 2.0 Sport Mesh 6" Boxer Brief 2-Pack comes in. Now up to 4 times more breathable, 50% more moisture-wicking, and 24% more quick-drying compared to our original Give-N-Go® collections, our latest iteration of the perfect pair is designed to keep you moving more comfortably than ever. Explore more with durable fabric for long-lasting use, 4-way stretch for total range of motion, and chafe-reducing flatlock seams. The wide waistband retains its shape and improved anti-odor treatment keeps this underwear fresher, longer. With a snug fit and low rise, the Give-N-Go® Sport Mesh 2.0 Collection is ideal for high-energy activities from intense gym sessions to bike trips in far-off places.
Specifications
Main Fabric:

90% Nylon(66)/10% Elastane
Rated

5

out of

5
by
MKLight
from
Best Underwear!
At first read about Ex Officio's underwear about 7 years ago. I was traveling for work and got delayed. I didn't have any clean underwear and had to go to a local department store to get more. I thought it would be a great idea to get something that I could wash quickly if needed in a pinch, so I ordered these online. I've been wearing them for years. The boxer briefs are great wearing. They're also supportive while running, hiking, and biking. I still have my very first pairs and they look new! I bought more a few months ago. They are definitely worth the price for their comfort and durability.
Date published: 2020-04-21
Rated

5

out of

5
by
Anonymous
from
Customer Service
I've used EX Officio underwear for over 10 years and never had a problem until my last order. One pair had started to unravel at the seam the first time I wore it. Trying to contact ExOfficio to attempt return has been a nightmare. I will continue to use their superb products and purchase more if needed. I'll just pitch the defective pair.
Date published: 2020-12-31
Rated

1

out of

5
by
Dmartin
from
Poor quality
I purchased 4 pairs for a 8 day hiking trip Thinking I would swap out every other day. After my trip they got thrown in garbage the crotch and butt area fell apart. I'm guessing from rubbing on the inside of my hiking/climbing pants. I owned the pants for 4 years now and never had an issue like this before..
Date published: 2020-09-02
Rated

1

out of

5
by
Xav1029
from
QC Issues
This set started coming apart at the seams after ONE wash! Got a few pairs of the regular boxer briefs and love them. Fill out a warranty claim and get no response. I am willing to spend $ on good product, but this was a waste of $50+
Date published: 2020-12-11
Rated

3

out of

5
by
Ambrose
from
Great Feel. Loose Threads.
I'm a huge fan of ex-officios. I already have three pair. The two new pair are just as comfortable; however, the threading on both pair has already started to come out after only a few wears.
Date published: 2020-08-07
Rated

1

out of

5
by
bjbkkb
from
Sketchy quality control
I purchased several pairs of these and I liked the fit and comfort. One pair, during the first washing, had the entire hem come undone in the left leg. I requested a warranty return and it was granted with an explanation that it might take up to 12 weeks to replace them. 9 months and several emails later I still don't have a replacement. Expensive underwear for a chance that it might or might not survive a washing.
Date published: 2021-05-03
Rated

5

out of

5
by
Bob G
from
Great quality, comfortable
This is my third purchase of these ExOfficio boxer briefs. I am 5'-9",170# and find M as true fit to size. They are great for everyday wear and especially for travelling. As advertised, they are quick dry on the hanger. I do not put these in the dryer. I have found over the years that they will last longer if you just hang dry overnight. So far, they are holding up well after multiple washes. No complaints.
Date published: 2020-06-13
Rated

1

out of

5
by
D310
from
Poor quality
I really do like this product. I only wish it was better made. I have had several pairs now where the stitching unravels on the inside tigh portion, it is not because it is stretched out. It just comes apart after a few uses. It is too much if a hassel to do a return and I thought it would have only been one or 2 pairs that it happened to. But after 4 pairs now, I do not believe it was a one off issue.
Date published: 2021-02-06
Rated

3

out of

5
by
Leia
from
Comfortable but loose thread
My husband loves these and they are his favorite. However after the first wash one of the seams/ thread started unraveling. I need to call Ex Officious Customer Service to see if they guarantee their products from defects. He has a few other pairs of ex officio boxer briefs and we haven't had this problem. Hoping it's a fluke and that the quality hasn't gone down.
Date published: 2021-01-06
Rated

4

out of

5
by
Fins_N_Tines
from
Not your Grandpa's Underwear
These underwear are awesome and definitely do not hold odor like other brands. They dry fast and definitely breathe well. One item to note is I ordered the medium as I m a 32 waist and they were definitely not as tight around the waist as I like. If I ordered again I would get size small.
Date published: 2020-06-10
Rated

5

out of

5
by
Tall Guy Stevie
from
Best Ever
I've been looking into getting higher quality, more durable and simply more comfortable underwear for going on road trips, being active and daily use for a while now, and I am thoroughly stoked to have been recommended Exofficio from a friend. I've tried other brands, and nothing has beat these, especially for the low price. But even if price weren't a factor these are still the best underwear I've ever worn, and I'll definitely be buying more in the future to have a pair for each day of the week!
Date published: 2020-04-30
Rated

1

out of

5
by
Taylor W
from
Stiching falls apart
Stitching falls apart on every new pair i received. At the thigh on each set the stiching is completely worthless and comes apart within the first two wears.
Date published: 2020-09-29
Rated

5

out of

5
by
Trski
from
Evolution
A great evolution of an already excellent product. 2.0 adds smooth fabric to the superior comfort, design, and breath-ability of the prior generation. Nothing lost, something important gained.
Date published: 2020-06-10
Rated

5

out of

5
by
Anonymous
from
Great product!
Excellent product! I switched to the Sport Mesh from my previous purchases, and am really pleased with the fit and the balance between support and freedom. Thanks guys!
Date published: 2020-05-26
Rated

5

out of

5
by
j joh
from
Men's give-n-go 2.0 sport mesh
The short are exceptionally comfortable and lightweight. Customer Service helped me with the second order and were quite prompt and professional. Thanks! Jeff
Date published: 2020-05-14
Rated

5

out of

5
by
kyleshrm77
from
Best I've ever worn
These are the best underwear that I've ever owned and wore. The only brand I'll probably ever buy again! Still have my first pair that's over 6 years old now
Date published: 2020-05-09
Rated

1

out of

5
by
Andrew21
from
Falling apart after one use
I purchased these along with some others of the same type and am not pleased at all, the hem on one pair is completely coming apart after one wear and wash cycle and others look like they may meet the same fate. I read some reviews and just figured it was just a minor issue but it happened to me as well. I also reached out through the customer support contact form and got no response about if this was covered by their warranty since they fell apart after one wash and wear.
Date published: 2021-09-01
Rated

5

out of

5
by
Stry
from
My go to
I had heard the hype and so I decided to see for myself. I am not disappointed. They fit me comfortably, which is the most important thing. They are in fact able to be washed in the sink then laid out and dried overnight for next day use. Full disclosure They do pill up a lot and with one pair that I own there is a small wear mark in the crotch, however, none of my now 6 pairs have failed on me. I have been wearing them almost exclusively for roughly two years now.
Date published: 2021-06-23
Rated

5

out of

5
by
Km123
from
Great purchase
They are super lightweight and extremely comfortable!
Date published: 2020-06-16
Rated

5

out of

5
by
jaboo
from
Great Backpacking Underwear
I bought the 2-pack of the men's ExOfficio Give-N-Go 2.0 Sport Boxer Brief about 9 months ago to use on my backpacking trips. Whether I'm going on an overnighter or for multiple days, these ExOfficio underwear do the job. They wick moisture away from my body; they help prevent chaffing; and they don't smell gross after a long day of strenuous hiking. Without hesitation, I can recommend these underwear for your backcountry excursions.
Date published: 2021-06-03
Rated

3

out of

5
by
S thomp
from
Not like they used to be…
Giving a three star to be nice , 2.5 stars would be more appropriate. Have a bunch of older style 4-6 years old Best boxer briefs ever. But being old I am wearing them out and retiring them. So decided to try these out. Don't fit as well, construction seems "cheap" And lots of random threads pulling out. Definitely disappointed, and I bought 6 pairs. Not my go to anymore.
Date published: 2021-09-04
Rated

5

out of

5
by
Si flyer
from
Men's sport mesh underwear
The Men's sport mesh underwear is an excellent take on all of your adventures. I travel the world on a weekly bases for my job and these are a must have in your bag. They wear, wash, and pack incredibly well and can be washed and dried over night if needed. If your looking for a complimentary tee shirt, try the sport mesh Tee's. I give this product my highest recommendation.
Date published: 2020-04-21
Rated

5

out of

5
by
Anonymous
from
Cool and Comfortable
Washable and dry by morning, even in the jungle (well, maybe slightly damp in the jungle the next morning - but wearable!) When traveling I typically rinse out in the sink at night, wring out and hang up. If I want to ensure they'll be dry in the morning I'll place on a dry towel and wring out. However, most of the time that is not necessary. The only underwear I own.
Date published: 2020-11-19
Rated

5

out of

5
by
RJDLIFE
from
Amazing comfort and quality!
I am a businessman who averages 260 nights/yr in hotels, traveling in planes and rental cars, and I love to take tropical vacations, I have been wearing ExOfficio 2.0's, and other products for the last 7 years always amazing comfort, very easy to self wash/dry and not having to pack excessive underwear, undershirts or leisure ware! Awesome for the minimalist packer! Amen!
Date published: 2020-11-10
Rated

2

out of

5
by
Disappointed_likeSoMany
from
The elastic is terrible
I've been using ex officio for over 15 years. I was excited about the new design, but the elastic is markedly worse than before. This seems like planned obsolescence. I use a front loading washer and do not use a dryer. I've probably bought 12 pairs of these give and go boxers and every single one has elastic that is almost useless. This all happened within a year.
Date published: 2021-09-07
Rated

5

out of

5
by
Happy customer1
from
These are perfect!
I searched and searched for new boxers and these are just amazing. Comfortable but provide support, don't ride up, and have the advantages of a travel underwear. I really liked the sport mesh over the regular give-n-go because I like the support. I have several other expenses pairs of boxers in my drawer but always skip those for these Ex-Officio's. Enjoy!
Date published: 2021-01-05
Rated

5

out of

5
by
hikerandbiker
from
Great update to a favorite
I've always loved the Ex Officio boxer briefs and the Give-N-Go 2.0 does not disappoint. Comfort is fantastic. They stand up to multiple days on the trail when I am backpacking with minimal washing facilities - water and, on a good day a bit of camp suds, before airing out in my tent overnight. I recommend to all friends for daily use and for backpacking.
Date published: 2020-05-06
Rated

5

out of

5
by
popps9
from
Amazing Feel
I have tried numerous brands of underwear including Under Armour, Kenneth Cole and even ExOfficio Give and Go ( reg.) but nothing even compares to ExOfficio Give and Go Sport Mesh. They are awesome and extremely comfortable. That is all I buy now. Some seem to be a little on the expensive side but I think well worth it. I am a regular now Thanks
Date published: 2020-04-21
Rated

5

out of

5
by
Lthenders
from
Good investment
It took me a while to come around to paying more for these. I kept buying the cheaper brands from W@lmart which I did not like as much and needed to replace more frequently. I finally replaced my full wardrobe of underwear with Exifcio briefs and I couldn't be happier. The quality, comfort, and durability have made this an outstanding decision.
Date published: 2021-06-04
Rated

5

out of

5
by
Kylie
from
Amazing quality
Bought these for my husband and he LOVES them. Also, I am beyond impressed by the customer service received. My order was placed December 1st and still not received Dec 22. Ex Officio replied and addressed this issue by re-ordering and sending overnight so it was received in time to be wrapped and under the tree Christmas Day! Incredible.
Date published: 2021-01-12
bvseo_sdk, dw_cartridge, 18.2.0, p_sdk_3.2.0
CLOUD, getReviews, 0ms
reviews, product
product-detail-view
oos-pdp