Men's Give-N-Go 2.0 Sport Mesh 3'' Boxer Brief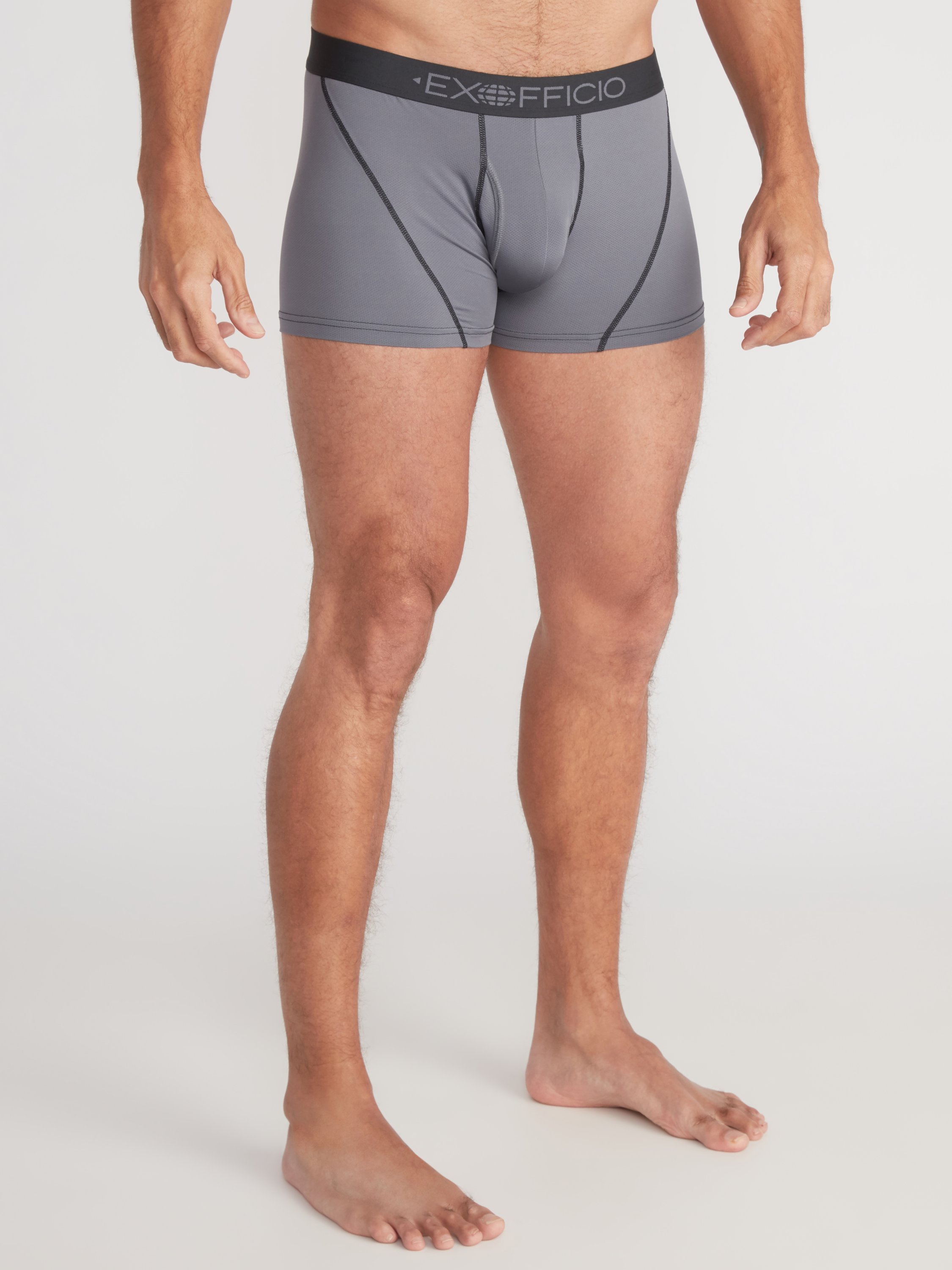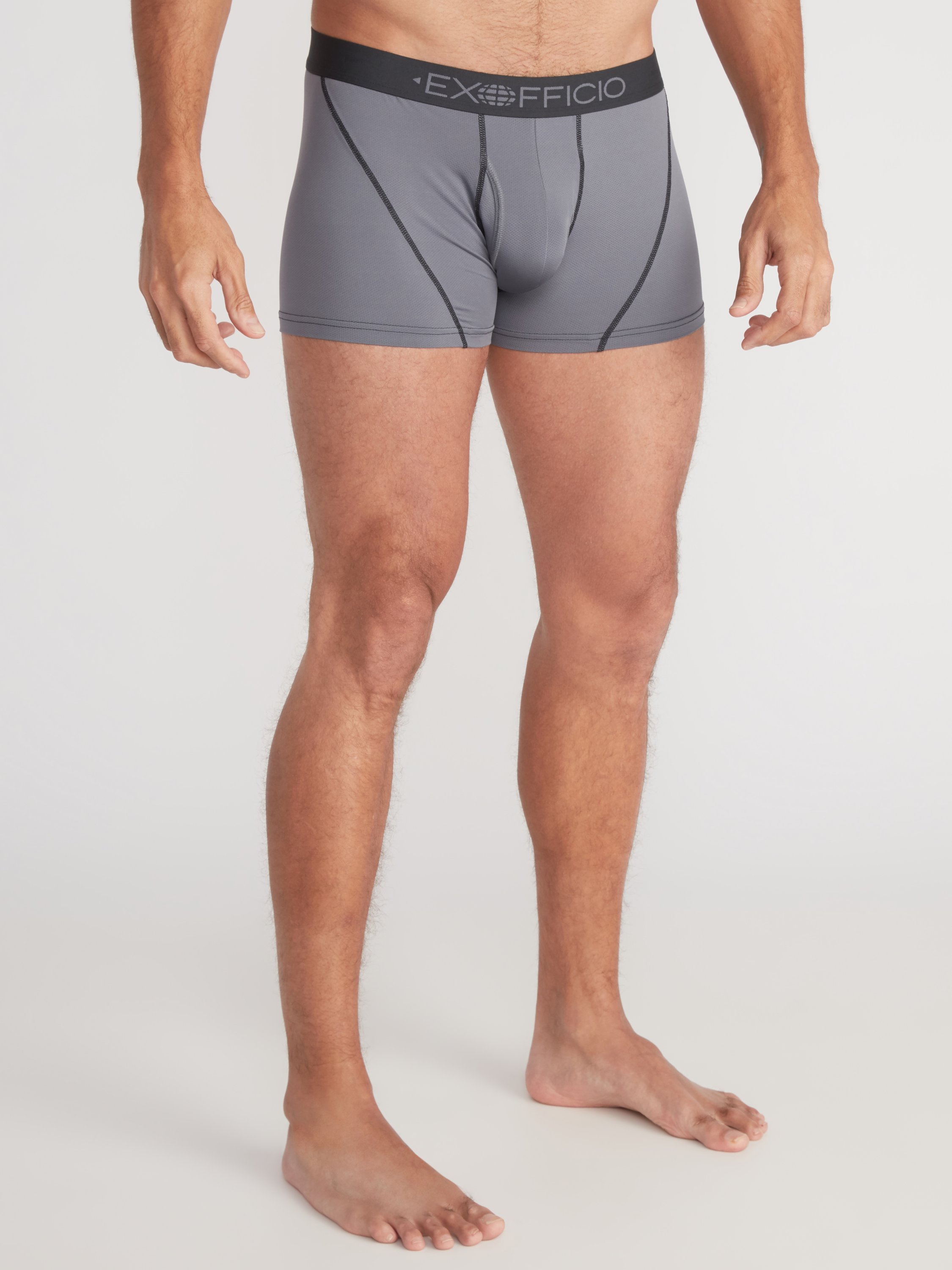 Men's Give-N-Go 2.0 Sport Mesh 3'' Boxer Brief
Final Sale: may not be returned or exchanged
Final Sale
This item cannot be exchanged or returned. Valid while supplies last. All sales final.
Selection will refresh the page with new results.
Selection will refresh the page with new results.
Final Sale: may not be returned or exchanged
Final Sale
This item cannot be exchanged or returned. Valid while supplies last. All sales final.
---

Free shipping on all orders $50+ and free returns* Details

Backed by ExOfficio's Lifetime Warranty
---
Product Details
Features
Ultralight breathable mesh fabric keeps you cool; Durable synthetic fabric
Improved anti-odor treatment stays fresher, longer
Flatlock seams reduce chafing; Wide, comfortable waistband won't stretch or lose shape
Easy-care—including wash and dry—anywhere, anytime
Snug active fit and lower rise are ideal for high-energy activities
Description
From trekking across Thailand to traversing the toughest stretches of Baja, we've spent over 20 years perfecting the art of adventure—and underwear. Enter the Men's Give-N-Go® 2.0 Sport Mesh 3" Boxer Brief. Now up to 4 times more breathable, 50% more moisture-wicking, and 24% more quick-drying compared to our original Give-N-Go® collections, our latest iteration of the perfect pair is designed to keep you moving more comfortably than ever. This pair's durable fabric ensures long-lasting use, 4-way stretch offers total range of motion, and flatlock seams reduce chafing. The wide waistband retains its shape and the improved anti-odor treatment stays fresher, longer. With a snug fit and low rise, the Give-N-Go® Sport Mesh 2.0 Collection is ideal for high-energy activities from intense gym sessions to bike trips in far-off places.
Specifications
Product Weight:

0lbs 1.41oz (40g)

Main Fabric:

90% Nylon(66)/10% Elastane
Rated

1

out of

5
by
Exofficio Customer
from
Quality Control Issues
There is a flaw in your quality control on these. All pairs I ordered have stitching coming out at the bottom. After each wash it continues. Thought it was a fluke on one pair but it's every pair. Love the fit and feel and would gladly pay the crazy price for these but this current product production is off and you need to be aware.
Date published: 2021-01-14
Rated

5

out of

5
by
Ch20
from
Very comfortable.
These boxer briefs are my favorite style to wear. Since I have to wear jean uniforms and am very active/work outside all day for work I have to wear comfortable underwear that doesn't ride up. I have to say now that I have worn these many times, they hands down are my favorite pair I own. They are very lightweight, thin, and breathable which is really nice. They are very comfortable to wear and stay in place under my uniforms which is a huge plus, so I don't have to constantly adjust the briefs. Not only are they made very well, but the look of them is really nice also. They have a more luxury look and feel to them, which is really great. Overall, I am very pleased with them.
Date published: 2020-03-10
Rated

1

out of

5
by
EEWC
from
Unraveling after 1 wash
Worn once, washed once- stitching is unraveling so that they are not even serviceable. Creating a knot of laundry. We have had ex-officio before and really excellent for biking and sports. This sent is very unfortunate. Will seek return.
Date published: 2020-03-10
Rated

5

out of

5
by
Einnod31
from
Best Boxer Briefs Ever!!!
So had a pair of my first ever Give-N-Go Boxer Briefs a while back but the length was the 6 in pair. I recently bought 2 more pairs of the 6in length and 2 pairs of the 3 inch lengths. I should have bought all pairs in the 3 inch length. 3 inch length is perfect and the material and breathability is so freaking amazing you forget you are wearing underwear at all. I like how you don't feel like you have swamp ar$3 when you are sweating. Best boxers ever!!! I would subscribe to a monthly pair if available like some of the ones I tried. I tried them all - matching prints, second skin, day/night shift and these EXOFFICIO's blow them out of my drawer in quality, price, and comfort!
Date published: 2020-04-30
Rated

5

out of

5
by
Kiasoul
from
I hate how I now feel about my other undies
These underwear are the most comfortable I've ever worn. I've worn Hanes boxer briefs all my life and this pair has officially ruined all other underwear for me. Everything else feels like sandpaper now and I don't know what to do cause I can't afford new underwear but I also can afford to feel like I'm wearing cardboard as underwear 6 out of 7 days of the week that I don't have this incredible pair to wear. Bottom line is they're extremely comfortable breathable and light weight. Would highly recommend. If you want to ruin all other underwear for yourself cause they're so comfortable, buy them.
Date published: 2020-03-24
Rated

2

out of

5
by
Ben N
from
Good feel bad quality control
I love the look and feel of this product. It's very unfortunate though that the stitching on the thigh does not hold up. After one wash the stitching on the thigh has come undone on 3 of the 5 pairs that I ordered. To make it worse I contacted support and they didn't respond.
Date published: 2020-12-24
Rated

5

out of

5
by
Monica D
from
He LOVES THEM!
I got these to give to my fiance and he absolutely loves them. They fit really well, are extremely soft, and he says they are seriously comfortable. The material is smooth and the fabric stretches in every spot and every angle but does not dig in when expanded. If you have thick thighs or if you have a larger stomach these don't dig in when stretched. They make the but look good, and cradle the lower area. The front also has an opening on the front where you can just move it and be able to go to the restroom or other various activities without having to fully pull down or remove the underwear. My fiance says the only issue he has with these underwear is that he only has one pair. He wants more!
Date published: 2020-03-09
Rated

2

out of

5
by
H Maclean
from
Could be better
Pilling on first wash even after following washing directions.
Date published: 2020-07-14
Rated

4

out of

5
by
s4nsc
from
Great underwear!
I really like these underwear. They are comfortable, don't ride up and in general just pleasant to wear. I do have two negative, one slightly more important that the other. The first minor issue is the "fly" is oddly layered and things tend to get a little twisted, not uncomfortably so just a little odd. The more significant issue is that stitching keeps coming out of the seams. I have purchased 5 pair of the and had to replace 3 of them because of seams coming undone. Luckily they have been replaced easily and quickly and the replacements have held up well so far.
Date published: 2020-04-21
Rated

4

out of

5
by
1BottomsUp
from
Men's Give-N-Go 2.0 Sport Mesh
I've purchased more than 20 pair over the years and love them. The comfort and fit are incredible. However, thread from the hem seam pulled out after just one wash in three pair I recently purchased, presaging their total unraveling. I hope you can fix this obvious quality control defect.
Date published: 2020-12-04
Rated

1

out of

5
by
Cp17
from
Beware
I have been wearing exofficio boxer briefs for over a decade. I went to replace some pairs. Bought two from exofficio and two from amazon. I washed them all and when I pulled them out of the washer the stitching on the hem of the legs were completely unravelling. If it were one pair I would have thought it was a fluke, but on all 4 pairs that suggests a flaw in manufacturing and QC. I am sadly switching brands. I do not trust exofficio anymore.
Date published: 2021-06-12
Rated

4

out of

5
by
Rfuller89
from
Snug but breathable
My first impression of the boxer brief is that I like the structure. Bot too much leg length, enough fabric to cover and overall a soft texture. After trying on I was slightly disappointed. Yes the are soft, snug and very breathable however the "package" area is almost awkwardly long. Like the leg starts too soon and doesnt give enough space for everything to fit comfortably. They just weren't the fit I was expecting.
Date published: 2020-03-18
Rated

5

out of

5
by
Einnod31
from
My Everyday Go To Boxer Briefs
I have tried a ton of boxer brief brands/subscriptions and have come across some very good ones and some very bad ones. And then there are these ExOfficio Give-N-Go 2.0 Sport Mesh 3" Boxer Briefs. So comfy and breathable. I wear these everyday and bought enough pairs to last a week and a half before having to wash them. Get yourself a pair of these ASAP!!!! Just wish they had more colorways.
Date published: 2020-11-19
Rated

2

out of

5
by
Bobby Boy
from
Poor Quality
Great material and decent fit. The 3" length tends to ride up the leg a lot so either keep adjusting them or deal with it. After wearing 1x, the stitching on the inner leg is already coming undone. I requested a warranty return but have yet to receive a response. I still like the fit and fabric of the give n go 2.0 brief better overall regardless.
Date published: 2020-11-10
Rated

5

out of

5
by
patriotsfan
from
Super cool for warm weather work outs
I think I just found my new favorites! These boxer briefs are cool and comfortable for warm weather work outs. I jog a lot and these offer both great support in all the right areas while also keeping everything cooler. They fit the legs snug while not being constricting. There is no open front to these but no something I use anyway so doesn't bother me. Material is light and comfortable on the skin. Doesn't chafe or feel scratchy. Very soft. Washes well and haven't noticed any shrinkage. Stitched well and made to last.
Date published: 2020-03-22
Rated

5

out of

5
by
Garner99
from
Very Comfortable!
Men's Give-N-Go 2.0 Sport Mesh 3'' Boxer Brief are now my husband's favorite underware! He absolutely loves how they feel against his skin, and how incredibly light and soft they are. They feel like you don't have anything on, but the comfort and support of a regular cotton pair of briefs. Highly recommended!
Date published: 2020-03-15
Rated

1

out of

5
by
Soda
from
Washing=6; Exofficio Sport = 0
Purchased 6 pairs of these 2.0 Sport briefs. I have the same problems as the other reviews. Washed on gentle cycle (I dont hand wash my underwear unless in the field for weeks). 4 (of the 6) have unraveled at the lower seams. Quality is poor. I also reached out to customer servies (sent pictures) and never recieved a response. I would recommend the original 2.0 breifs. Those have lasted 5 years now. However, they do not offer them in a 3" cut, so you'll have to settle for the longer/thicker boxer brief.
Date published: 2022-04-30
Rated

5

out of

5
by
DanJDallas
from
good for bike riding
I have used the Give-n-Go briefs for many, many years of traveling and love them. But I was looking for special purpose--something very light weight, wicking and loose for bike riding long distances. The older briefs have a strong seam around the legs and chafe when riding, although I prefer them over normal cotton briefs. These sports boxer briefs have worked very well so far. They don't seem to get wet at all due their light construction, weave and wicking properties. They are not hot at all eve, although temps are not in 100s where i am yet. They only slightly chafe on 30-40 mile rides. they seem to want to ride up my backside a bit more than i desire under tight cycling shorts though. Overall, I've been very happy with these and I'm not sure I could do better.
Date published: 2021-05-05
Rated

4

out of

5
by
Mathew13512
from
Very Comft
I really enjoy these underwear, they look nice and are very comfortable to wear. I really like the design on them, nothing crazy but the little bit of added color makes them look nice when compared to your typical single color underwear. They are very soft, almost silky, so they feel great against your skin. Definitely a breathable fabric to help keep you cool throughout your day. These would work great whether you're playing sports or working in the office all day. I would definitely buy these again.
Date published: 2020-03-14
Rated

5

out of

5
by
lmillan91
from
Love it
My husband is the one who liked them. He said that they were very comfortable and that they wasn't to tight. He also said that he didn't get too hot in them when he was wearing them. He said that they are his favorite pair now.
Date published: 2020-05-06
Rated

5

out of

5
by
IbMe
from
Contortionists are comfortabl
As usual ExOfficio produces comfortable and durable underwear. In addition their mesh material provides comfortable fit through all contortions while being cooler than woven fabrics. The bonus is their wash and dry ease.
Date published: 2021-08-23
Rated

1

out of

5
by
JosephPC
from
Really want to love these but
These things bunch into tightie whities like no other pair of briefs I have had before. They feel nice when initially put on but having to pick them out of my butt crack consistently at the gym sucks. I feel ripped off.
Date published: 2022-01-08
Rated

1

out of

5
by
Leon
from
Quality
After wearing three of them on my first hikes the area between the thighs wore down and began to pill and the stitching came undone. I'd like the return these or get a new set that is not defective please.
Date published: 2020-08-04
Rated

5

out of

5
by
San Francisco Tony
from
Good looking and great fit!
This underwear is super light. I air dry it after the washing machine. The pouch has plenty of room for my oversized junk so i don't feel constrained.
Date published: 2022-04-11
Rated

5

out of

5
by
AngieMN
from
Comfortable Fit
I chose the Men's Give-N-Go 2.0 Sport Mesh 3'' Boxer Brief for my husband. He doesn't typically wear brief underwear but he was willing to give these a try. I chose size large because I figured after washing them before wearing that they might shrink a little. They did shrink but not as much as I thought they would. They fit him very well. Not to tight around the thigh area. He likes how breathable they are and said they are very comfortable to wear no matter the occasion.
Date published: 2020-03-10
Rated

5

out of

5
by
ATX Chickita
from
Good Quality
I gave my husband a pair of ExOfficio Men's Give-n-Go Sport Mesh 3" Boxer Briefs. He is 6'1 and weighs 170 lbs and the size medium fits him well. These boxers are made well and I expect them to hold up as well as our other ExOfficio clothing items. The fabric dries quickly so these will be great for traveling or when you need to wash your undergarments and have them drip dry.
Date published: 2020-03-07
Rated

5

out of

5
by
Joe 2020
from
Durable and fit well
I have bought This style of underwear twice and will buy more in the future. They fit very well and are very durable.
Date published: 2020-05-06
Rated

1

out of

5
by
Mayor of wedgie city
from
Wedgie city
The underwear kept bunching up and giving a serious wedgie. Which ultimately made them uncomfortable.
Date published: 2021-08-20
Rated

2

out of

5
by
Disappointment
from
Disappointment
They ride up and waist band begins to stretch and sag
Date published: 2020-07-10
Rated

2

out of

5
by
Bob Brief
from
Not as Durable
These are not of the quality of the original Give-N-Go boxer brief. The Sport Mesh is thin and the hem on the access flap somehow already ripped. I'm an Ex-officio zealot and these do not have the durability of the original, non sport mesh brief. I expect these to last for maybe a year. My original give and go briefs have all lasted 3+ years. That said, these are comfortable and I will wear them instead of going through the hassle of returning them.
Date published: 2021-12-13
bvseo_sdk, dw_cartridge, 18.2.0, p_sdk_3.2.0
CLOUD, getReviews, 0ms
reviews, product
---
<ul id="BVSEOSDK_meta" style="display: none !important;"> <li data-bvseo="sdk">bvseo_sdk, dw_cartridge, 18.2.0, p_sdk_3.2.0</li> <li data-bvseo="sp_mt">CLOUD, getContent, 0ms</li> <li data-bvseo="ct_st">questions, product</li> <li data-bvseo="ms">bvseo-msg: Unsuccessful GET. status = 'ERROR', msg = 'Not Found.';</li> </ul>
product-detail-view
oos-pdp