Men's Give-N-Go 2.0 Sport Mesh 3'' Boxer Brief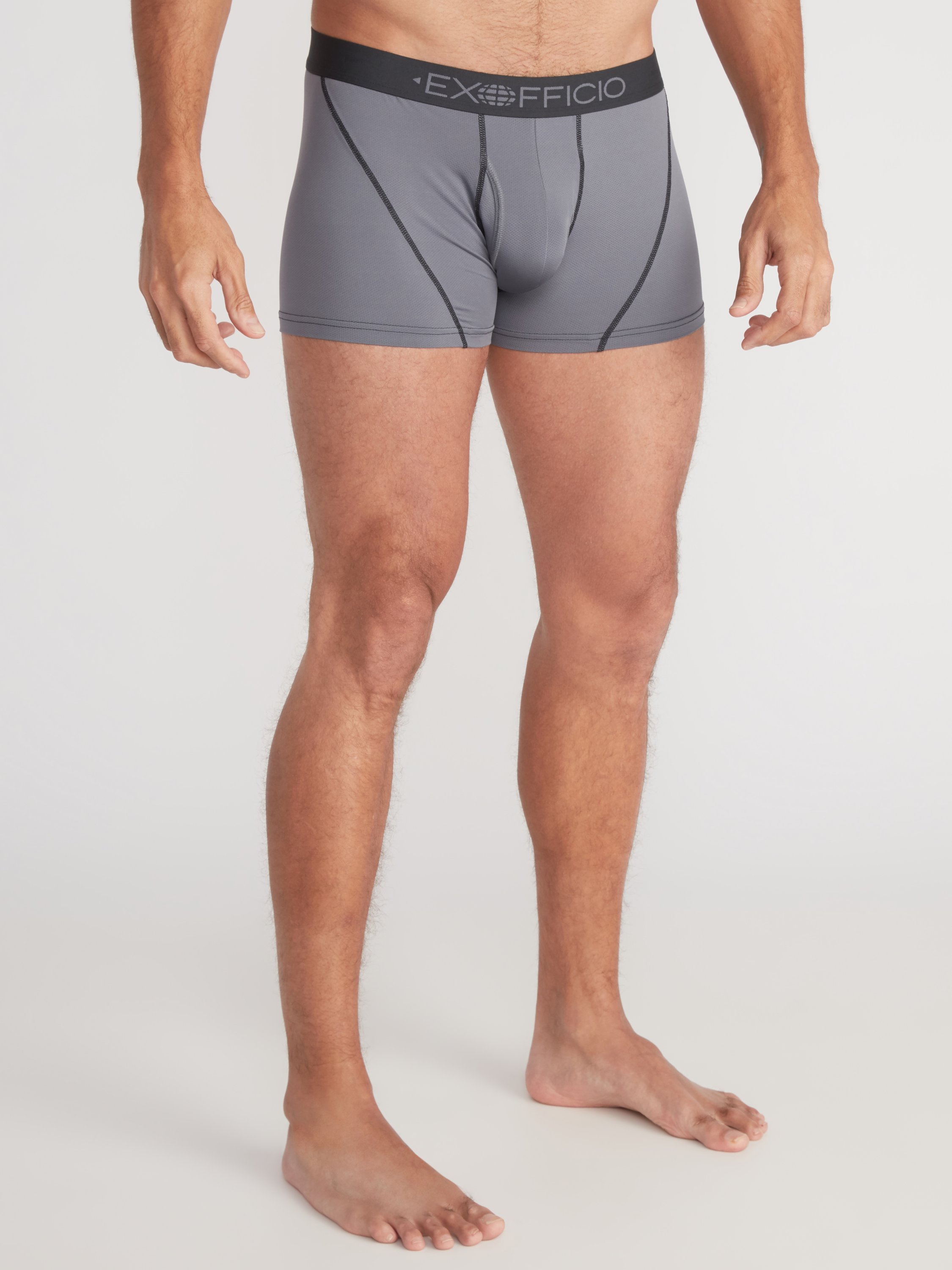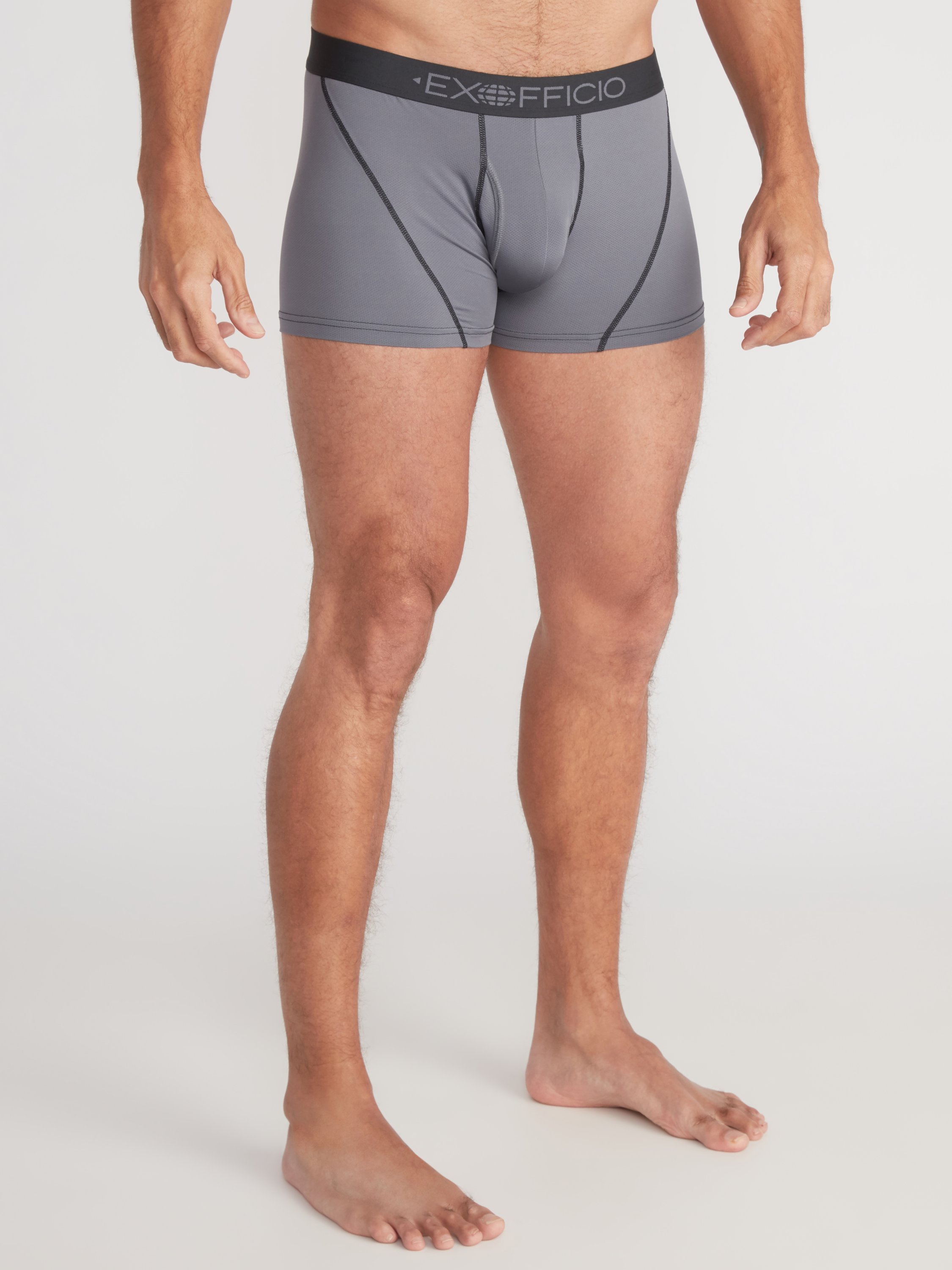 Men's Give-N-Go 2.0 Sport Mesh 3'' Boxer Brief
Final Sale: may not be returned or exchanged
Final Sale
This item cannot be exchanged or returned. Valid while supplies last. All sales final.
Selection will refresh the page with new results.
Selection will refresh the page with new results.
Final Sale: may not be returned or exchanged
Final Sale
This item cannot be exchanged or returned. Valid while supplies last. All sales final.
---

Free shipping on all orders $50+ and free returns* Details

Backed by ExOfficio's Lifetime Warranty
---
Product Details
Features
Ultralight breathable mesh fabric keeps you cool; Durable synthetic fabric
Improved anti-odor treatment stays fresher, longer
Flatlock seams reduce chafing; Wide, comfortable waistband won't stretch or lose shape
Easy-care—including wash and dry—anywhere, anytime
Snug active fit and lower rise are ideal for high-energy activities
Description
From trekking across Thailand to traversing the toughest stretches of Baja, we've spent over 20 years perfecting the art of adventure—and underwear. Enter the Men's Give-N-Go® 2.0 Sport Mesh 3" Boxer Brief. Now up to 4 times more breathable, 50% more moisture-wicking, and 24% more quick-drying compared to our original Give-N-Go® collections, our latest iteration of the perfect pair is designed to keep you moving more comfortably than ever. This pair's durable fabric ensures long-lasting use, 4-way stretch offers total range of motion, and flatlock seams reduce chafing. The wide waistband retains its shape and the improved anti-odor treatment stays fresher, longer. With a snug fit and low rise, the Give-N-Go® Sport Mesh 2.0 Collection is ideal for high-energy activities from intense gym sessions to bike trips in far-off places.
Specifications
Product Weight:

0lbs 1.41oz (40g)

Main Fabric:

90% Nylon(66)/10% Elastane
Rated

4

out of

5
by
lorimze
from
Silky and sexy
I got these for my husband and ohh, so sexy. They are silky and soft to the touch. I like the short length and how it hugs. He says they're really comfortable. And, this is either a good or bad perk but they don't shrink in the dryer. They do run big - he is a solid large and I ordered a large. They are just a little too big. So, I put them in the dryer but no shrinkage. They're still nice but I would recommend a size down as they do run big.
Date published: 2020-03-10
Rated

4

out of

5
by
DSparrow
from
Comfy but Fragile
My second round with this product. The first ones wore well, but eventually lost elasticity and sagged. Could be laundry issues; but I travel a lot, and don't always have access to a multi-cycle washer with delicate settings. Other than that lack of durability, they are incredibly comfortable, a great fit, excellent support, perfect for travel and activity. Worth the price. If only they weren't so fragile, when it comes to laundry.
Date published: 2021-12-13
Rated

5

out of

5
by
Jmma3227
from
Perfect fit
Men's give n go 2.0 sports mesh 3' boxer briefs are the best boxer briefs ever made. They do fit so snug but well. The mesh material makes a great material. My husband is a tall 6'6 and 210. At first we worried the size medium would be too small. But we're wrong. They fit him so we'll. He says they are super comfy. They cup him which is another great quality that not all brands offer. I plan to get him many more of these boxer briefs.
Date published: 2020-03-12
Rated

4

out of

5
by
samrite
from
Husband Loves It
My husband immediately requested I upgrade his entire brief collection after trying out this pair from ExOfficio. He liked the material, the cut fits him well, and so far it seems durable. He also put them through a workout test and he stated he was surprised by how dry he stayed and how this pair didn't smell too bad after his workout. My only concern is the price as they are pretty expensive for a single pair.
Date published: 2020-03-09
Rated

3

out of

5
by
Nattygyrl
from
Great Quality Different Style
My husband has worn these twice. The material is soft and has a very nice stretch to them. The brief washed extremely well. Sometimes when that material is as soft as these, the material does not hold up. This is not the case! My husband did not the length of the brief. Not long enough to be a boxer brief but not short enough to be a true brief. We will purchase other styles from this brand in the portion.
Date published: 2020-04-02
Rated

5

out of

5
by
marsh1978
from
Great for working out, very breathable
These boxer briefs were great for a cardio workout. They allowed for breathing so that all the heat and sweat was not trapped inside. The fit was fairly snug but I wouldn't say tight. The length was shorter than I normally wear, but there was no riding up so I ended up liking the short style. The waist band was also a tad smaller than I am normally used but it was a smooth and flawless fit. Would recommend
Date published: 2020-03-10
Rated

3

out of

5
by
JohnGibb
from
Comfortable, quality lacking
I really like ExOfficio underwear, but have struggled finding a model of the 2.0 styles that fit or last. I purchased 11 pairs of this model, and while comfortable (compared to the sport brief that uncomfortably rides up between the cheeks), after just two washings the hem stitching on about half has begun unraveling. My 1.0 briefs lasted for many years and I can't envision these will last as long.
Date published: 2021-09-05
Rated

5

out of

5
by
Swede
from
The ONLY underwear I own!
The most comfortable underwear I own! Actually, the only underwear I own! So comfortable you don't even realize you are wearing them. I bought one pair at REI several months ago and have now replaced all my underwear with 7 total pairs of Exofficio underwear. Now, instead of searching through a smorgasbord of different underwear that each fits differently, I look forward to putting on my Exofficio boxer briefs each morning. They breath extremely well and are great for hiking and are so thin that they do not show under a pair of dress pants. One of the biggest bonuses is that you can hand wash this underwear and it will be dry by the next day, which means if you are traveling you can literally survive on 2 pairs of underwear. They also pack up very small. So far they have been very durable as well. Definitely worth spending a little extra money for this kind of comfort and quality.
Date published: 2020-06-12
Rated

5

out of

5
by
L D D
from
Better than any other undies
These are better than any other breathable underwear. Even better than the previous version from Exoficio. They do tend to feel "weighed down" when wet from humidity or exertion. But that quickly dry and feel fresh as ever. The short inseam cut does bunch pretty much all the time. But, these things are so soft that bunching isn't uncomfortable. TL;DR I won't wear anything else.
Date published: 2021-08-03
Rated

5

out of

5
by
Krae13
from
Worth every cent!
I got these for my husband a few weeks ago, just to try out, and he has ordered at least 8 pairs since! He says they are the most comfortable, sweat free underwear yet! He has done nothing but rave about them, and he is extremely picky with underwear. He loves how breathable the material is, and how well they fit! They are mid length, and fit him perfect. Im extremely impressed!!
Date published: 2020-03-10
Rated

5

out of

5
by
Anonymous
from
Saved My AT Through-hike
I had the worst case of chafing I have ever had in my life. Baby powder wasn't an option anymore so I stepped it up to straight vasilene with still no luck. Happened upon some Exefficio boxer breifs and the chafing healed within a week. Will never wear another Ballard ever again. Saved my hike and allowed me to finish the best adventure of my life. This product is real
Date published: 2021-06-10
Rated

5

out of

5
by
jim1
from
Love these undies
I love these new colors and patters for this product. I wear the boxer briefs in the winter and the sport mesh briefs in the warmer months. These are really great for travel as they rinse out and dry quickly and don't take up much room. I pack a lot less underwear because they are so easy to hand wash. Please make the briefs in the same patterns as the boxer briefs
Date published: 2020-11-30
Rated

5

out of

5
by
ericschojan
from
Flexible and lightweight
These boxer briefs were lightweight. They were extremely breathable. They were so lightweight that it was like I wasn't even wearing them! They were stretching and fitting, fitting true to size. After washing and drying them they hadn't lost any stretch or durability. The boxers fit great around the legs without pinching, like other boxer briefs do to my legs.
Date published: 2020-03-13
Rated

5

out of

5
by
Lobo77
from
Best underwear for travelers!!
I owned couple of these and I couldn't be happier. I took them with on an international trips and they are very comfortable and definitely wick moistures better than other products that I bought in the past. They are very easy to wash when you're on the go and they dry extremely fast. I highly recommend this underwear especially if are traveling or hiking.
Date published: 2020-04-21
Rated

5

out of

5
by
maymeister
from
Super Breathable
I initially bought a pair of these during a sale at a local retailer, and was surprised by how comfortable they were in comparison to other brands I have tried. Basically, they are the only boxer briefs I have owned that do not hike up like crazy, but at the same time are very snug and ridiculously breathable. Would highly recommend for basically whomever.
Date published: 2020-04-21
Rated

5

out of

5
by
Belinda
from
Comfortable and Airy!
My husband loved these boxer briefs! His words exactly, they are so airy and flexible. He stated they don't "ride up" on the leg part. He stated that normally boxer briefs ride up to the creases in the groin area where these stay put. I am happy he found a brand that he can use in the summer and not suffocate an area that needs plenty of circulation.
Date published: 2020-03-26
Rated

4

out of

5
by
CMAGUIRE
from
Great Comfort
The Men's Give-N-Go 2.0 Sport Mesh 3'' Boxer Brief are very comfortable and they move with you instead of riding up. They are very light and really help with moisture. I gave 4 stars because the design and color I chose were not the ones I received in the mail but that being said if you are active and move a lot throughout the day gives these a try.
Date published: 2020-03-15
Rated

5

out of

5
by
1BottomsUp
from
Fantastic Comfort/ Great Style
I've purchased more than 20 pair over the past three years and have been delighted with how exceedingly comfortable they are - great support, no binding or pulling, stay cool, and retain their shape after many, many uses. Also love their great style and colors. These are the best underwear I've ever owned and your 2.0 version is even better!
Date published: 2020-04-21
Rated

5

out of

5
by
Alex9808
from
Comfortable and Breathable
Men's underwear has come a long way over they past few years and these are at the head of the pack. Comfortable and breathable - good for regular casual wear or in the gym or running. Good support, but not too tight. The elastic seems strong and I expect it to stay taught for some time. The flexibility is good and they don't ride up.
Date published: 2020-03-21
Rated

5

out of

5
by
Steph34ky
from
My boyfriend loved it
These are by far the best underwear for work or sport! They have the mesh throughout. Not like some of the brand name sport manufactures They are super soft and supportive. I could notice the difference working in the weather He look good in them. The underwear fit him in right places . He was to embarrassed on pictures
Date published: 2020-04-01
Rated

3

out of

5
by
johnwbutlerjr
from
Very comfortable, pilling
I got three pairs of these. The product initially looked and felt great. However after just one use the area between the legs started pilling badly. After the third wear the elastic in the material started loosening. I want to like these so much, but the quality was not as hood as previous Ex-Officio underwear I have purchased.
Date published: 2020-11-06
Rated

5

out of

5
by
BMS1
from
Feels great!
I brought some of these Give-N-Go 2.0 briefs for an upcoming hiking trip to Philmont Scout Ranch. I have already used them on smaller Appalachian trails for a few days and they are wonderful. No chaffing, quick drying and feel great. They also have a bump out in the front for guy parts that many cheaper underwear don't have.
Date published: 2020-11-20
Rated

5

out of

5
by
Anonymous
from
Absolutely comfortable.
These briefs are absolutely comfortable. They have mesh breathing holes that allow you to stay dry from sweat. Very much love wearing then to the gym. The quality is amazing I highly recommend trying them if your looking for the perfect briefs that are so comfortable and stay dry from sweat and have an all around perfect fit.
Date published: 2020-03-09
Rated

5

out of

5
by
Mike M
from
Perfect for active lifestyle
These have become my go-to everyday underwear, perfect for active outdoor activities. Lightweight, comfortable, with just the right amount of support. The mesh is breathable and quick drying. The shorter trunk style allows more freedom than the longer boxer brief style, and also more comfort when worn with dress pants.
Date published: 2021-07-12
Rated

5

out of

5
by
Orybelle
from
Great product
My son used these boxer briefs and he absolutely loved them he said they were super comfortable and they did not bind at all. Also he said that the underwear was very breathable. He said he has never worn anything like these boxer briefs before. I would definitely recommend them to any man who wants comfy underwear.
Date published: 2020-03-06
Rated

5

out of

5
by
Joe S
from
Excellent.
Very comfortable, breathable, supportive, moisture wicking, light weight. Everything they are advertised to be is true. I have worn these to workout, play sports, hike, and just my everyday things without issue. These are great. I have literally thrown out all of my other boxer briefs and replaced them with these.
Date published: 2020-07-22
Rated

5

out of

5
by
Leti28
from
Feels Great
I recieved Men's Give-N-Go 2.0 Sport Mesh 3'' Boxer Brief about two weeks ago for my boyfriend he loves the way they feel and how breathable they are! He love's that he can more around freely and not feel confined the only complaint he has is he wished they were a little longer other than that they are amazing!
Date published: 2020-03-26
Rated

4

out of

5
by
Sbrooks6505
from
More room then before!!
I bought this pair of underwear because of the pouch it has for your manly parts lol. So as far as having the pouch there for my man to set in it was great it literally made me feel as though I had so much more comfort then I would in an original pair of underwear or boxer/briefs. The silk texture made me stay a lot cooler for a lot longer. The air flow because of the pouch and being able to position my man just right made it so there was plenty of air circulation. Very comfortable to the point of you almost forgetting your wearing anything down there. So that would be what I like now what I don't like is that when u first put them on it feels wierd and that does go away I feel like the leg part liked to ride up alot and that makes for it to be uncomfortable when it happens. Other then that I like them and would definitely encourage some that is large in that area like myself to give these a try bc I know how it can feel to be cramped in that area do to not enough room thanks.
Date published: 2020-03-16
Rated

4

out of

5
by
KEKM
from
Good Boxers Poor Selections
The Boxer Briefs themselves are the finest underwear I own...better than SAXX and the others in my opinion. Buy them, especially on sale! However, I have a bit of an issue with Exofficio.... For one, I have ordered many times direct from their site and each time the delivery takes much much longer than any other on-line site/supplier....weeks! IF your not in any hurry, than not much of any problem... Secondly, their sale items, at least for men, is a real crap shoot... They advertise big discounts, however, trying to find the item you want in your size/color is very difficult. I wear a large in most everything...seldom do they have what I want on sale...if you want that particular item, get ready to pay full price... I just had this happen again today when wanting a give and go mesh v-neck t-shirt or a crew neck in large...did not care what color...nope, no large...either small or xxl etc.... very disappointing indeed. Don't fall prey to their so called big sales...
Date published: 2022-02-21
Rated

5

out of

5
by
Nicademous
from
The adventure waits for none!
I am a cook, I sometimes work 12plus hours a day.I have been wearing exofficio ,3" boxer brief, for the last 3 years of my life(everyday).I have been cooking now professionally 13 years . I have tried many companies underwear,and even enjoyed a couple,but after finding exofficio I am a customer for life!
Date published: 2020-04-22
bvseo_sdk, dw_cartridge, 18.2.0, p_sdk_3.2.0
CLOUD, getReviews, 0ms
reviews, product
---
<ul id="BVSEOSDK_meta" style="display: none !important;"> <li data-bvseo="sdk">bvseo_sdk, dw_cartridge, 18.2.0, p_sdk_3.2.0</li> <li data-bvseo="sp_mt">CLOUD, getContent, 0ms</li> <li data-bvseo="ct_st">questions, product</li> <li data-bvseo="ms">bvseo-msg: Unsuccessful GET. status = 'ERROR', msg = 'Not Found.';</li> </ul>
product-detail-view
oos-pdp