Men's Give-N-Go® 2.0 Boxer Brief 2-Pack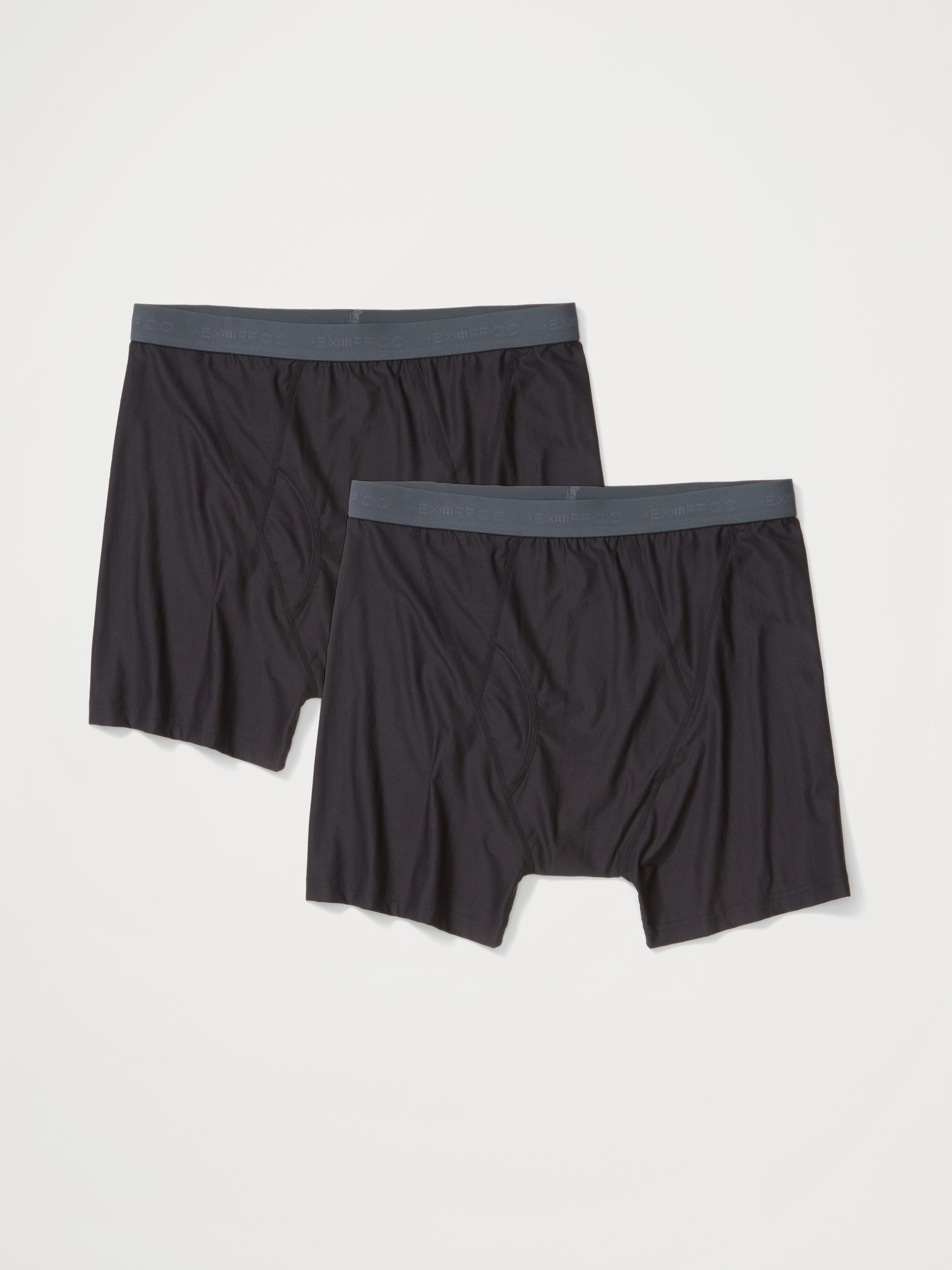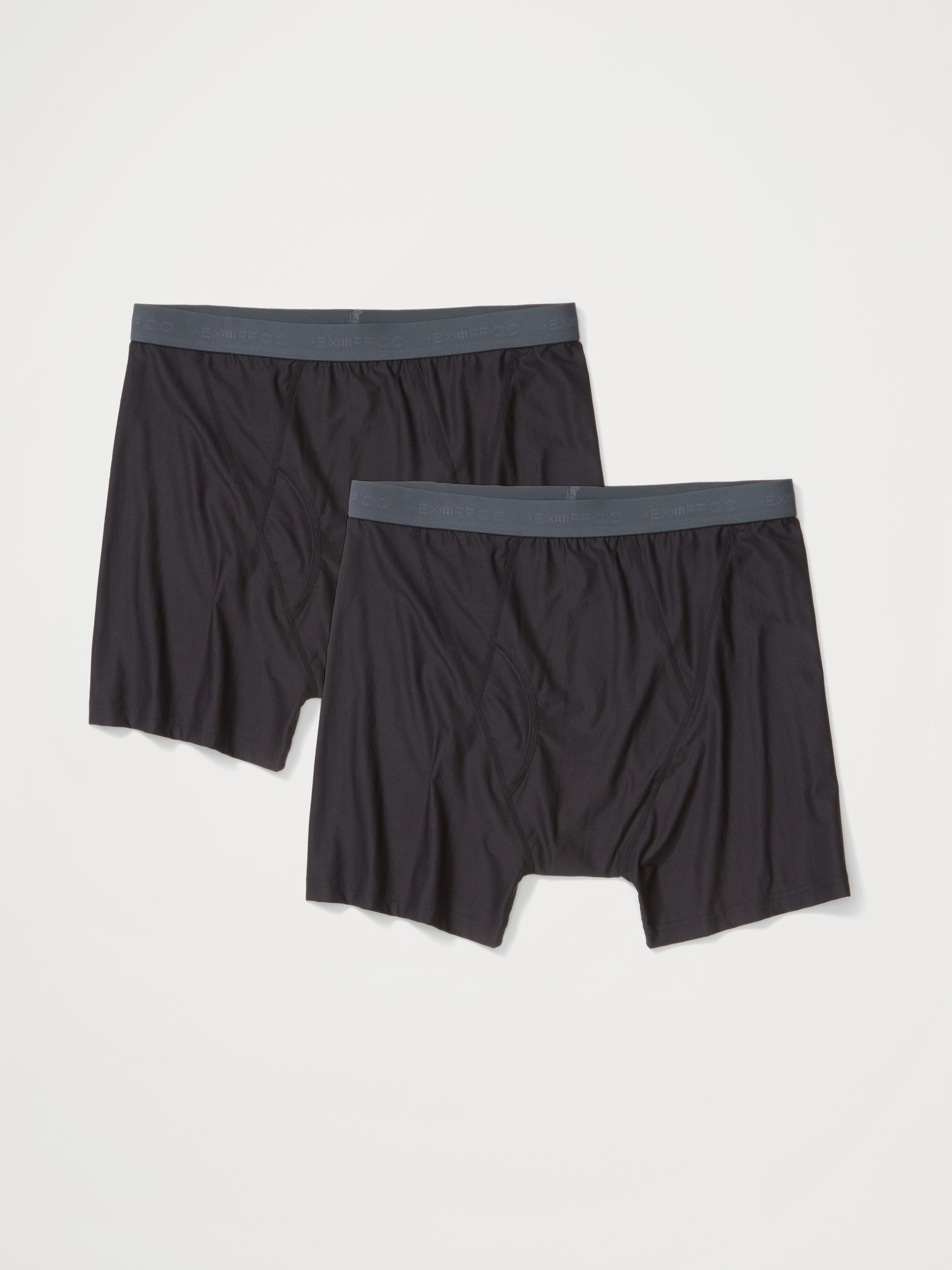 Men's Give-N-Go® 2.0 Boxer Brief 2-Pack
Final Sale: may not be returned or exchanged
Final Sale
This item cannot be exchanged or returned. Valid while supplies last. All sales final.
Selection will refresh the page with new results.
Final Sale: may not be returned or exchanged
Final Sale
This item cannot be exchanged or returned. Valid while supplies last. All sales final.
---

Free shipping on all orders $50+ and free returns* Details

Backed by ExOfficio's Lifetime Warranty
---
Product Details
Features
Breathable mesh fabric supplies airflow to keep you cool; Durable synthetic fabric
Improved anti-odor treatment stays fresher, longer
Flatlock seams reduce chafing; Wide, comfortable waistband retains its shape
Easy-care so you only need two for any trip
Description
From trekking across Thailand to traversing the toughest stretches of Baja, we've spent over 20 years perfecting the art of adventure—and underwear. That's where the Men's Give-N-Go® 2.0 Boxer Brief 2-Pack comes in. Now up to 4 times more breathable, 50% more moisture-wicking, and 25% more quick-drying compared to our original Give-N-Go® collections, our latest iteration of the perfect pair is designed to keep you moving more comfortably than ever. Explore more with durable fabric for long-lasting use, 4-way stretch for total range of motion, and chafe-reducing flatlock seams. The wide waistband retains its shape and improved anti-odor treatment keeps this underwear fresher, longer.
Specifications
Main Fabric:

89% Nylon / 11% Elastane
Rated

5

out of

5
by
Lights3159
from
Comfort... at last!
I was first introduced to this product line in a second hand clothing store. While shopping I happened upon a pair of travel boxers that had never been worn in my size. The material was lightweight and unlike anything I'd experienced before. Considering the great price I decided to give them a try. Fast forward two years... Of all the briefs I'd purchased none held up and fit as comfortably as this brand. Convinced that I'd finally found my perfect boxer briefs, I decided to search locally for a retailer who carried this brand. I was directed to a camping/fishing supply store in my area but to my disappointment they no longer carried this item. Having an immediate need I settled for another similar brand only to become further frustrated and disappointed. Finally I ordered three pairs on line taking advantage of the free shipping for purchases over $50 and now couldn't be happier. Now always comfortable (and never bound) I have found my perfect fit boxer briefs!
Date published: 2020-04-25
Rated

5

out of

5
by
Farhat
from
These briefs are top notch!
The Give-N-Go briefs are super breathable, durable, and comfortable. I have officially made the switch from cotton briefs to full synthetic, full-time. Game Changer.
Date published: 2021-06-17
Rated

3

out of

5
by
Langpuppy1
from
Online large fits bigger
I bought a large in store and it fit perfectly, I then proceeded to buy more online and they didn't fit the same as the original large. Was disappointed
Date published: 2021-07-19
Rated

5

out of

5
by
Sweet Willy
from
Durable and comfortable.
Very comfortable. Lots of stretch. I'll put it this way: whether you are in to sports or not, there is plenty of room for your balls.
Date published: 2020-07-14
Rated

5

out of

5
by
RedAlert
from
Can't beat 'em
Look no further for underwear that performs its best at your highest output. You can't out sweat them. Rinse, repeat.
Date published: 2020-08-25
Rated

5

out of

5
by
Shleny
from
Underpants Nomes
Super comfortable and durable. Wore a pair on a three day journey in July. Kept my boys dry and comfy.
Date published: 2020-07-22
Rated

4

out of

5
by
Jack o
from
Amazing fabric
This fabric is fantastic. I know it's disgusting but weeks in the desert on trail with only one pair and they never stop being comfortable. Additionally: the smell is quite minimal (might not matter to you but I guarantee your hiking partner cares). Legs are a little too short which leads to them riding up but it's no huge deal. After a year or so of regular use and they are starting to pill rather severely at the leg junctions but they show no sign of disintegrating.
Date published: 2020-04-30
Rated

5

out of

5
by
Patrick H
from
Underwear
Love them. Threw out all the other and spent the money with no regrets!
Date published: 2020-08-24
Rated

1

out of

5
by
Vanderluit
from
poor quality
wore them 3 times and both are pillage thru on the back
Date published: 2020-06-29
Rated

5

out of

5
by
JoNYC
from
Great underwear
Great underwear doesn't pill up like older version.
Date published: 2020-12-27
Rated

5

out of

5
by
busymom
from
Soft and supportive
I bought the first pair of boxers for my husband about 4 years ago. It was a game changer for him! Soft, easy to take care of and dries so fast! I came to the page to get new ones (yeah, that is how much they last!) and decided to get him the 2.0 now. Well, they are his new favorites. It has even better support and the cloth is much softer. My husband like it so much, that now I will try the women's version :) If you try it, you won't be disappointed.
Date published: 2020-04-21
Rated

5

out of

5
by
Chilehead
from
Simply The Best!
I've been wearing the 1.0 version for years. Got them as a Christmas present and didn't want to wear my other underwear anymore. I ordered more and haven't worn any other underwear since. That is until the new 2.0 were released. They're even better than the original! I know, it's hard to believe but it's true. They're even softer and more comfortable. The nit seems tighter and the band is also better. Well played, ExOfficio, well played!
Date published: 2020-04-22
Rated

5

out of

5
by
dirtyhippie09
from
Unbelievable
I have bought multiple 2-packs and the boxer version of this underwear and have been blown away by their comfort (the boxer brief isn't too tight) durability, ease or care (they dry quickly) and ability to be worn for days without smelling. They're absolutely killer for travel, but also make a great choice for everyday use. You'll end up doing less laundry, being more comfortable in every situation and will not regret the purchase.
Date published: 2020-04-30
Rated

5

out of

5
by
Stevencj1
from
They've made them better
I have been wearing their boxer briefs for many years. So, when I placed a new order recently I was disappointed to see the were "2.0". I though 1.0's were perfect. I am pleasantly surprised. They ARE better than the original. They are still light weight, supporting with no rolling, shifting or wedgies. But now they're even lighter, cooler and softer. Can't wait until my others other 1.0's need replacing!
Date published: 2020-05-03
Rated

1

out of

5
by
Ian B
from
Terrible - sizing and quality
I ordered some of these in a size too big. They are great and I can still wear them so I didn't return them. I ordered a size down, though, for comparison. The smaller size was a completely different and completely inferior product. They are also just as big as the larger size. They are completely without structure and the fly was… not a fly. I don't even know how to describe it. Really really disappointed.
Date published: 2021-06-25
Rated

5

out of

5
by
Mill70
from
Comfort to the MAX
Bought these at Christmas for my husband and these are the only ones he will wear now. He tells me he doesn't even feel that he is wearing them. Fits perfectly at the waist and the legs. Fabric is breathable. They wash up beautifully, keeping shape. Not sure what I'm going to do with all of the ones he now won't wear from the brand he always wanted. Lol He's an give-n-go brief kinda guy from now on.
Date published: 2020-04-30
Rated

5

out of

5
by
Dr K
from
Best Boxer Briefs Ever
I've been on the hunt for the right pair of boxer briefs for a long time. These are so comfortable. And they are so easy to rinse out and dry within an hour or two. So, they are perfect for travel. While they cost a bit more than most boxer briefs, they are much more versatile for travel. I only need two or three pairs, even for long trips. To be honest, you could get by with a single pair.
Date published: 2021-04-30
Rated

5

out of

5
by
Merman
from
The best just got better...
The original version is the only underware that I will buy. The 2.0 version is even better with more comfortable material. I havent had them long enough to see how the elastic is going to hold up. That is the only problem i had with the original version, the elastic gave up before the material was even showing signs of wear. This still took quite a few years before the elastic gave up.
Date published: 2020-11-06
Rated

5

out of

5
by
KyleWB
from
Better than Merino!
I had been using a highly recommended merino wool underwear for a year, but the material degraded pretty quickly, and I needed to replace them about a year later. These are now my go to! I have 4 that I rotate through, and are by far the best travel/odor resistant underwear I can find! Super durable, incredibly (seriously incredibly) odor resistant, and fit fantastically!
Date published: 2021-06-10
Rated

5

out of

5
by
Josephh
from
Great Customer Service
So, I ordered these and my package got lost and waited over a month to get the things I purchase. But when I got in contact with them about it they were very help. They sent a new package out, which got lost again, BUT the third time they sent my double my order with no extra charge and even refunded me my shipping fees. This is what I like to see if a company.
Date published: 2020-05-09
Rated

4

out of

5
by
Schu23
from
First time wearing boxers
a little baggy after a couple hours. I had to call back and get the shortest pair you offer... could have went even shorter. I come from briefs so maybe I just have to get used to not as much support. All-in-all I'm not returning them because I like the material and I probably just need to get used to them. your customer support was terrific btw. Thanks.
Date published: 2021-03-23
Rated

3

out of

5
by
Micheal
from
Briefs or boxers?
Not the exact style I was expecting. Trying determine the difference between boxer briefs and boxers. Bought some before called "Men's Give-N-Go 3'' Boxer Brief" which have shorter body and legs. How can I buy these again? The underwear are fine and work but not the preferred style. Wish Exofficio would answer their customer service emails.
Date published: 2020-12-28
Rated

5

out of

5
by
Papoo1946
from
Awesome Men's Boxer Briefs
My buddy, Jim, told me about these and I bought them for a cruise to Norway. I used them exclusively and they were the most comfortable boxer briefs I ever purchased. I washed them and they dried dried overnight and are very resilient after repeated use. I liked this product so much I also purchased men's give-n-go crew neck undershirts.
Date published: 2020-04-21
Rated

5

out of

5
by
Manni862
from
Comfortable and breathable
I have worn ExOfficio boxers for years and recently switched to the ExOfficio Give-N-Go 2.0 boxer briefs. They are so comfortable and easy to wear. The Give-N-Go 2.0 fabric is so soft, breathable, and keeps me cool. As with all ExOfficio products, these Give-N-Go 2.0 boxer briefs ares good for everyday, as well as for extended travel.
Date published: 2020-04-30
Rated

5

out of

5
by
Nate123
from
Unbeatable comfort/performance
Most comfortable, moisture wicking, underwear out there. I don't have a flat behind which often makes other underwear get tight in the front. Not these babies. Ample room for comfort all around. Only thing I would change, is the elastic band that replaced the previous generation starts to fray and expose small pieces of the elastic.
Date published: 2021-10-16
Rated

5

out of

5
by
TommyO63
from
Super Breathable & Lightweight
After purchasing a few pairs is this underwear, I quickly ordered 5 more pair and threw out all of my cotton or other material based underwear. I wear these or nothing at all. Sorry if that is too much information, but I am a disciple of these underwear. Super lightweight, breathable, and easy to wash and dry. Totally recommend.
Date published: 2020-05-06
Rated

5

out of

5
by
RDLife
from
Consistently traveling 250+\yr
I have owned Exofficio give n go boxers for over 7 years now and have loved how comfortable and super easy wash they are. I used to pack a pair of W-Tights for every day plus 2 pair. Now I only travel with 3 pair for no matter how many days I'm gone whether 5 days or 21 days. They are proven and simple the best all around quality!
Date published: 2020-04-21
Rated

5

out of

5
by
Anonymous
from
Great underwear for backpackin
Very nice fit and high quality silky feel. The designs are also nice and vibrant. I took these backpacking for a week and held up very well. I never once had any discomfort. The only con would be that it retains heat too well and sometimes can be a bit too much in a sleeping bag. Maybe some bit of ventilation would be nice.
Date published: 2020-08-31
Rated

5

out of

5
by
Anonyrat
from
Very Comfortable
Bought these for long motorcycle trips, but have worn them to do sweaty yard work as well. Probably the most comfortable underwear I've ever worn, and I've tried them all, or so it seems. BTW, it says not to put them in the dryer, but I threw mine is with the rest of my clothes and they are none the worse for wear.
Date published: 2020-09-16
Rated

4

out of

5
by
Nate Heath
from
Comfortable, but they ride up.
So the fabric that they make these underwear out of is very thin, stretchy, and (so far) durable. My only complaint is that they tend to ride up when I'm doing anything athletic. Fortunately, the minimal thickness of the material helps reduce the negative impact of the riding-up, but it's still somewhat irritating.
Date published: 2021-10-20
bvseo_sdk, dw_cartridge, 18.2.0, p_sdk_3.2.0
CLOUD, getReviews, 0ms
reviews, product
product-detail-view
oos-pdp