Men's Air Strip™ Long-Sleeve Shirt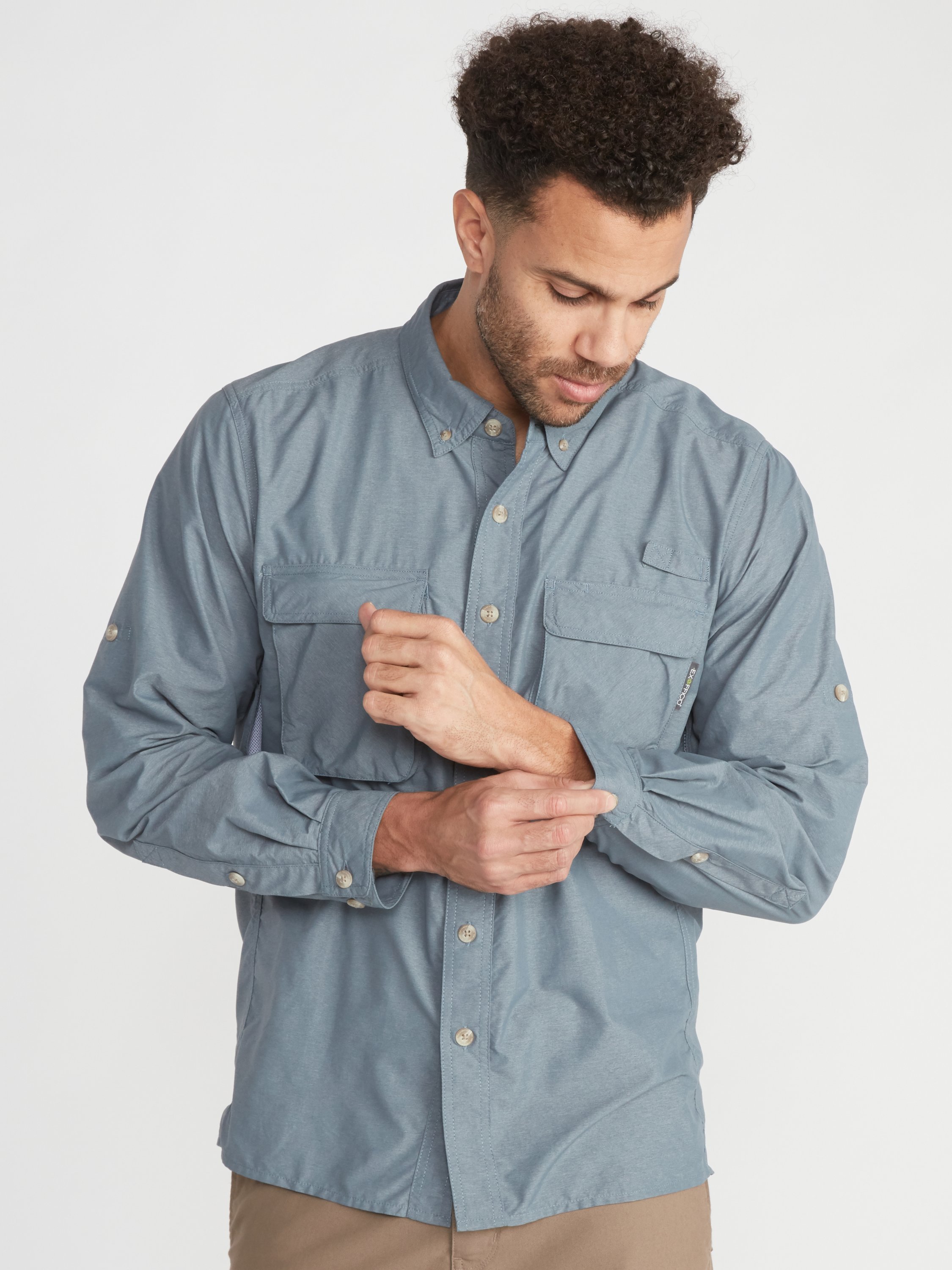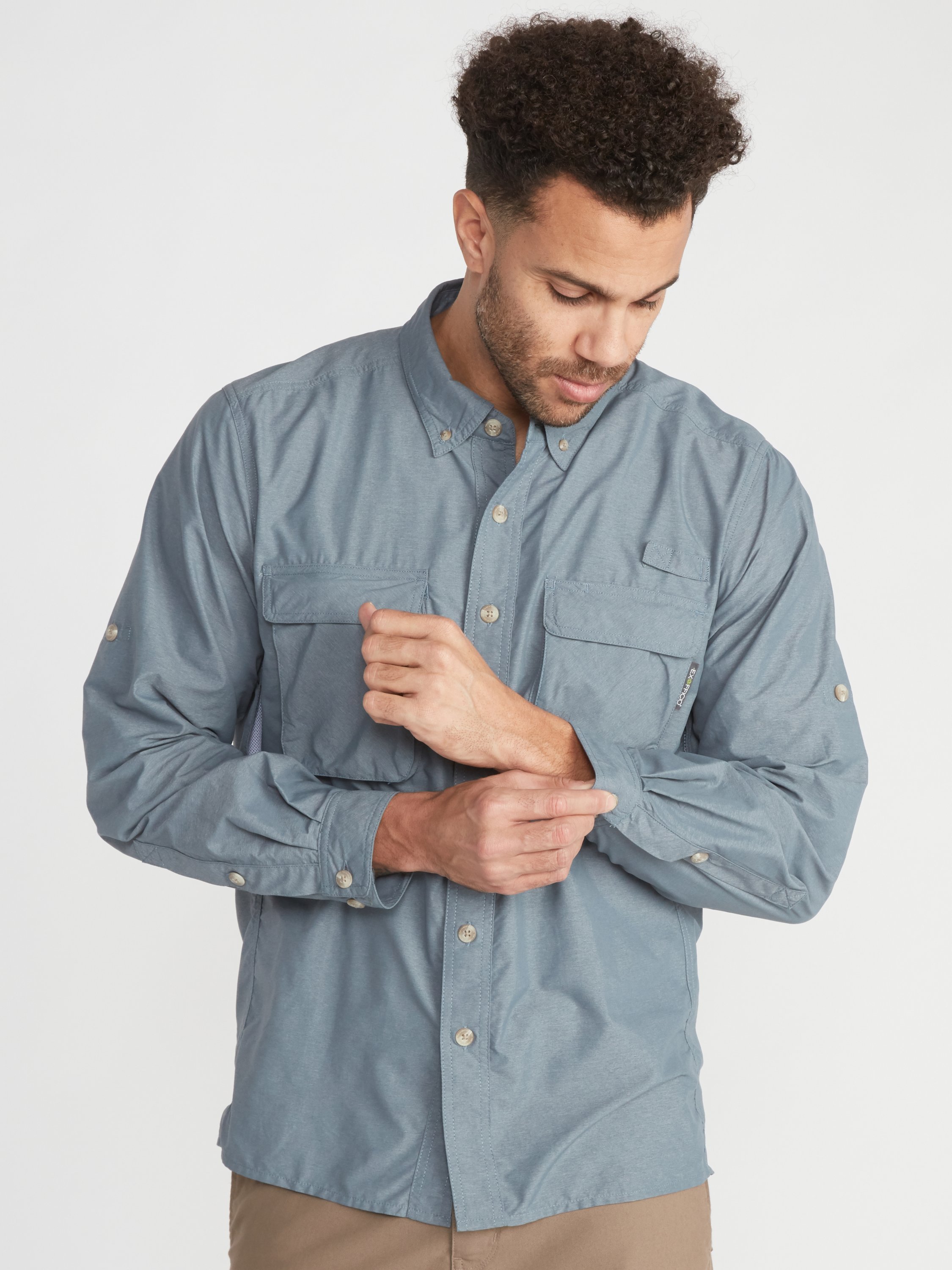 Men's Air Strip™ Long-Sleeve Shirt
Final Sale: may not be returned or exchanged
Final Sale
This item cannot be exchanged or returned. Valid while supplies last. All sales final.
Selection will refresh the page with new results.
Final Sale: may not be returned or exchanged
Final Sale
This item cannot be exchanged or returned. Valid while supplies last. All sales final.
---

Free shipping on all orders $50+ and free returns* Details

Backed by ExOfficio's Lifetime Warranty
---
Product Details
Features
Bluesign Approved Fabric
Ultraviolet Protection Factor (UPF) 30
Lightweight, quick-drying, wicking, abrasion resistant Nylon/Polyester blend
3-position back cape ventilation
Side vents for increased air flow
Hidden security zip pocket in right pocket
Pen/Sunglasses slot in left chest pocket
Utility loop above left front pocket
Straight hem
Description
You know those guys who have the Air Strip™ in every color and pattern? Well, there's a reason for that. Our iconic Men's Air Strip™ Long-Sleeve Shirt has delivered superior sun protection for decades. The easy-care, lightweight fabric dries fast and features built-in UPF-30 sun protection. Two chest cargo pockets, one chest security zip pocket, and a slot for your pen or sunglasses provide all the storage you need. A shoulder-to-shoulder back vent and internal mesh yoke keep the breezes flowing, while a 3-position sun collar keeps your neck from burning.
Specifications
Product Weight:

0lbs 8.22 oz (233 g)

Main Fabric:

73% Nylon 27% Polyester Dryflylite® Plain Weave 2.30 oz/yd²
Rated

1

out of

5
by
Maui
from
color bleeds
This shirt (Ponderosa, air strip, Long-sleeve) bled its colors and continues to do so after 3 washings - all in cold water without any fabric softeners or bleach. Results were discoloration on other clothes washed with it. Now, we must wash this shirt separately. Not happy.
Date published: 2016-07-05
Rated

4

out of

5
by
Canoe
from
Update of AirStrip shirt
I have liked Ex Officio products for years. The update to the AirStrip shirt made problems for me: 1.The pockets are shorter and less capacious. A serious problem for me because of what I carry in those pockets--a date book and a glasses case. 2. The sleeves may be longer than the original? 3. The button holes may be slightly smaller than those of the original? Makes buttoning the shirt a little harder. Not a big problem
Date published: 2014-07-14
Rated

1

out of

5
by
DianeB
from
woman's Air Strip
terrible product - seams pucker -needs ironing after washing - I'm very disappointed have two old Air Strips that I love, seams don't pucker, collar lies correctly, nice material, is ready to wear after washing-- these are a much better quality/value than my recent Air Strip shirt purchase
Date published: 2017-09-07
Rated

4

out of

5
by
Aeropapa
from
Excellent, But Original Better
I have been wearing Ex-Officio for decades and the original Air Strip was one of my favorites. The Large fit me perfectly, but the new style is trimmer and I had to change to an XL for comfort (I'm still the same weight). As many others have commented, the new model might look a little nicer, but is not as useful, particularly with losing the oversized pleated pockets. I like having the straight hem so I can wear it untucked and the sun-blocking and light material is perfect for desert weather. But still not as good as the original, so it will never get back the five stars the first one did.
Date published: 2020-02-08
Rated

3

out of

5
by
TheMikado
from
Eh...
I had several of these shirts under the old sizing. The old XXL can be had by ordering XXXL. But why did they need to change anything in the first place? The material seems quite a bit thinner, as well, so I'm concerned about long-term durability. If these 2 new ones don't last, I'm not paying $80 each to replace them. Moderately disappointed but we'll see.
Date published: 2014-12-12
Rated

4

out of

5
by
Duncanangus
from
love these shitrs
I have an older air strip that I love. Great for fly fishing. New shirts as good but seems pockets are smaller. Older pockets were great for holding fly boxes
Date published: 2016-07-29
Rated

5

out of

5
by
Abuela
from
A Great Shirt
My husband almost never buys new clothes. He already has 2 of this same shirt and probably bought them 8 years ago. He really likes the style and comfort of the shirt and I like the casual yet sophisticated look. When he asked if I could find another shirt like the 8 year old shirt I jumped right on the search. I went directly to Exofficio and looked for the exact same style as his 8 year old shirts and immediately ordered 2, one in rust and the other in cream. To be honest I thought the rust one looked very red on the website but when it arrived it was a very good rust color.
Date published: 2020-08-11
Rated

5

out of

5
by
bandbshow
from
Best shirt!!
My husband got one of these shirts in a nice blue for Christmas before we moved to Patagonia for 6 months a few years ago & has worn it to death- it is still in tact, but a bit sun faded. Because he loves it so much & has worn it 1,000 times, I bought him a grey one for Christmas. This is a stylish, yet practical shirt. It breaths, protects from the sun, is light enough to wear in all kinds of climates & I can't say enough great things about it. Yes, they are pricey, but so worth it!!!
Date published: 2014-02-08
Rated

5

out of

5
by
Tosh
from
Great hiking shirts!
I have a hunch I've owned more Air Strip solid-color long sleeve shirts of the current version than any other person: sixteen (16). And only one of them disappointed me. It was in the ponderosa color that another reviewer panned because of fading, which was also my problem. Twelve (12) of the fifteen (15) that I still own and love are in dark or deep colors. I hike at least three times a week (8 to 15 miles and 1500 to 5300 feet of elevation gain), and I need such colors to not show soiling in the shoulder-strap area. For sun protection and for incidental trail-clearing, I wear gloves, which quickly become dirty because of the branches, limbs, and small trees that I toss off trails. When I rest my hands by placing my thumbs under the shoulder straps of my pack, the insides of the straps become soiled. Dark and deep colors don't show that soil. I now own and love three Air Strips in deep hues of blue (varsity, galaxy, and Prussian), four in hues of green (algae, avocado, hops, and deep forest), one gray shirt (dark pebble), one brown shirt (cinder), a rust shirt (sienna), a red shirt (brick), and a burgundy shirt (baroque). I like to think the 50 individuals on the distribution list for weekday and Saturday hikes that I lead appreciate seeing me and my monotone personality show up in a different colored shirt every twelve hikes. I also love my Air Strips for the sun collar and the lightweight fabric because I wear a long sleeve tee shirt underneath for additional sun protection, even on the hottest of North Carolina days. On the ascents that begin many of my hikes, the tee shirt quickly becomes sweat-soaked; and I'm cooler than my hiking companions wearing light short sleeves or tank tops. In addition, the seams and the buttons of my Air Strips have never failed. I'm a committed Air Strip wearer.
Date published: 2018-10-26
Rated

3

out of

5
by
chris
from
Great shirt bad fabric
I have purchased this product for the last 12 years. The material was changed from an 80/20 to this new "lite fabric" which does not last as long as the 80/20. Little fuz balls begin to form all over the shirt. Great shirt bad fabric.
Date published: 2010-02-19
Rated

3

out of

5
by
lars123
from
Bring Back the Original
I bought my first Air-Strip shirt about 20 years ago. It is still going strong but I wanted to buy a few more. The shirt might look the same and offer the same functions, but it is a different shirt now. 1) The material is thinner and tends to wrinkle more. 2) There were two side-vents on each side but now there is only one side vent. 3) Sizing is different, I bought the medium , returned it for a large. With the large, arm length is good, shoulder width is good, the rest of the fit is very loose. I'm 5'11", 180 lbs. 4) The pockets now have two Velcro patches instead of one, which I think is an improvement over one Velcro patch 5) The pockets don't hold has much as they did before, but that's ok by me. I noticed a couple of threads have pulled on the cuff, I must have caught it on something. Not sure if I would buy another Air Strip. I just bought the Exofficio Reef-Runner and will review that shirt after wearing it a few times.
Date published: 2020-06-23
Rated

1

out of

5
by
TennesseeDoug
from
Not even close
This is my second review for this shirt. The other one disappeared. This shirt is over designed with major flaws and nothing that improves the shirt. The fly away collar is a disaster as well as the box shirttail cut. These shirt needs to go back to basics with a button down collar or some kind of velcro design so it will stay put. The shirt tail should be a normal shirt tail that can be worn out as well as tucked in. The box hem makes it look like a barber shirt or one that only a dufus at the Yacht Club would wear.
Date published: 2014-03-23
Rated

5

out of

5
by
RenMan1
from
The Best Travel Shirts Made
I have several Air Strip shirts, some for over 10 years. In my opinion these are the best travel shirts, now wearing them when not traveling, that easily go from adventure to sport casual evenings. Features that make these shirts so great include SPF protection, ventilation, secure pockets, quick dry, and fold-up collar to protect the neck. This may also be one of the most copied shirts but none I've seen are anywhere near the same quality.
Date published: 2020-05-06
Rated

5

out of

5
by
Puzzlegal
from
If only they still made this for women...
This is a great shirt. It is comfortable, cool, quick-drying, protects from the sun, and has pockets that are wonderful on an airplane. I use the breast pocket for my passport, a folded boarding pass, etc. Yes that looks dorky on a busty woman. But it is great not to have to worry about finding that stuff at the airport, and it's worth it. They are also handy for little stuff like lip balm. The men's shirt fits okay for a woman, although the pockets are a bit larger than I'd prefer, especially when I'm not on a plane. It's a far nicer and more useful shirt than the odd dry-fly-lite, or whatever the similar shirt marketed to women is called. I also have some old ones from when they made this in women's sizes. They are very durable. I wear them frequently, and they look brand new. They have held up much better than similar shirts in other brands.
Date published: 2012-08-05
Rated

5

out of

5
by
BobM
from
best tech shirt made
Best tech shirt made--period.. I fly fish 100+ days a year.. I hike and backpack.. I write, review products, rep products, and design flies for a living.. I owned a fly shop for 15 years and sold Simms, ExOfficio, Columbia, Redington, and a few other shirts. I have been given or bought shirts from Orvis, Patagonia, etc. None stands the test of time like the Air Strip has.. And none performs better on the water and in the woods..
Date published: 2016-05-15
Rated

5

out of

5
by
Abdul
from
Great Shirt
I have been wearing Ex Officio shirts for ten years, or maybe a little longer. I had only two shirts that I would alternate, one plum and one khaki. I decided to expand my wardrobe of shirts this year. Both those shirts have held up to the Phoenix desert, and have gone around the world. I decided that I would never check in a bag again, with the new fees and the many bags that have been lost. Thus, my Ex Officio shirts are indispensable in traveling. They weigh next to nothing, and can easily be mushed into a backpack. When you hang them up, the wrinkles fade. When you need to wash them, you can easily use a sink, and they dry in no time. The new Bracken shirt is a dark green, and looks more stylish than the previous shirts. It wears well in the heat, and you can layer them in the winter. Rain soaks in only in a downpour. The shirt is a bit pricey, but it lasts forever.
Date published: 2011-10-03
Rated

5

out of

5
by
Jerry W Doyle
from
Epitome of premium quality!
ExOfficio Men's Air Strip long sleeve shirts are the epitome of wilderness travel fashion whether on or off the trail. I have covered more than seventy countries from developed nations, third world and emerging states and it is the ExOfficio Men's Air Strip long sleeve shirts I use whether on or off trails. This shirt is rugged, durable and extremely long lasting when used off-trail, even when bushwhacking through thorns that otherwise would rip normal shirts to shreds. The front cargo pockets are extremely functional and the zipper security pocket inside one front cargo pocket provides added safety for carrying cash and credit cards. The Air Strip shirt is technical apparel at its finest in fashion and function. The three position sun collar is a life saver if you do not have a neck gator available for wear in the sun. The shirt itself is rated UPF 30+ and with side and back vents that open for air circulation one never feels the need to strip the shirt as a redundant layer. I always purchase the long sleeve version because it has roll-up sleeve tabs for turning the long sleeve quickly into short sleeve. I use the utility tab for hanging my sunglasses instead of for fly-fishing, which I do not do. The pen slot is neat and functional, but my one complaint would be for this slot to be larger to accommodate thicker writing pens, or even a small pen-light since many room hallways and rooms themselves in third world countries afford little lighting for finding dropped items or sliding room door keys into proper slots. These shirts come in a multiple variety of delicious colors, dry quickly after being rain soak and are light to wear. I do recommend strongly, though, that ExOfficio consider adding an inside collar loop for hanging the shirts on hooks in cabin or lodging rooms. The ExOfficio Men's Air Strip long sleeve shirts definitely are 5 stars rated.
Date published: 2016-08-25
Rated

4

out of

5
by
dcsdjs
from
Fabric Concern
I have been wearing the Air Strip shirts for many years. I can only rate them great until the year that you changed the main fabric blend from 80/20 (Nylon/Poly) to 73/27. That was just enough additional poly to retain too much odor. Please return it to 80/20! If you need to charge more for that blend then do it! It would be worth it!
Date published: 2019-09-24
Rated

5

out of

5
by
DFloro
from
Well designed 4 hiking/travel
I've owned the LS Air Strip shirt in a variety of colors over the years, and they've been my go-to tops for 3-season hikes or travel to all but the very coldest destinations. They stand up to frequent washing by machine or by hand in a sink, and even the brightest colors (my favorites) haven't faded or bled. Although I often prefer to leave the sleeves rolled down, it's quite nice to be able to roll them up and secure them w/buttoned straps. All in all, highly recommended shirt!
Date published: 2020-04-21
Rated

5

out of

5
by
BKizorek
from
Million Mile Shirt
The shirt is 14 years old and has about one million miles on it. It has survived eight trips to Africa, seven trips circumnavigating the earth, been on every continent, and dragged trough a hundred or so countries. It kept me warm in Antarctica and cool in the Congo.
Date published: 2009-04-10
Rated

5

out of

5
by
DeadOtter
from
Perfect sailing shirt
I purchased this shirt for a recent sailing trip in the BVI's. It was the perfect weight and served as a decent sun blocker as well. Also many compliments from the ladies -- so it's a good step up from shorts and a t-shirt. Great shirt!
Date published: 2014-02-18
Rated

5

out of

5
by
Fuji Guy
from
Great Shirt for Hot Weather
Decided to pick up a couple more Air Strip L/S shirts since we're in the middle of a brutally hot summer. I have one that I've loved for years and years, and it still looks like new. Love the fact that it's breathable and roomy.
Date published: 2018-08-12
Rated

5

out of

5
by
CharlestonSC
from
Very Pleased
I bought three of these for a 12 day cruise of the Mediterranean. Very comfortable I chose the Large instead of XL and wore it over a T-Shirt and one sometimes two passport & security pouches that were around my neck hanging on each side. I normally wear XL but feel I would have been swimming in the XL had I ordered it. I do have a Northface XL and it fits like a potato sack. I typically wear a 46 Reg and am 5'10" 220lbs at present.
Date published: 2010-05-19
Rated

3

out of

5
by
Macaco
from
Great matirial & confortable
I have the old version and i bought 2 shirt to replace the old ones but the front pocket is to small now to secured a Fly Box, disappointed.
Date published: 2018-10-25
Rated

5

out of

5
by
Jeep guy
from
Comfortable shirt!
I have this shirt in a lighter color and just ordered another one. So far this is my favorite Ex Officio shirt out of several I own. It is nice and roomy and that's what I need since I have a 48 inch chest and big biceps. I bought an XL and it fits just right. My wife loved the Air Strip as well and bought a size small which is her favorite hiking shirt now since it's nice and lightweight and comfortable.
Date published: 2017-07-25
Rated

5

out of

5
by
Chriscross
from
Love'm
Have bought in the past, will buy in the future. Why? Quality. Practical Construction. Works for me. I wear them traveling because the pocket structure allows all those things you need, close at hand, to be...close at hand, without having to to unbuckle the seat-belt etc. I also am a photographer and love the shirt for the pocket structure, for all those "things" for camera work. I was just in Death Valley and the materials and durability were very much part of my choice for this and other Exofficio products. And that is why I...Love'm.
Date published: 2016-06-21
Rated

1

out of

5
by
rbendett
from
Not sized as in past
I have 5 older purchases of this shirt. This one was noticeably smaller and had to be returned.
Date published: 2020-06-27
Rated

5

out of

5
by
Lee23
from
Best Fishing, or anything , shirt ever!
I would wear this everyday if I could! All day fishing in Costa Rica, it was so comfortable I didnt even feel I was wearing it. Drys fast, blocks sun, and my daughters loved it!! landed and released a 250lb striped Marlin and never felt bound by the shirt...lots of movement and freedom..I have a great ppic my daughter took, and having trouble downloading , send me an email address please. Thanks!!
Date published: 2011-04-15
Rated

1

out of

5
by
Daniel1624
from
Air strip shirt
I returned it. The material is like my wife's lingerie. Kind of freaky. I still have not received the exchange. No huge deal yet, but at this point I am out $110.00 with no shirt. Hopefully I won't be stiffed.
Date published: 2013-12-15
Rated

5

out of

5
by
FrankH
from
My go-to shirt!
I love everything about this shirt from the style to the comfort. It's my go-to shirt for everything. Fishing, hiking, travel, church, board meetings! (I'm not a suit and tie man, so this one is dressy enough without a tie for dressy occasions, but relaxed enough for activities. I also love the color choices and own six colors of this shirt. Works winter and summer for me.
Date published: 2017-08-09
bvseo_sdk, dw_cartridge, 18.2.0, p_sdk_3.2.0
CLOUD, getReviews, 0ms
reviews, product
product-detail-view
oos-pdp